Aluminum and SilcoTek's Coating Process




The physical properties of aluminum (Al) alloys are versatile and ideal for use in a variety of manufacturing or industrial applications. These unique properties, however, can present challenges to surface treatment providers like SilcoTek®. Aluminum is, to some extent, weakened at temperatures in excess of 100° C. Because of the temperature related strength limitations associated with aluminum:
*SilcoTek does not recommend coating cylinders or any other aluminum product that will be pressurized or used in high stress applications.
SilcoTek's CVD coating process reaches temperatures as high as 450° C and the silicon-based coatings aren't compatible with some specific elements in certain Al alloys.


Aluminum Substrate Requirements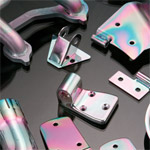 With this in mind, SilcoTek maintains specifications for processing aluminum parts. SilcoTek does not recommend coating aluminum parts that will be pressurized during use, e.g. sample cylinders. Our processing temperature can weaken the strength of the substrate.
Aluminum Alloy Compatibility
SilcoTek is able to coat the majority of aluminum alloys with the exception of certain grades. We are not able to coat aluminum alloys that contain the following alloying elements with concentrations listed below.
≥ 3% magnesium (Mg)
≥ 0.4% Lead (Pb)
≥ 0.4% Bismuth (Bi)
Numerous companies rely on SilcoTek coatings to protect and enhance their most critical aluminum products. Contact us to ensure optimal processing of your aluminum parts.
Not sure about the grade or alloy content of your aluminum parts? SilcoTek can evaluate the alloying elements of your aluminum parts when they arrive at SilcoTek for coating service.
Can SilcoTek Coat Anodized Aluminum?
In most cases, yes, we're able to coat anodized aluminum. But there are some limitations relating to surface porosity associated with anodization. Surfaces should be sealed using materials that are compatible with our process. To learn more, read the report on coating anodized aluminum below.
Do you have aluminum parts that could benefit from our coatings? Let's discuss your application.