You can learn about our coatings and how we solve coating problems by reading our e-book, SilcoTek 101.
Next get a quick run down of our process and how we coat your products at our coating facility.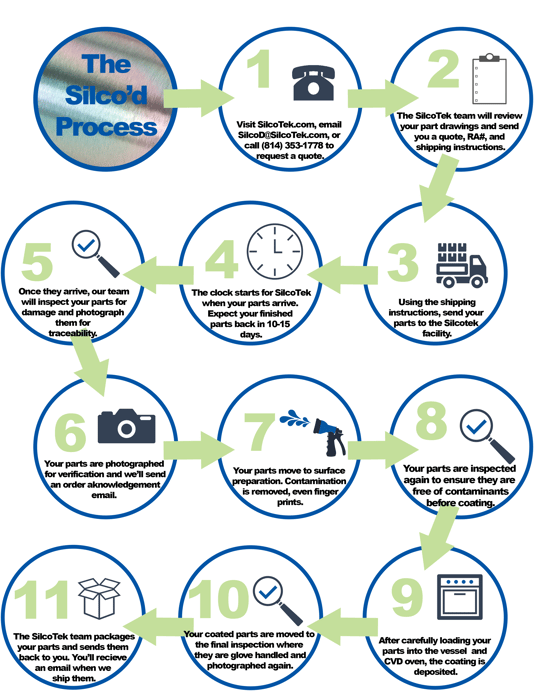 Have questions about our coatings? Learn about our coating properties in this handy guide.
---

Our Coatings

What's this coating used for?
A tough, corrosion resistant, inert, hydrophobic coating. Ideal for oil and gas, chemical processing, refining, and other demanding environments. Also offers very low surface energy for easy cleaning and non-stick properties. Dursan: Improves chemical inertness and corrosion resistance of stainless steel while significantly improving surface moisture resistance (hydrophobicity) and wear resistance.

What's this coating used for?
The original, most inert and chemically compatible coating available on the market. SilcoNert 1000 (formerly Silcosteel®): A general purpose barrier coating. SilcoNert 2000 (formerly Siltek®/Sulfinert®): A required coating when analyzing low levels of active, reactive, organo-sulfur, and many more active compounds.

What's this coating used for?
A corrosion and oxidation resistant coating that increases the lifetime of system components. Excellent for high temperature applications. Silcolloy (formerly Silcosteel®-CR) improves corrosion resistance of stainless steel by an order of magnitude in chlorides & acidic environments. An inert, oxidation resistant coating able to withstand extreme high temperature and low temperature environments.

What's this coating used for?
A non-stick coating specifically designed to reduce the onset of carbon coking and fouling on stainless steel at high temperature. SilcoKlean (formerly Silcosteel®-AC) reduces carbon coking or fouling by up to 8x on stainless steel.

What's this coating used for?
A low outgassing, rapid pump down, high purity coating designed to improve performance in ultra high vacuum, mass spec, and semiconductor systems. SilcoGuard (formerly Silcosteel-UHV) reduces outgassing by 14x and significantly improves vacuum pump down in semiconductor and research systems.

What's this coating used for?
Dursox is an inert corrosion resistant silicon barrier coating formulated especially for high purity semiconductor fabrication processes. Dursox improves corrosion resistance by 10x or more while reducing ion contamination in semiconductor processes.

Determining the best coating depends on several factors:
Desired benefit. Ie, corrosion, inertness, non stick, etc.
Part material and configuration. Part size, part material, part configuration/design, allowable handling and fixturing points, and handling/packaging restrictions are also key factors to consider.
Our team is here to help with your coating selection. You can go to our coating recommendations page or contact our customer service team for help selecting the right coating for your application.