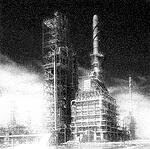 Chronic flare and stack sampling issues stem from many potential sources. Limited funds, inaccurate or poorly specified sampling equipment, or a lack of maintenance all can lead to process and stack sampling problems in refining and petrochemical operations. Perhaps the most difficult sampling problem to solve isn't related to the equipment. A culture locked into old methods and ideas that led to past success can prevent the sampling team from adopting new methods needed achieve lower detection limits and improved sample reliability. What worked in the past may not work in the "new reality" of single digit part-per-million or even part-per-billion sampling requirements mandated by regulations like Tier 3 and more demanding customers. Here are 5 common misconceptions that contribute to process and stack sampling problems.
1. I can prime the system and get good sample results.
Forget it, in this day and age regulations dictate very low sulfur detection limits. Attempting to passivate millions active sites in stainless steel sampling flowpaths with part-per-million level sulfur process streams will take days to weeks to stabilize and passivate. Adding to the problem; subsequent desorption will result in random sulfur spikes, making accurate measurement impossible.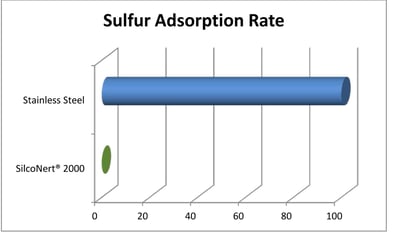 The solution? Coat the sample flowpath with an inert coating like SilcoNert® or Dursan®. Inert coatings virtually eliminate adsorption by stopping the interaction between adsorptive stainless steel and your reactive sulfur sample, assuring an inert flowpath.
2. We don't have to coat all the parts in the system.
Attempting to save a few bucks by not coating fittings or filters is penny wise and pound foolish. Sulfurs will stick to the uncoated surfaces and render test results useless. Even one uncoated sintered metal filter will adsorb virtually all the sample, resulting in contaminated product, compliance issues or angry customers.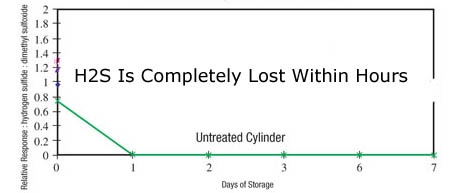 3. We don't have to worry about moisture.
Even small amounts of water trapped in tubing, sample cylinders or fittings will adsorb sulfurs and increase corrosion; significantly degrading low level sample readings. Robust system design and use of hydrophobic/inert coatings like Dursan® help to quickly purge moisture from sampling systems, ultimately minimizing sulfur adsorption and allowing the team to manage moisture.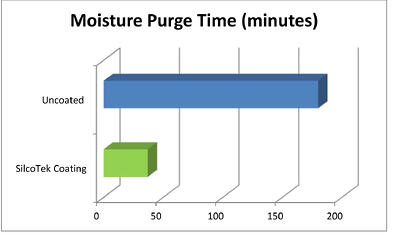 4. Internal surface rust isn't a problem, I can keep using that sample cylinder.
Corroded sampling components can adsorb nearly the entire H2S sample; making reliable sampling an exercise in futility.
Inspect the interior of sample cylinders periodically to assure the interior surface is free of corrosion and rust particulates. Rust particles can quickly adsorb sulfur, causing artificially low readings which could result in sending contaminated product to your customer.
5. We don't need to have fast response in our system. We can save a few dollars and go with stainless steel.
Waiting hours for H2S readings to stabilize can be dangerous and expensive. No refiner wants to run for hours or days in an upset condition; or send feed stock to a downstream processor only to realize the supply was contaminated. SilcoTek® coatings improve system response by orders of magnitude compared to uncoated stainless steel. Adsorption can significantly delay sulfur transfer, resulting in potential refinery upset conditions for many hours or days.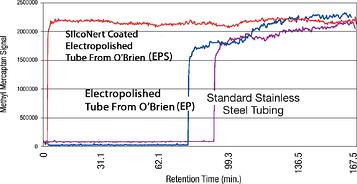 Want to learn more about how to improve sampling response and prevent common sampling problems in process, stack and flare systems?