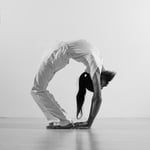 Getting older means experiencing the occasional stiff gate and loss of flexibility. Fortunately, SilcoTek® found the fountain of youth of flexible coatings. Like some uncanny yoga master, the coatings flex and bend in some amazing ways and still remain bonded to the surface. SilcoTek is the ideal protective and inert coating for connectors, diaphragm valves, or wherever a flexible surface is needed.
To prove our point, here's a flexibility comparison between our coatings and a yoga master. (No yoga masters were harmed in this demonstration.).
Click on the highlighted challenge to see our coatings in action, sorry no yoga demonstrations though!
Challenge

SilcoTek Coating

Yogi Guru

Comment

Bend Backwards

You can bend our coatings backwards or forwards as much as you like. I don't know how Yogi does it!

Put Legs Behind Head

OK, you got us here. Our coatings don't have legs.

Stand On Head

No head either.

Crumpled Foil

Gotcha! Our coatings stay bonded to foil even after crumpling it up into a ball! Yogi? Not so much.

Flex Bellows

SilcoTek coatings stay bonded to flex bellows no matter how many times it's bent. Yogis don't bellow.

Diaphragm Flex

Tie! Our surfaces bond to metal d

iaphragms

and will stay bonded to the surface through thousands of cycles. Yogi can flex his diaphragm also.

Crushed Ball Test

Even after crushing, our coatings stay bonded to the surface. Some days I'd like to crush yogi.

Tube Bending Test

You can bend coated tubes , but don't kink them. After all we can't work miracles.

Final Score

6

4

SilcoTek wins! Sorry Yogi.
OK, SilcoTek® beat Yogi but can you really coat flexible parts?
Yes! We can coat high flex and high stress components like bellows or conflat seals without fear of coating failure. Even when bending coated foil, our high durability coatings stay bonded to the surface; making the flowpath inert, corrosion resistant, moisture resistant and fouling free. In fact our high durability coatings can take much more abuse. See how our coatings stand up to punishing tests!
Coat surfaces to improve performance and extend component life for a variety of flexible and high stress components like:
Metal diaphragms and diaphragm valves

Flexible bellows

Flex tubing

Tubing

Reed and foil surfaces

Conflat, face seal, and threaded fittings
Your coatings stay put, but why coat at all?
That's an easy one! Our coatings prevent interaction of active and reactive chemicals with stainless, glass, alloy, and ceramic surfaces. So coatings like SilcoNert®, Silcolloy®, SilcoKlean®, Dursox™, and Dursan® help to extend equipment life, reduce maintenance, improve corrosion resistance, prevent contamination, stop fouling and coking, and improve analytical system accuracy and precision. Learn more about how our coatings benefit customers.
Image credit: peaceandbewild.worldpress.com