Galvanic corrosion can can selectively destroy critical components. That's why prudent materials management is critical. Sometimes material selection options are limited. That's where silicon coatings can help.
How Silicon Barrier Coatings Prevent Galvanic Corrosion
SilcoTek® R&D continues to improve, test, and optimize our coatings and processes. Their latest corrosion tests demonstrate the effectiveness of Dursan® and Silcolloy® coatings in reducing galvanic corrosion in aluminum coupled with SilcoTek coated stainless steel.
In this blog post you will learn:
How silicon coating can reduce galvanic coupling.
How galvanic current between aluminum and stainless steel can be reduced by nearly two orders of magnitude.
How to improve the corrosion resistance of stainless steel and aluminum.
SilcoTek contracted with an independent lab to evaluate galvanic coupling between aluminum and stainless steel. Results of the study by Shaw and Associates compared Dursan and Silcolloy coated samples in normal strength artificial seawater under ambient conditions. The evaluation concluded:
"Tests show that both Dursan® and Silcolloy® are effective in minimizing galvanic corrosion between aluminum 6061 and 304 stainless steel (Dursan better than Silcolloy). This is evidenced by the much reduced galvanic current (indicating corrosion rate) with coatings."
Representative results from the galvanic experiment are shown below. The results present a comparison of galvanic scans recorded during the first day of immersion for Al samples coupled with bare stainless steel and steel coated with Dursan and SL-1000. The presence of coatings substantially reduced the galvanic current (the decrease was about two orders of magnitude).

Comparing relative galvanic corrosion potential in seawater shows the Dursan coated coupon is more corrosion resistant by up to 2 orders of magnitude; virtually eliminating galvanic coupling between the aluminum coupon and the stainless steel coupon. Silcolloy also offers significant reduction in corrosion potential.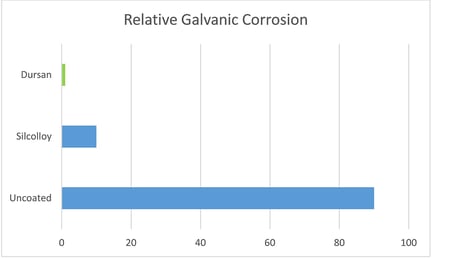 A magnified visual comparison of the coated and uncoated coupons support the test results. The Dursan coated coupon (right) has minimal galvanic effects while the uncoated coupon (left) is severely corroded.
| | |
| --- | --- |
| Uncoated Coupon, Extreme Corrosion | Dursan Coated Coupon, Little Corrosion |
After close examination of the test results you may ask: Why are there still pits on the aluminum coupon that was coupled to coated SS coupon? Because there are two corrosion driving forces, one from the galvanic coupling between aluminum and SS, and the second from just bare aluminum corroding in seawater (seawater is very corrosive to aluminum). By coating the SS we demonstrated that we can cut off the galvanic coupling component of the corrosion. In order to cut off the second component as well, the aluminum coupon itself needs to be coated. Since the purpose of this study was to evaluate galvanic corrosion prevention, the aluminum coupons were not coated so we can single out the first component.
Wow! The data looks very encouraging...Can I coat a ship with Dursan?
Sadly no. But you can coat many high value components with Dursan, including: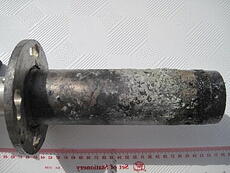 Instrument components
Probes
Fittings and Valves
Reactors
Tubing
Regulators and mass flow controllers
Heat exchangers
And lots more!
Want to learn more? Go to our Frequently Asked Questions page or contact a Technical Service Representative and discuss your application. We'll be happy to help!