SilcoTek® has been making and selling coatings since 1987. Our company and technology have changed but cost saving techniques remain tried and true. Here are some tips on how to get the most value from the silicon coating purchasing process.
The Best Hacks for Getting the Lowest Price for Inert Silicon Coatings
In this blog post you will learn:
Purchasing techniques to use in order to get the best price for coating service.
How to planning can save a lot of money when using a custom coating service.
How communication can save money and time when processing your order.
How simple inventory stocking techniques can save you money.
Customer Service on occasion will get a call from a concerned customer. They ask "why are the coatings so expensive?" The Service Representative will look up the order history and do some sleuthing to build a case for something the rep deep down already knows. The customer didn't take advantage of some simple techniques that can save them big bucks in the long run. Let's reveal some hidden hacks that coating companies don't want you to know about how to save money on your order. That's a bit a drama for all you conspiracy theorists. Actually pretty much every coater will share with you how to save money on your order. And spoiler alert! You probably know these techniques as well! You just need to implement them. Let's go down the list of value added purchasing techniques.
If you want more great tips on how to send parts to SilcoTek and get a sense of what to expect when sending in parts for coating, go to our web page "Buying and Using our Coatings".
Buy Smart
Supply chain management is no easy task. Optimizing inventory, keeping suppliers in line and coordinated and balancing the demand of everyday business can drive most managers batty. From a coating perspective we ask our customers to buy in the post efficient quantities possible. How big a deal is buying in efficient price break quantities? A single piece order will cost, in some cases, 30-50% more than buying in price break quantities. We know buying at price break quantities may not be realistic for all customers but for those who buy a few pieces short of a big discount be aware of the lost opportunity to save a lot of money. Be sure to ask us about price break points for orders and be informed about way to save money. We're always willing to work with the customer on purchasing strategies.
Have a question about pricing and how we can save you money? Click the box below to discuss your application with one of our coating team.
Have a Question? Discuss How to Save Money with our Team.
Planning for Success
CVD coatings are not sprayed on. They require reactors and sophisticated process monitoring to assure a quality coating. That's why we ask customers to ship their parts to us. We know that's a pain and can lead to supply chain problems. Consequently, we try our best to coat your parts and ship them back to you as soon as possible. (within 10 working days or less). We also know shipping can be a costly logistical problem. That's why we offer simplified shipping guidelines to assist folks when sending parts to us. Contact us about your shipping needs and we'll do our best to help coordinate packaging and shipping requirements. We also have a dedicated international logistics representative to help with overseas shipping and customs and to consult with you about your overseas order. You can also place and coordinate orders through one of our local sales representatives.
To best optimize low cost shipping rates avoid rush orders if possible. Last minute purchases are a recipe for high shipping costs. You may up missing key price breaks (because of limited order quantities) and are likely to incur higher shipping costs because you'll be expediting shipping. Of course business can tend to paint the purchasing agent into a corner. When unexpected circumstances arise, you'll need to pull out all the stops and get that order shipped pronto but unfortunately expedited orders can become habitual.
Try to plan the best possible purchasing strategy to avoid those high shipping rates. We've seen customers pay more for expedited shipping than for the coating service! That kind of panic you don't need! How to fix it? If possible maintain a stocking reserve or set up a kanban system. That will maintain your parts in semi-finished goods at a lower inventory carrying cost on your end but will allow for fast shipping when needed.

Talk to Us
We're not talking about sitting down with a cup of coffee and discussing the latest episode of The Bachelorette here. Although that sounds like so much fun, no actually we want you to tell us about your parts (if needed we can sign appropriate non disclosure agreements). In order to efficiently process your parts we're interested in knowing about special handling needs, packaging needs, how the part was cleaned, any chemicals the parts may have been exposed to, and even changes to the materials used in the part. We've seen perceived minor changes in part material specifications make a big difference in coating quality and process efficiency. As seen in this blog post. Why should you care about efficient processing? Because an efficient process ships on time and saves you money in the long run.
While you're chatting with us don't forget to ask us about what's the most efficient quantity of parts to process. We have established price breaks for common parts but for custom orders (especially parts that require special fixturing) be sure to ask us about how the part will be fixtured and processed. Providing parts in quantities that maximize the use of fixtures and process vessel capacity will go a long way toward reducing coating costs and will save you money.
About CVD Coatings: Service Pricing
The reason we ask about part size and quantity when quoting your order is because we price mostly on those criteria. A big part will cost more than a small fitting for example. The per piece price for a a higher volume order will be much less than a one-off single piece order. Because price varies with part size, it's hard to give a definitive price off the cuff as it were. But we can give you some examples of the price and value our coatings offer. In these examples the estimated price is for a single part. There are substantial discounts for higher volume orders. We also can offer alternative pricing to help with supply chain management and overall coating value, like batch pricing or kanban support. Basically, call us and we'll work with you however we can. Have a question about our coatings? Go to our FAQ page.
CVD Coating Frequently Asked Questions
Here are some examples of part pricing. These are just examples, prices will vary depending on the factors noted above. In our examples, we compare the cost of a coated stainless steel component with a similar product made from stainless steel and a superalloy. Generally our coated part costs more than an uncoated stainless part, but much less than the superalloy.
Optimize the order quantity to take advantage of quantity discounts and the price drops significantly to $102.00! That's a 30% drop in the coating cost!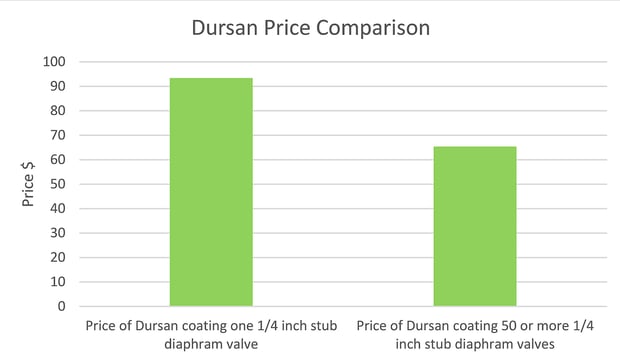 One last hack! Optimize Ordering Information for Fast Results
Providing us with more information when ordering helps to speed up the coating process. We know it's a pain to pull together information or to complete the online ordering form, but spending a few minutes providing complete information will save us all a lot of time and confusion in the long run. Time spent is money spent. Your money spent!
Key information we'll need before treating your part include:
First we'll need to know how big your part is. Preferably a drawing (especially if the part is a custom or complex piece).
We'll need to know what coating you want. (see

previous blog post on selecting a coating)
Of course we'll need to know some particulars about you. Your company, address, etc.
Then we'll want to know some details about the part and proposed use.

Where do you need the coating?
What chemicals will the coating be exposed to?
Can we fixture the part? At what locations?
Any areas particularly sensitive to damage?
Any blind holes or intricate passages?
What's the part made of?
Can the part be exposed to heat? Up to 400C?

And finally we'll need to know how many parts you want to coat.
It sounds like a lot of information, if you're not sure about some of the particulars, no worries. Just let us know you're not sure and we'll figure things out on our end. We do ask customers to disassemble parts before shipping. That way you and SilcoTek are sure we're coating the part properly. Want to learn about the in's and out's of our coating process and how to get the most out of your product and grow your sales? Read our e-book.
If you have a question about ordering our about our coatings in general, go to our CVD Coating Frequently Asked Questions page or ask the experts!