We tested SilcoTek coatings under severe corrosion conditions. See how CVD coatings improve corrosion resistance in filtration and heat exchangers.
Coatings for Corrosion Resistance in Filtration and Heat Exchangers
Filtration and heat transfer systems benefit from coated surfaces in applications ranging from midstream oil and gas processing, power generation, energy management, downstream refining and petrochemical, gasification systems, water, and wastewater management, analytical or process monitoring systems. Learn more about applications and use of coatings in filtration and heat transfer systems.
Click the box below to read our e-book.
Coatings like Dursan® and Silcolloy® act as an inert barrier that protect stainless steel flow path surfaces from reacting with the process fluid, be it corrosive process chemicals, high purity deionized water, wastewater, produced water or samples from chemical processes. Our coatings protect metal filtration, heat exchanger systems, and sensitive processes from common process problems like corrosion, fouling, wetting, metal contamination, and surface oxidation. Processes that use our coatings benefit in many ways and without impacting thermal transfer properties of the base material.
Improve yield by preventing process fluid contamination
Reduce process and maintenance cost due to fewer repairs due to fouling or corrosion
Optimize process flow by reducing fouling in filtration
Reduce energy use due to fouling and corrosion in heat exchangers.
Prevent rouging in water systems.

Corrosion resistance (Benefit: longer life, less maintenance)
SilcoTek corrosion resistant barrier coatings prevent flow path surface interaction with corrosives, extending component life while preventing product contamination. Our corrosion resistant coatings, Silcolloy® and Dursan®, are particularly useful for fighting corrosion in high purity or otherwise sensitive processes in semiconductor, pharmaceutical, research, and complex chemistry applications. In addition to extending the usable life of precision stainless steel parts, SilcoTek coatings prevent nano-scale corrosive reactions that can cause metal ion leaching and contamination, ultimately increasing process yield and reducing failure rates.
SilcoTek coatings perform in a variety of corrosive environments including sulfuric acid and bleach.
| | | |
| --- | --- | --- |
| Corrosive | Stainless Steel Corrosion Rate (mpy) | Dursan Coated Stainless Steel (mpy) |
| 6M Hydrochloric Acid, 24 hr exposure | 160 | 1 |
| 25% Sulfuric Acid, 24 hr exposure | 55 | 5 |
| 52 Week Salt Spray | <0.01 | <0.01 |
| Bleach | 1.7 | 0.1 |
Prevent Rouging in Water Systems (Benefit: reduce contamination, increase service life)
Rouging can be found in a variety of water systems or water containing systems including pure water, ultra-pure water, steam, treated potable water or untreated process water systems.
Preventing rouging and corrosion in high purity water, and process systems is preferred to costly component replacement or the associated maintenance and risk of product contamination. Options for preventing rouging range from:
Selecting materials that are resistant to oxidation and chloride attack.
Adjusting the pH of the water system to reduce the rouging potential.
Adding a strong surfactant to the rinse solution to remove chlorides.
Coating the stainless steel surface with a corrosion resistant and inert barrier coating like Dursan.
Of the prevention options listed, coating the surface with a high purity, non-line-of-sight, precision, corrosion resistant coating like Dursan®, is a simple and cost effective way to reduce or eliminate rouging.
To test the effectiveness of Dursan as a rouging prevention option we compared coated and uncoated 316L stainless steel coupons. When exposed to 6M guanidine hydrochloride, 316L stainless steel showed rouging while Dursan coated coupons were unaffected.
Since there was no loss of mass for the coupons after the 1-week trial (scale accuracy is 0.1 mg), they were returned to the 6M guanidine hydrochloride solution to soak for 3.5 more weeks (1 month total exposure). Again, there was no change in the mass of the coupons, but the minor rusting and rouging effects were much more dramatic as seen in figure 1 below.

Figure 1: A bare stainless steel coupon (left) and a Dursan coated stainless steel coupon (right) were exposed to guanidine hydrochloride for one month. The rusting on the bare coupon is more severe than the 1 week exposure. As seen previously, the Dursan coated coupon is unaffected by the exposure.
In addition to the increased rouging, there was also a discoloration in the guanidine hydrochloride solution with the uncoated coupon immersed in it for one month. This color change, seen in Figure 2, was not seen at the one-week point of the experiment. The yellow tint to the liquid indicates that iron has leached out of the coupon and into the solution. This is a potential issue for many high purity applications, as iron ions can interact with product and cause impurities and/or low product yield.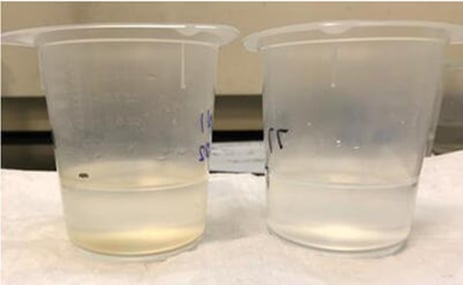 Figure 2: Guanidine hydrochloride solutions after a bare (left) and a Dursan coated (right) coupons were immersed for one month. The yellow tint in the solution that contained the bare coupon is a sign of corrosion, whereas the solution that contained the Dursan coated coupon showed no color change over the immersion period.
Stay current with the latest in corrosion protection in process systems. Subscribe to our email and blog or follow us on LinkedIn.