SilcoTek coatings are known for their inertness, fouling resistance and corrosion resistance, but are there any byproducts that come from the coatings?
What are the Emissions From SilcoTek Coatings
SilcoTek's chemical vapor deposition (CVD) process produces coatings that are deemed "high purity" in most applications, including chromatography, medical diagnostics, and more. Our inert coatings help analysts achieve ppq performance in the lab but what byproducts are emitted from the coatings? The single byproduct of our silicon coating process is silicon particles (dust), which may be unacceptable in certain particulate sensitive applications e.g. semiconductor. In this blog post we'll discuss what's in SilcoTek® coatings and what, if anything can be emitted from the coatings. Finally we'll discuss compliance of our coatings to various regulations such as California Prop 65 and RoHS.
In this blog post you will learn:
The composition of SilcoTek® coatings
Learn about any potential materials that may be emitted from the coatings during normal use.
Learn about SilcoTek coating compliance with various regulations.
What are SilcoTek Coatings Made of?
Most of our coatings contain silicon and carbon with a small amount of oxygen (mostly from oxide layers on the surface). We functionalize (or "dope") the surface for specific inertness performance but our Silcolloy® coating and SilcoNert® 1000 coatings are made of silicon with a native oxide surface only. Non reactive silicon makes an excellent barrier which prevents contamination from the base metal, glass, or ceramic surface. The Auger Electron Spectroscopy (AES) diagram below of a SilcoNert® surface shows the coating contains silicon and oxygen. Note the diffusion zone where the silicon is bonded to the stainless steel base.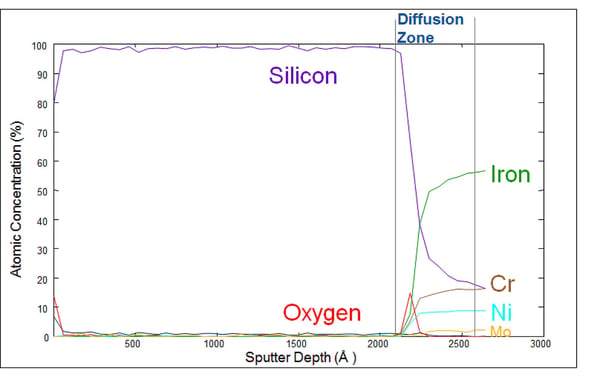 Dursan® is a different coating consisting of silicon, oxygen and carbon. The Auger plot below shows the coating depth and a similar diffusion zone to SilcoNert.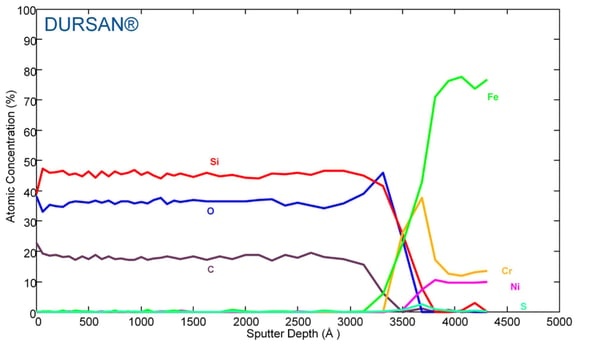 Dursox® is similar to Dursan in that it contains oxygen, carbon and silicon, although concentrations are different. The X-ray Photoelectron Spectroscopy (XPS) data below shows no metal signals in the coating.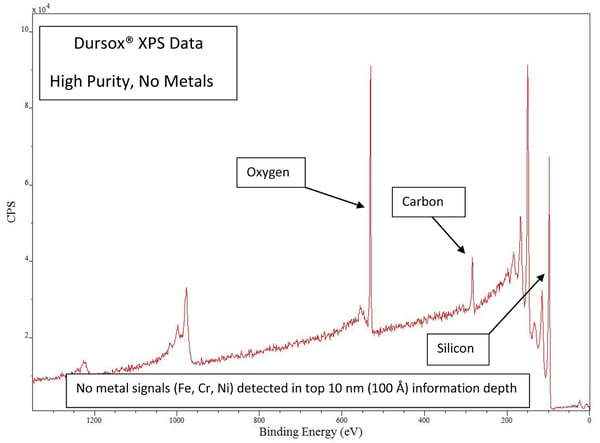 Want to learn more about how our coatings improve the performance of your products?
Improve Material Performance
Watch Our Webinar
Coating Byproducts
Because our coatings are made from silicon and carbon the stability under extreme temperatures is exceptional. Product users will experience little to no outgassing or emissions from our coatings during normal use. In fact some of our coatings are capable of achieving temperatures over 1000c with perhaps only a trace amount of hydrogen emitted during extreme heating.
However there is on material that can be emitted from the surface under abrasive conditions or may be present on the surface as a byproduct of the manufacturing process. That's silicon. Silicon is about as abrasion resistant as stainless steel so under severe abrasive conditions some silicon may be emitted. During our manufacturing process some trace amount of silicon, in the form a small particulates, may remain on the surface. Despite the use of best practices aimed at removing silicon particles after the coating process; a small amount of silicon particles may remain on the surface. Although silicon is an inert, non reactive material, we suggest that customers who use their SilcoTek-coated parts in particulate sensitive applications conduct particulate testing to determine if the coated parts meet their specific cleanliness requirements. If a cleanroom-grade surface is required for your process; please contact us so we can assist in finding a 3rd party cleaning vendor who can provide a cleanroom-grade final coated product. Learn more about how our coatings can improve your products.
Are SilcoTek's Coatings RoHS and REACH Compliant? What About Safety Data Sheets?
Visit our compliance statements web page to learn more about how our coatings are non-hazardous and in compliance with state and federal regulations. The treatments do not require SDS sheets.
California Proposition 65
SilcoTek® coatings do not contain chemicals which are listed on the state of California Safe Drinking Water and Toxic Enforcement Act of 1986, California Proposition 65. Proposition 65 protects California drinking water from contamination by chemicals known to cause cancer, birth defects, and other reproductive harm. The act requires businesses to inform Californians about exposure to these hazardous chemicals. The Proposition 65 chemical list can be found at:
https://oehha.ca.gov/proposition-65/proposition-65-list
---
Restriction of Hazardous Substances Directive 2015/863/EU (RoHS 3)
SilcoTek® coatings do not contain any of the following compounds at levels exceeding RoHS compliance limits: Cadmium; Mercury; Lead; Hexavalent Chromium; Polybrominated Biphenyls (PBB); Polybrominated Diphenyl Ethers (PBDE); Bis(2-Ethylhexyl) phthalate (DEHP); Benzyl Butyl Phthalate (BBP); Dibutyl Phthalate (DBP); and Diisobutyl Phthalate (DIBP).
SilcoTek® does not manufacture electrical/electronic products, devices, or equipment and is not required to CE-mark any outgoing shipments.
---
Registration, Evaluation, Authorization, and Restriction of Chemicals - Substances of Very High Concern (REACH-SVHC)
SilcoTek coatings do not contain any of the 205 REACH Substances of Very High Concern (SVHC) as updated by the European Chemicals Agency (ECHA) under the provisions of Regulation (EC) No. 1907/2006 of the European Parliament and of the council concerning the Registration, Evaluation, Authorization, and Restriction of Chemicals (REACH) per the ECHA 16 January 2020 and previous updates.

---
Safety Data Sheet (SDS) Exemption
SilcoTek® does not provide SDSs for our coatings as they are not hazardous chemical products.
SilcoTek's state-of-the-art CVD processes deposit a thin (0.0005um – 2um) ceramic layer bonded to a customer's substrate. The layer is comprised of elemental combinations of silicon, oxygen, and carbon, with no CFCs or other toxic chemicals.
Want to learn more about SilcoTek quality? Go to our Quality Systems Page.
Does SilcoTek offer FDA compliant coatings?
Yes! Our Dursan® coating is certified by NSF International and therefore FDA compliant. However, most people ask about "FDA approval," and that question needs a more thorough explanation:
The United States Food and Drug administration (FDA) does not formally "approve" coatings or other materials for food or bio/pharmaceutical contact. Rather, the FDA regulates coatings via the Code of Federal Regulations (CFR), specifically 21 CFR 175.300 which lists what raw materials are acceptable and unacceptable for the formulation of coatings. It is then up to the coating supplier to self-regulate to ensure that they are using raw materials that are acceptable.
According to the FDA, a coating must 1) pass the solvent extraction tests listed in 21 CFR 175.300, 2) contain no heavy metals, and 3) all coating components conform to the materials listed by the FDA in order to be compliant. Since these stipulations are also required for NSF/ANSI 51 certification and Dursan® successfully meets these requirements, our coating is FDA compliant. With respect to pharmaceutical applications, our data suggest that Dursan® does not "alter the safety, identity, strength, quality, or purity of the drug product beyond the official or other established requirements" per 21 CFR 211.65.
Nevertheless, we strongly encourage customers to test the use of Dursan® in their specific application to verify that performance requirements are met and the customer's production processes and outputs can continue to meet FDA approval guidelines.
Have a question about our coatings and coating compliance? Contact our Technical Service Team or follow us on LinkedIn.