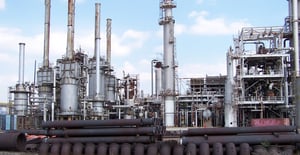 As if corrosion weren't bad enough! Excessive maintenance, frequent component replacement, and lost productivity add up to high cost and frequent headaches. According to US Government studies, corrosion costs the US $276+ billion annually; but there's one part in your process where corrosion can multiply the damage by orders of magnitude.
Why Instrument Corrosion Can Be A Major Problem.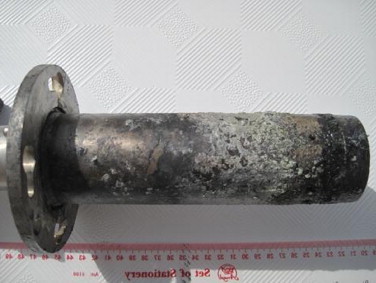 Instrumentation components are the eyes and ears of your process. Probes, sensors, sample flowpath components, sample cylinders, and calibration gas systems are frequently exposed to harsh environments. When instrumentation fails, your process is running blind and often can run out of control. So not only are you faced with downtime and replacement of a potentially expensive component, you're risking making bad product, killing product yield, damaging process equipment, or running afoul of environmental compliance. Rust may damage a $10,000 component, but that's nothing compared to the cost of running a billion dollar refinery out of compliance, or making a million bad semiconductor chips, or sending a false negative analytical report to your customer!
How To Beat Rust?
Engineers often rely on superalloys to improve performance in corrosive environments, but high cost, long lead times, and machinability issues can be problematic. The best solution to beat rust and oxidation? Protect the part with inert silicon coatings like Silcolloy® and Dursan®. Why pay more for superalloys and deal with the high cost of making a new part specifically for the application when you can take an existing instrument component (glass, ceramic, stainless steel or other alloy) and coat it with an inert, corrosion resistant coating without changing part tolerance or performance.
Can SilcoTek® coatings stand up to corrosive environments?
Our coatings are proven to endure some of the most challenging environments. High temperature exposure, low temperature cryogenics, acid, base, or salt exposure; SilcoTek coatings take intense abuse and continue to protect the eyes and ears of your process. Here's an example; after 4000 hours of salt spray testing (ASTM G85) uncoated 316L stainless coupons show rust on the surface. That rust you see can adsorb and react with a key process sample or contaminate your process fluids. More salt spray exposure could damage probes or sensors; impacting the ability of your process control system to operate.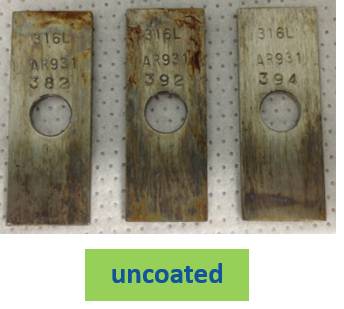 The Dursan® coated coupons below show no damage or rust contamination after 4000 hours of salt spray exposure; assuring reliable sampling results and process control.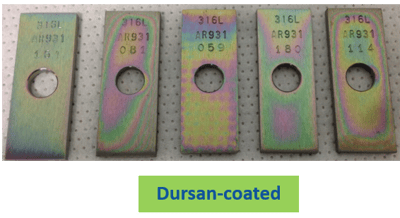 Where to use coatings?
SilcoTek® coatings are found in diverse instrumentation applications, such as:
Stack probes

CEMS & CEMMS flowpaths

Sensors

Semiconductor gas delivery systems

Flare & fenceline monitoring

Mass flow controllers

High purity gas regulators
Read how Turner Hydrocarbon Instruments saved money and protected their oil-in-water monitors in a highly corrosive environment.