Anti-Coking & Anti-Fouling Coating For Automotive and Aerospace Applications
US Patent 6,444,326
About SilcoKlean®
| | |
| --- | --- |
| | SilcoKlean® 1000 is a high temperature precision anti-coking coating, designed specifically to reduce carbon coking and fouling on stainless steel and specialty alloy surfaces. SilcoTek's patented non-line-of-sight CVD process produces a flexible, high durability silicon layer that conforms to the most intricate surface, while maintaining high dimensional tolerances. SilcoKlean 1000 layer will flex with metal surfaces, and form leak-free seals, even under the most demanding high temperature conditions. |
Applications
Our fouling resistant coating extends maintenance cycles for engines while maintaining high dimensional tolerances, high temperature capability, and leak-free sealing; making it an ideal treatment for engine components, stack nozzles, or precision instrumentation:
Fuel injection nozzles

Fuel and oil lines

Engine nozzles

Pistons

Refining

Stack sampling

Gas turbines

Stationary power
Click the icon below to view application:
| | | | |
| --- | --- | --- | --- |
| Automotive | Aerospace | Stack/Flare | Refining |
Get the latest data! Watch our anti-fouling webinar.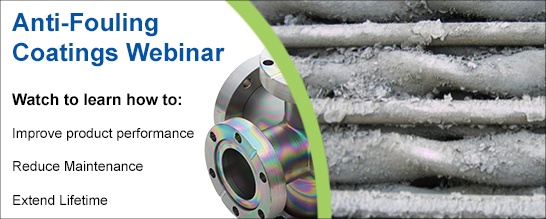 SilcoKlean Benefits
SilcoKlean® prevents exposed metal surfaces from catalyzing fuel into carbon filaments;reducing carbon fouling or coking by 8-fold when compared to an uncoated 316 stainless steel surface. The benefit? Lower operating cost and less maintenance.
SilcoKlean Benefits





Extend maintenance cycles

Improve long term performance and reduce emissions

Stop fouling of aftercoolers and heat exchangers

Reduce fouling during stack and flare sampling

Stop clogging of valves and fittings in refining





Trouble Selecting The Right Coating? Watch Our Webinar.
---
Achieve Maximum Performance
SilcoKlean® reduces the formation of carbon by preventing exposed metal surfaces from catalyzing fuel into carbon filaments. Our high durability silicon surface reduces carbon fouling by 8-fold when compared to an uncoated 316 stainless steel surface. (Data Credit: Oltin, Venkataraman, Eser; Pennsylvania State University; "Analysis Of Solid Deposits From Thermal Stressing Of JP-8 Fuel On Different Surfaces On A Flow Reactor", University Park, PA.)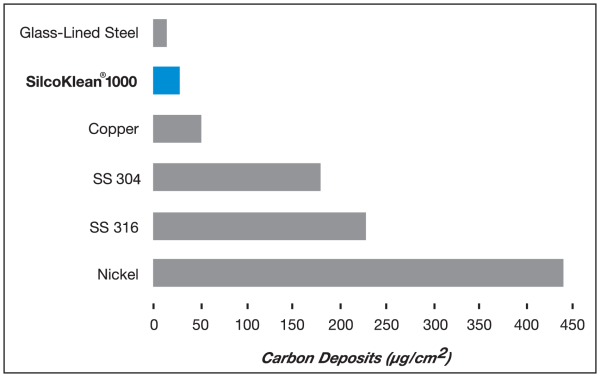 ---



Prevent carbon build up and fouling with an easy clean surface
The SilcoKlean® coated surface (left) does not promote carbon filament growth, preventing damaging coking and fouling formation (right). Particulates deposited on the coated surface can be easily removed with mild sonication; ensuring peak performance. (Data Credit: The Pennsylvania State University)
| | |
| --- | --- |
| Carbon nucleation lands on the surface but can easily be removed from a SilcoKlean 1000 surface. | Untreated stainless steel promotes carbon filament growth that cannot be removed with sonication. |
---
Learn more about SilcoTek® Coatings