Analytical Sampling & Lab Applications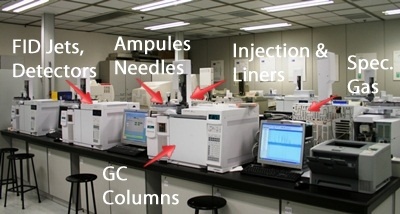 Benefit

Fast response, save time

Improved sensitivity

Low peak distortion

Improved sensitivity & resolution

Prevent carryover & contamination
Calibration & Spec Gas
Adsorption of reactive compounds in calibration systems can cost labs time and money. Troubleshooting gas delivery systems can take hours or days to resolve, causing major productivity loss and jeopardizing plant regulatory compliance. Inert coatings like SilcoNert® eliminate adsorption and give the analyst virtually real time results. *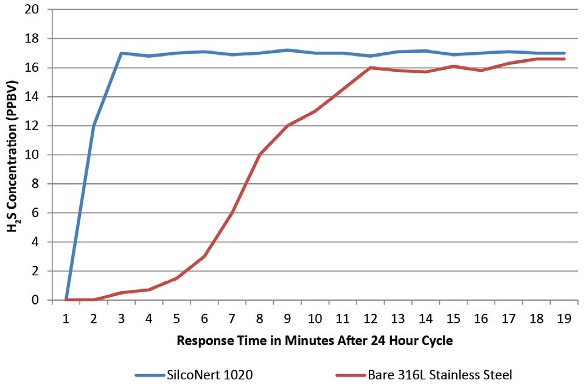 Reactive compounds like H2S get stuck in analytical systems, causing significant delays in response time. SilcoNert coated surfaces allow compounds to travel through critical flow paths unimpeded, offering near real time response and improving lab productivity.
---

Liners And Injection Flowpaths
An inert injection flow path is a critical factor in achieving consistent low level detection of sensitive compounds. The industry's most popular inert coating, SilcoNert® 2000 (also known as Siltek®) prevents interaction of injection port and liner surfaces with a wide variety of reactive compounds, allowing the lab to consistently achieve the lowest detection limits.
Achieve the lowest levels of detection for:

Chlorinated pesticides (EPA 8081)

Semi-volatile Organics (EPA 8270)

OP pesticides

Amines

Ammonia NOx and SOx

Sulfurs

More
Now labs have the option to re-deactivate liners and injection flow paths. SilcoTek® will re-deactivate any liner from any manufacturer, all shapes, sizes, and materials.
Want more inertness data? Download the SilcoNert brochure and see how SilcoNert performs.
---

Detectors
Does your application require ultra low level detection? Then it's important to coat the entire sample flow path including detectors with an inert coating like SilcoNert. Prevent common problems associated with challenging applications by coating detector surfaces with ultra inert SilcoNert:
Eliminate:

Signal loss

Peak tailing

Adsorption

Improve:

Peak Separation

Sensitivity

Baseline quality
Watch our video to see how SilcoNert® performs in the lab.
---

GC Columns
Getting the most out of your GC means your must be completely inert for optimum separation and peak quality. SilcoNert® (Siltek®) deactivated surfaces solve column reactivity problems, enhancing peak quality and preventing peak loss.
| | |
| --- | --- |
| | A high activity flow path, including the GC column can result in peak distortion, lost peaks and overall poor chromatography. |
| | |
| --- | --- |
| | A truly inert flow path will dramatically improve chromatography quality. SilcoNert coated GC surfaces prevent lost peaks and improve peak quality. |
---

Ampules and Needles
Reactive glass and stainless steel surfaces can hold and release reactive compounds, causing carryover, cross contamination, and degradation of sample quality. SilcoTek coatings not only stop the adsorption of active compounds, they also prevent the release of desorption of compounds, preventing cross contamination and assuring high sample quality.**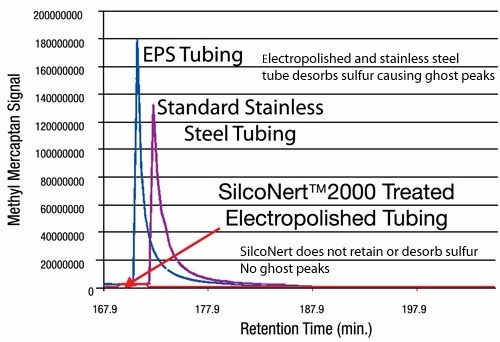 Back to top
---
Coating of wetted flow pathways of process sampling instrumentation minimizes surface interaction and breakdown of active compounds.
Injectors

Fittings

Tubing

Separators/Filters

Weldments

Probes & needles

Liners

Ampules

FID jets & detectors

Sample cylinders
SilcoNert 2000 can be applied to glass, ceramic, or stainless steel and steel alloy surfaces, protecting flow paths and improving lab performance and profitability.
* Data courtesy of Concoa Inc.
**Data courtesy of O'Brian Analytical
---

Learning Center
Learn more from industry leaders about how SilcoTek® coatings solve sampling problems and improve performance.