Offshore and Marine Application Data
Instrument component failures due to salt spray corrosion can shut down critical systems and increase operational cost. Inert and corrosion resistant coatings like Dursan® extend component life and rust protection in extreme heat and salt environments, preventing seawater corrosion.
ASTM G85 salt spray exposure demonstrates Dursan's corrosion resistance. Coated and uncoated 316L stainless steel coupons were exposed to concentrated salt spray for over 8700 hours. The uncoated coupons show extreme stainless steel corrosion which can impact sensor or instrumentation system performance.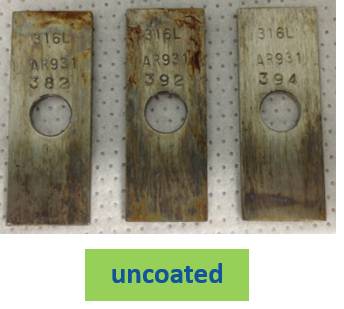 The Dursan® coated coupons show no corrosion, demonstrating that Dursan coated surfaces will continue to perform under extreme marine seawater corrosion environments.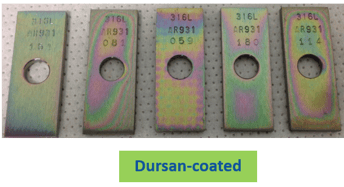 Downhole and subsea tools must maintain high tolerances while remaining durable and inert under extreme stress. SilcoTek coatings offer corrosion resistant, chemically inert coatings that can withstand extreme pressure and stress associated with deep well and subsea operations.
Superior corrosion resistance:
Dursan® and other SilcoTek® coatings improve corrosion resistance of stainless steel and high performance alloys by 10x or more. ASTM G31 testing demonstrates SilcoTek coating durability in extreme corrosive environments.
Seawater quickly damages stainless steel ballast filters, requiring ships to utilize costly exotic alloy filters in order to prevent filtration system failure. SilcoTek® coatings offer super alloy corrosion performance at a fraction of the cost while increasing the lifetime of the filter.
Dursan® coating (right) shows excellent dielectric stability in salt water after 60 days, providing an effective corrosion barrier on the substrate. Uncoated stainless steel shows significant pinholes.
Fluid handling systems and controls are vital to the performance and safety of ship and platform systems. Corrosion of components can risk system failure and increase maintenance cost. SilcoTek® coatings reduce maintenance and extend the life of fittings, pump and valve components. Dursan® compares favorably to super alloys in accelerated corrosion testing (below). SilcoTek coatings improve material performance while significantly reducing cost.