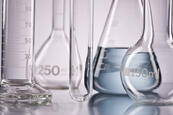 Selecting the right inert coating for your application can be a difficult and confusing job. Sometimes one of our standard coatings aren't the best fit for the job; other times the application is complex, mandating a major evaluation. When a difficult inert coating application is at hand, we call in our R&D group. They're our not so secret weapon against challenging applications.
At most companies, you have no chance to talk to the inventor of the product about how that product will perform in your application. At SilcoTek®, our R&D group not only develops coatings, they're available to help the customer select and evaluate our products in challenging applications. It's a win-win, the customer gets the best inert coating for their process or product, and R&D gets direct feedback from the customer about how our products perform.
Our team can employ several tools to assist customers in evaluating our surface technologies; including:
FTIR

Fourier Transform Infrared Spectroscopy (FTIR) uses broad band infrared radiation as the excitation source to probe molecular structures of various chemical species in gas, liquid or solid state. The FTIR technique is used by SilcoTek's technicians on a regular basis to perform the QA/QC duties, as well as by SilcoTek's scientists to assist in their R&D projects.
Thin Film Analyzer
SilcoTek's F20 thin-film analyzer (manufactured by Filmetrics Inc.) is a bench top tool that can be configured to measure thin film thicknesses (30Å to 350 mm), optical constants (n and k: refractive index and extinction coefficient) and transmittance. It is primarily used by SilcoTek as a quick, accurate and non-destructive way to measure surface thicknesses.
Contact Angle Measurement

Contact angle measurement benefits to SilcoTek customers by confirming surface hydrophobicity/hydrophilicity as required by application and to confirm successful surface bonding.
EIS
Electrochemical impedance spectroscopy (EIS) is a mostly non-destructive and very useful tool to study and evaluate the performance of protective surfaces on metal substrates. The measurement gives information such as resistance, capacitance, double layer capacitance and Faradaic impedance which are related to the performance and failure of the surface. EIS benefits to SilcoTek's customers by providing corrosion performance evaluation of surfaces.

Our R&D team of PhD chemists, material specialists, and technicians work with the customer to recommend the best evaluation techniques to assure valid and relevant results. Based on evaluation results, our team can adjust our process to deliver the best product for your specific application. While most customers don't need this level of evaluation, it's good to know our R&D team is there when needed.