Get The Right Coating For Your Application
We offer 2 versions of our inert silicon coating to be sure you get the right performance for your application. Not sure about what coating is best for you? Go to our Coating Comparison Guide or contact our Technical Service Team.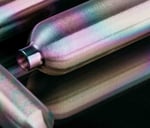 SilcoNert®

2000

(Siltek®/Sulfinert®): The ultimate inert silicon coating. Ideal surface for sampling & transfer in analytical, stack, process, oil & gas applications. Critical for trace level analysis of reactive compounds (∼ <100 ppm). The most inert surface for critical flow paths.
SilcoNert®

1000

(Silcosteel®): Use SilcoNert 1000 when exceeding 450° C or if a single-layer silicon barrier coating is all you need.
Select the best fit for your application:
SilcoNert 1000 higher temperature capability (1410°C) but is not as inert (ideal for higher part-per-million analysis)
SilcoNert 2000 intermediate temperature capability (450ºC) but is more inert (ideal for trace analysis less than 100 part-per-million)