HPLC Coating Data
Comparison of plates show there are negligible effects on pressure and column packability. The Dursan® CVD coating process results in a micron thick surface on larger geometries like columns. On fine geometries, like frits, the coating process results in a 100 nm thick surface. The table below shows Dursan has no impact on column efficiency.
| | | |
| --- | --- | --- |
| Column type | Efficiency (avg of 3) | Asym (avg) of 3 |
| Stainless Steel | 15195 plates | 1.028 |
| Dursan coated frit and column | 15233 plates | 1.026 |
| With Dursan coated frit, SS column | 15069 plates | 1.020 |
| Titanium frit SS column | 14263 plates | 1.044 |
PEEK is a highly inert material which has been used in HPLC applications for years. However PEEK has some limitations:
Mechanical strength: PEEK begins to flex at 3000 to 5000 PSI, making it unsuitable for UHPLC and other applications where high pressure is required.
Work-ability: Machining of PEEK doesn't produce consistent IDs, which disrupts flows and can shift retention times.
Environmental: PEEK has temperature limitations and solvent related swelling issues which limit solvent and temperature options for the user.
Dursan coated stainless steel offers a robust and inert alternative to PEEK.
Material
Temperature Stability
Solvent Performance
Corrosion Resistance
Delamination Issues
Mechanical Strength
Work-ability
Dursan-coated Stainless Steel
450

°C

No swelling
Resistant to most known HPLC solvents
Molecularly bound and will not flake off
Limited only by the base material
Precision coating does not significantly alter dimensions.
PEEK
148°C
Swells with THF, Acetone & more
Incompatible with some acids, halides, chlorides and buffers
Lined tubing can experience delamination issues
Begins to flex at 3000 to 5000 PSI
Inconsistent machining can disrupt flow and shift retention times
Comparative studies with Abbott Laboratories demonstrated the non stick feature of Dursan. Through our collaborative study with Abbott Laboratories, Dursan was shown to prevent non-specific protein binding and minimize protein fouling. Studies highlighting separations on HPLC peptide standard mixture, ribonuclease, cytochrome C, bovine serum albumin, and proteins show better response and minimum retention of the analyte on the surface, preventing cross contamination.
QCM-D analysis of coated and uncoated stainless steel surfaces show significant increase in protein mass on the stainless steel surface. The Dursan coated surface does not retain proteins, showing no increase in mass after washing with a non-ionic surfactant. This demonstrates the non stick feature of the coating.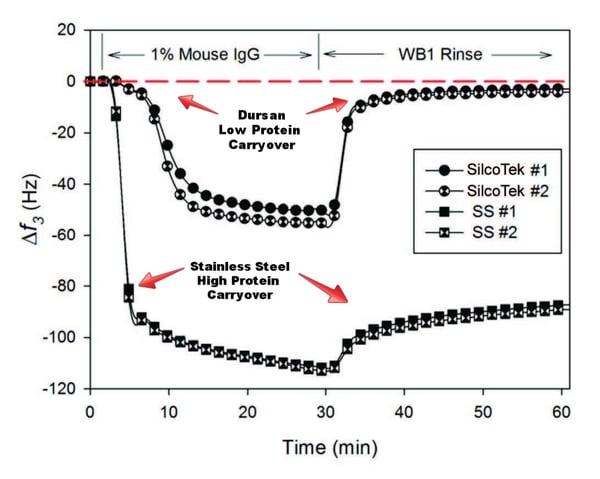 The comparative chromatograph below tells the story. The resolution quality of tetracycline on a stainless steel column (A) showed poor peak shape and response. The Dursan® coated column (B) significantly improved the peak shape and response.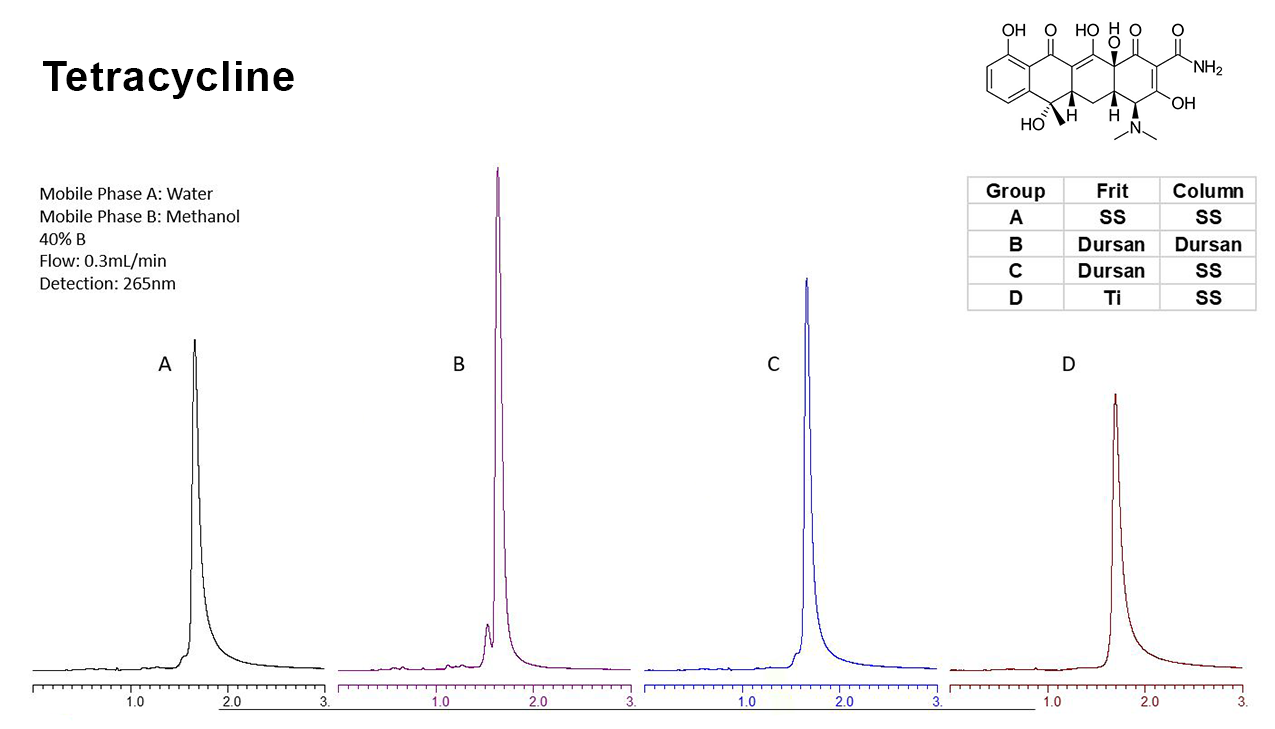 Organic molecules like phosphates can perform poorly in stainless steel flow paths. Phosphates are well known to have severe peak tailing during HPLC analysis due to the phosphate-iron interaction. We compared the performance of phosphate interaction, adenosine triphosphate (ATP), in stainless and Dursan coated systems. Results show a significant improvement in performance.
ATP Comparison

Ciclopirox is an antifungal agent typically used in topical fingernail and toenail infections. We compared the performance of 2-pyridinol-1-oxide, the chelating part of this antifungal agent, on various coated and uncoated surfaces. The chromatograms show significant loss of signal due to metal interactions in the separation. This highlights the interaction that the column wall has with the analyte and the need for column coating.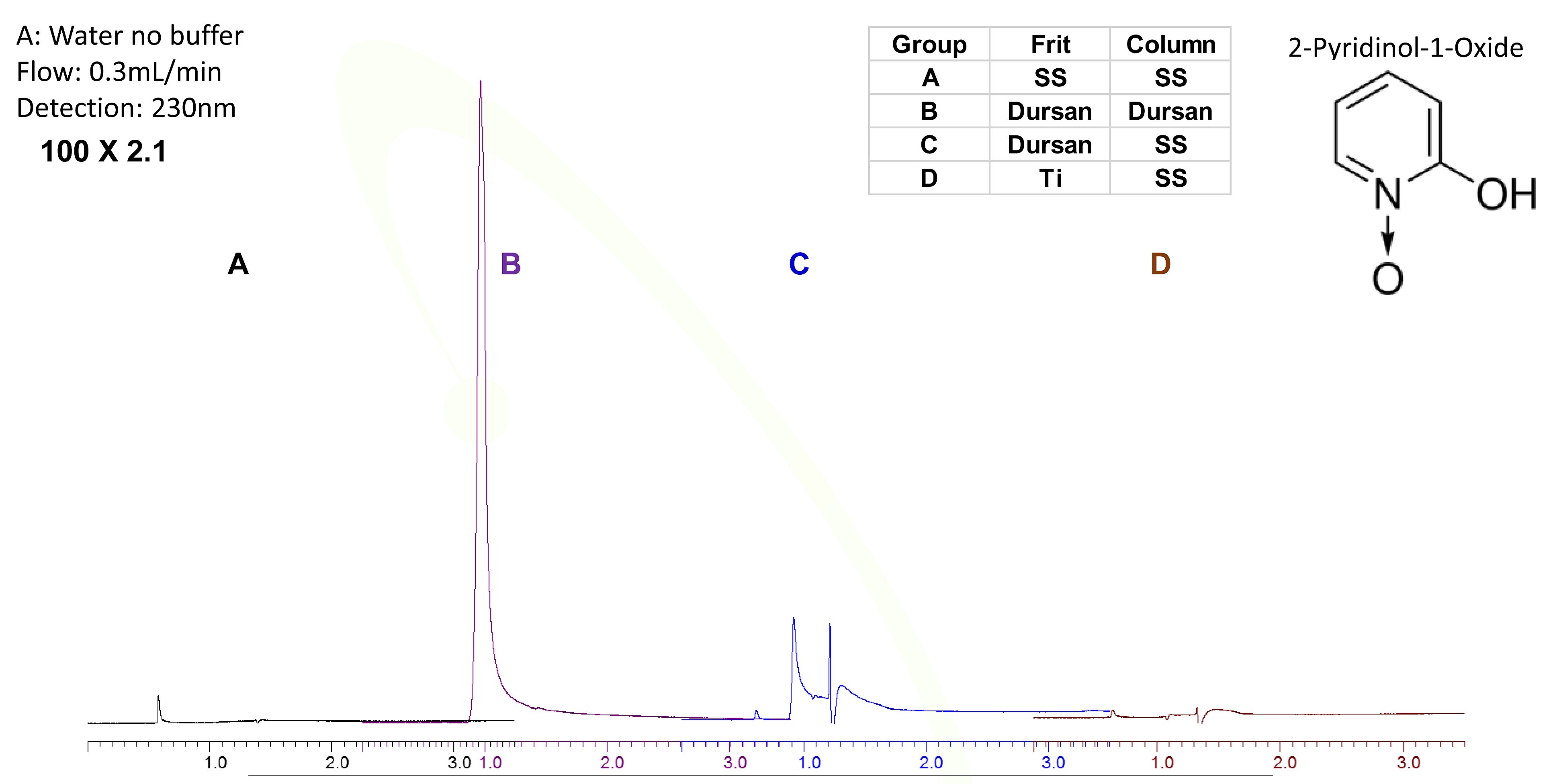 Dursan resists corrosive attack and damage to stainless steel flow paths. Dursan's inert surface creates a thin but robust barrier, preventing interaction of corrosives with the underlying surface.