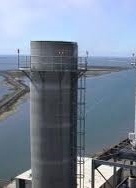 Refinery, process and plant ammonia sampling can be a difficult and sometimes maddening task. Long calibration times, loss of sample, and inaccurate test results can all lead to frustration. Poor sample quality can often be attributed to poor sample system design. Here are 3 design tips on how to improve test results.
1. Make The Flowpath Inert
Part per billion or low part-per-million ammonia analysis not possible without an inert flowpath. Reactive stainless steel and even glass surface activity will adsorb ammonia, causing lost sample peaks or artificially low readings.
A non reactive flowpath will prevent interaction of active stainless steel and glass surfaces with the ammonia sample. An inert silicon coating like SilcoNert® can be applied to intricate components like small bore tubing, fittings, fritted filters or regulators to assure reliable sample results. A recent comparative study by EURAMET and the European Metrology Research Program (EMRP) concluded that "adsorption of ammonia molecules on cylinder walls was minimized when the internal surfaces of stainless steel cylinders were passivated using the SilcoNert2000® treatment by SilcoTek Inc."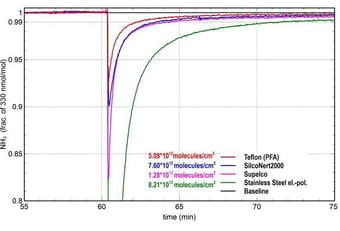 2. Keep It Smooth
The smoother the better. Reducing surface roughness will eliminate areas where adsorptive moisture, contaminants, or sample can hide. A smooth surface will improve sample transport efficiency.
Electropolished heat traced coated tubing adds unmatched value for analyzer installations:
Chemically inert sample path

Reduced carryover contamination

High Temperature (450° C)
3. Know Where You're Sampling
Studies and presentations by Welker Engineering (www.welker.com) show that sample location influences the quality of results. Position the stack probe to assure a representative sample.
Position the probe:




Away from the wall

Away from turbulent flow

From center of stream if possible

Away from any flow disruptions
Have questions? Call our Tech Service Team at (814) 353-1778 or email us at Silcod@SilcoTek.com.