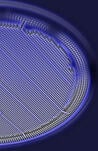 Semiconductor manufacturers have found a new weapon in the struggle for improved yields, higher purity, and reduced cost. Corrosives commonly used in semiconductor manufacturing cause yield robbing ion contamination; resulting in wafer contamination, higher maintenance and increased burn-in time.
Dursox™ is a thin but durable silicon oxide (SiO) high purity barrier coating that prevents semiconductor tool corrosion and erosion. Dursox is bonded to stainless steel and ceramic surfaces by our patented CVD process. The micro-thin coating penetrates small holes, inner cavities, and narrow bore tubes without significant change in tolerance.
Watch our corrosion video and see how our coatings prevent corrosive attack.
Dursox can be applied to common tool components:
Showerheads

Supply tubes

Fittings

Regulators

Reactors
Dursox™­ offers significant resistance to corrosives.
Dursox™ is a high purity silicon oxide layer that contains no metals, assuring no leaching of metal ions into process streams; making it an ideal semiconductor coating. XPS data show Dursox contains no metals throughout the layer.
Dursox™ is made for next generation semiconductor manufacturing systems.
Etch:

Dursox high purity coating eliminates ion contamination in corrosive etch gas streams

Atomic Layer Deposition (ALD):

Dursox enhances purity by coating of all chambers and equipment. Reduces carryover and corrosion

Epitaxy:

Dursox significantly reduces contamination and maintenance caused by corrosion

Ozone:


Stabilize flow path to assure ozone purity

Gas Transfer:

Prevent ion contamination, assure high purity gases

Chemical-Mechanical Planarization (CMP):

Increase lubricity, prevent sticking and cut downtime