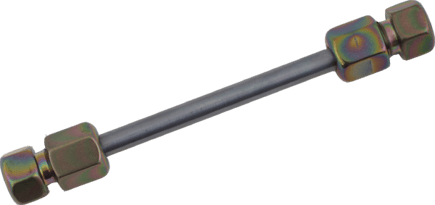 Dursan Coated Hardware Outperforms Traditional Approaches to Combating HPLC Issues
The Eastern Analytical Symposium (EAS) is a yearly event that is held for scientists and students to share papers, workshops, and short courses amongst the analytical and allied science field. This year's symposium will be held on November 14-16 at the Crowne Plaza Princeton Conference Center in Plainsboro, New Jersey. SilcoTek has attended EAS for the past several years to collaborate with industry colleagues and share our ongoing developments for solving metal-induced problems in HPLC applications with SilcoTek's inert coatings.
On November 15th, SilcoTek's Dr. Jesse Bischof will be presenting, "Trace Corrosion of Stainless Steel HPLC Components from Common Mobile Phase Additive and the Deleterious Impact on Separations" in the HPLC/UHPLC Separations in Pharmaceutical Applications session at EAS. He will speak about how Dursan® can help mitigate metal interactions between HPLC flow path surfaces and various compounds that are metal-active. His presentation will compare the benefits of using Dursan-coated stainless steel hardware over titanium, PEEK, and passivation additives, all of which are three common but suboptimal approaches to avoiding chromatography issues caused by untreated stainless steel.
Coating HPLC flow path hardware with Dursan and other inert coating solutions from SilcoTek improves analytical sensitivity and accuracy, reduces maintenance, eliminates the need for priming, and substantially increases the efficiency of your workflows. A few highlights from Dr. Bischof's upcoming presentation at EAS are highlighted below.
Metal – Great Machinability, Poor Performance. Why?
Despite their exorbitant costs, corrosion resistant specialty alloys like Hastelloy® suffer from trace-level corrosion in even benign solvent conditions (see table below). These metal interactions may never be visible to the naked eye or cause problems in most applications, but they have a significantly negative impact on chromatography performance. This can make the proper development and accurate QC of pharmaceuticals impossible, not only decreasing production efficiency for vaccines and other therapies, but potentially leading to dangerous outcomes.

Dursan-coated stainless steel prevents metal leaching in common solvents that even create chromatography issues for exotic alloys:

Make Every Surface Metal-Free
The chromatogram excerpts below illustrate how an entirely Dursan-coated HPLC column – including frits – produces the best chromatography results. 2-pyridinol-1-oxide is a very powerful metal chelating agent. The chromatograms below show definite loss of signal due to metal interactions in the separation. This shows the interaction between the column wall and the analyte, proving a need for column coating as this interaction is significant. A bare stainless steel column with Dursan-coated frit shows the importance of making the high-surface area frit inert, but coating the entire column flow path to eliminate metal exposure is critical for the best performance. SilcoTek's CVD coating process to apply Dursan can easily penetrate even sub-micron pore sizes of frits, sintered materials, and other filtration components.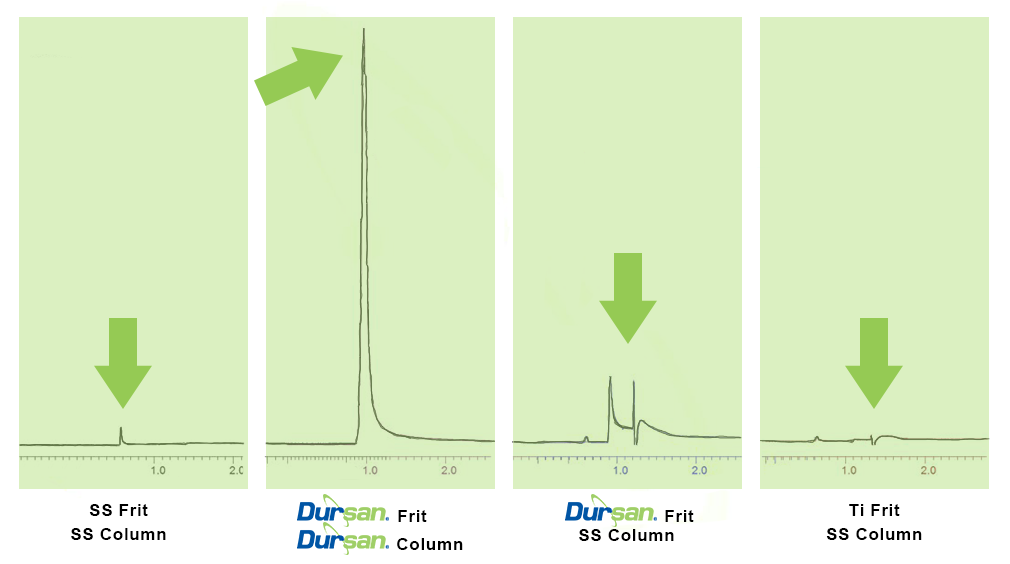 Comparison to PEEK

Dursan can make metal HPLC flow paths at least as inert as PEEK by eliminating metal active sites where adsorption, catalysis, and leaching can occur. The biggest advantages of using Dursan-coated hardware instead of PEEK are in producibility, efficiency, and cost. PEEK can be very difficult to apply to high aspect ratio column configurations and frits. PEEK is susceptible to swelling and can delaminate in the high pressure conditions that are becoming increasingly common for emerging separation needs that are increasingly challenging. The price of PEEK also continues to climb while availability and delivery is less favorable now than ever before.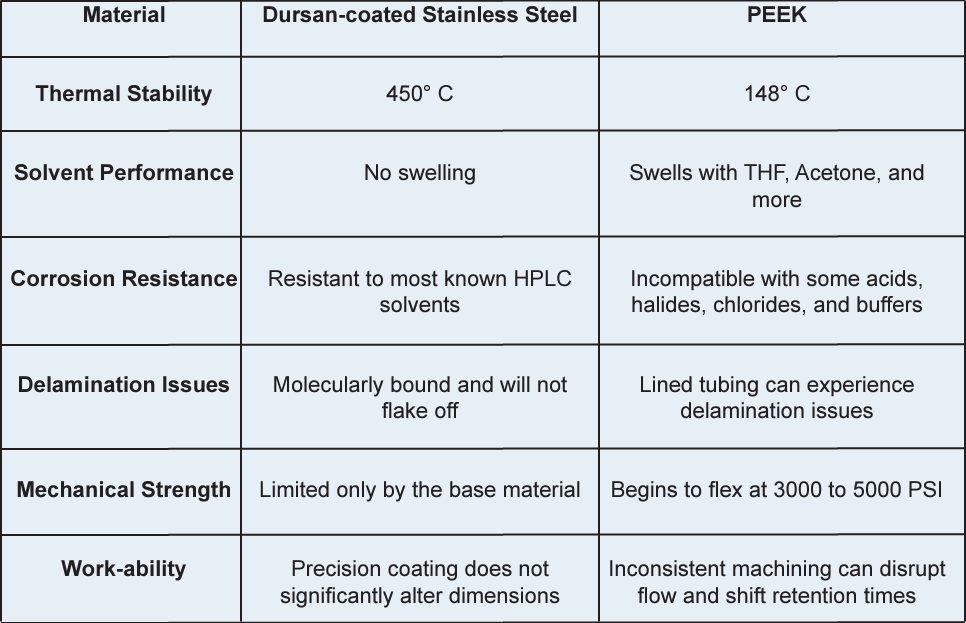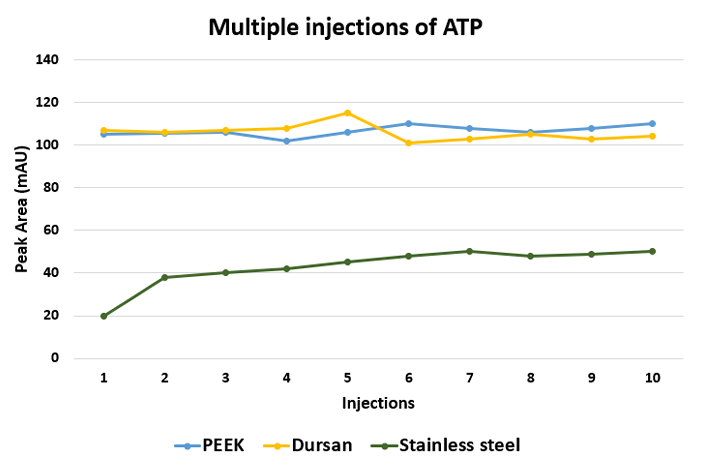 Frequently coated HPLC flow path components are:
Needles

Pump heads

Metal fritted filters

Stainless steel tubing

Ampoules

HPLC columns

Valves and Fittings

More
To learn more about Dursan or any of our coatings, please contact us!