Earlier this year, SilcoTek® partnered with SENSOR Sampling Systems, a division of SOR Controls Group, to bring you a game-changing case study. Read on to see why SOR's Product Manager, Billy Terry stated, "SilcoTek is our preferred partner when it comes to coating requests as they consistently provide solutions with the same high degree of quality our customers have come to expect."
&

---
Enhance Process Sampling Accuracy and Safety
Summary
SilcoTek works with a variety of customers who focus on different applications within the industrial process market. SENSOR Sampling Systems provides robust solutions for customers in the chemical processing industry with a need for collecting samples of process media in a manner that is both safe to the operator and environment while also managing quality and yield. SENSOR recognizes that their customers need unique solutions and design each sampling system specifically for the chemical being collected. The final step in some of their custom-engineered solutions is overcoming chemical interactions with the internal surfaces of the system – this is where SilcoTek comes in to help finish the job.
How SilcoTek Helped
SilcoTek was pleased to see SENSOR Sampling Systems work to get the perfect parts designed, manufactured, and assembled for their customer's system and knew the last stop in solving surface challenges was to engage the experts.
When SENSOR receives notice that their customers are looking for an inert surface and have specified SilcoTek coatings, they are able to easily accommodate the request. There are many parts in a sampling system that may need to be treated with SilcoTek's patented CVD coating. After fully disassembling the system, the experts at SENSOR are able to send standard and custom components to SilcoTek for coating, receive the parts back, and reassemble the completed sampling system for their customer. This willingness to go the extra mile for their customers is what makes SENSOR Sampling Systems an excellent partner with SilcoTek.
What is more, ordering coated hardware from competing companies can often take months due to their prolonged lead times. SENSOR understands that their customers need their sampling systems up and running as soon as possible.
To download a copy of this case study, click the button below:
Game-Changing Benefits
SENSOR Sampling Systems has provided custom solutions for a variety of applications with surface challenges, such as the following.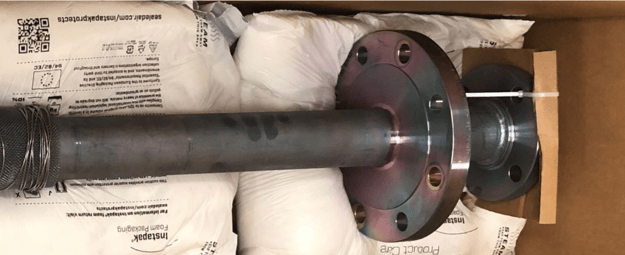 Image 1: Customer Sampling Probe
Image 1 (above) depicts a sampling probe where the customer was concerned about inaccurate measurement of sulfides in the collected samples. It was believed that the skewed measurements originated from cross-contamination of sulfide leaching into the metallic sample cylinder and system components. A SilcoNert 2000 coating was applied to the probe, providing an inert and corrosion resistant barrier that will prevent any metal ion leaching or contamination of the sulfide readings. Image 2 (left) shows the completed sampling system for a customer who approached SENSOR concerned with corrosion caused by chlorides in their system. The customer had been using 316 SS but was looking for an economical and effective solution to both stop the corrosion and prevent contamination, which would've resulted in them having to replace the affected part. SENSOR and SilcoTek worked together to provide a SilcoNert 2000-coated component that not only solved the contamination but while still utilizing 316 SS for the material of construction. SilcoNert's ability to protect against harsh chloride corrosion enabled a simple and cost-efficient fix for the issue.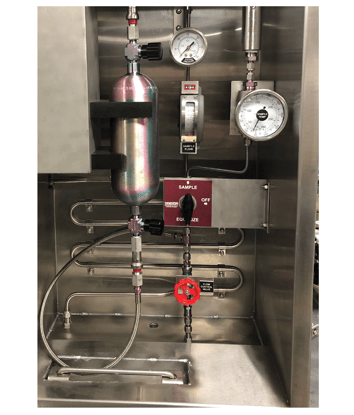 Image 2: Complete Sampling System
The benefits of an inert flow path in gas chromatography and laboratory sampling systems include:
Faster response, save time get higher throughput

Improved sensitivity

Low peak distortion

Better peak resolution

Less sample carryover and contamination
Have questions about how we can improve your sampling analyses or other applications? Contact us today!