By 2017, the EPA's Tier 3 gasoline sulfur regulations require that oil refineries reduce the average sulfur level in gasoline by more than 60 percent, to just 10 parts per million (ppm), from the current 30 ppm standard. The benefits are substantial, with improved auto emissions and air quality; but there are also substantial costs, with refineries footing the bill in the hundreds of millions of dollars.
Refiners across the nation are scrambling to either purchase credits (now 20X higher than credits under the existing Tier 2 program) or undergo an aggressive and expensive upgrade to existing sulfur management systems. But even after all that expense and effort, there's still one detail that can kill the entire Tier 3 investment, not upgrading your sampling and monitoring system.
Timely, precise measurement of sulfur species in refinery feedstock and product will be critical to compliance. If the measurement system cannot accurately detect 10 ppm sulfur or less, you'll be running your refinery blind.
Thinking your current sampling and monitoring protocol will make the grade? You could be sadly mistaken. That's because the systems and procedures needed to sample 30ppm sulfur can be much different than what's needed to consistently measure at 10ppm. Where bits of exposed stainless steel or flowpath priming could yield acceptable results under Tier 2, the same cannot be said under Tier 3.
Forget Priming
The idea of covering adsorptive active sites found in stainless steel, glass, or ceramics with a charge of sulfur just won't work when sampling at 10ppm. That's because priming will take forever to stabilize the system and then will yield erratic sulfur readings when that sulfur desorbes from the stainless steel surface. The graph below highlights the effect of sulfur adsorption. In this test we'll flow a sulfur sample through 100 ft of 1/4 inch stainless steel tubing and wait for the sulfur level to stabilize at the other end of the tube. Results show a 90 minute delay for uncoated stainless steel vs. near immediate response with SilcoNert® coated tubing. That's a 90 minute delay in knowing if your plant is running in compliance or completely out of control.*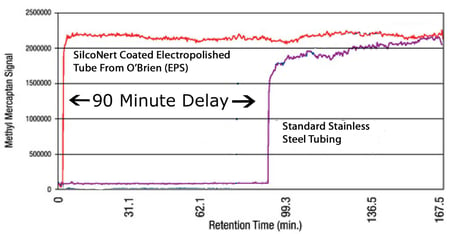 This example is for only 100ft of tubing, multiply that by a more realistic length of say 500ft and your talking nearly 8 hours of delay! Now combine that effect with the inevitable desorption or release of excess sulfur and you'll be seeing unexplained spikes in sulfur readings and attempting to adjust your process to erroneous results.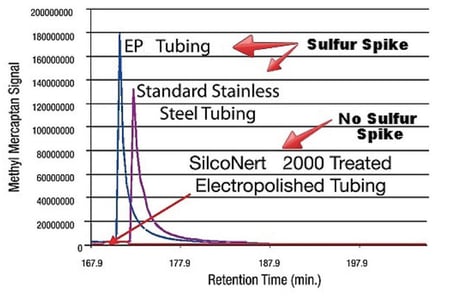 Leave Nothing Uncovered

A stainless steel fitting that did not need to be made inert under Tier 2 may become the source of seemingly endless loss of 10ppm sulfur under Tier 3. Any flowpath component like fritted filters, fittings, valve components, tubing pig tails, regulators, or mass flow controller exposed to low level sulfur will become a major source of loss under the new regulations.
SilcoTek's inert coatings implemented throughout the sample

flow path ensure accuracy and reliability by preventing sulfur

and other reactive compounds from adsorbing onto transfer

equipment. Without these coatings, refineries will not obtain

sulfur signals at the 10ppm level required by the EPA.
The Benefit
SilcoNert® coated sampling and transfer systems allow refineries to obtain accurate sulfur data the first time, every time without delays, sample errors, or false readings. Analysts and engineers can achieve compliance while saving thousands in improved yields, test cycle times, and system reliability.
And don't forget the fenceline!
One by-product of Tier 3 compliance could be an increase in sulfur air emissions. Removing more sulfur from product streams may generate higher sulfur dioxide and other pollutant discharge into the air; causing local fenceline monitoring issues and potentially running afoul of air quality regulations. Be sure to upgrade fenceline detection and be vigilant of potential air compliance issues.
Learn more about how our coatings help companies meet regulations and improve products! Get our free e-book, SilcoTek 101.
*Test courtesy of Shell Research And Technology Centre, Amsterdam, and O'Brien Corporation.