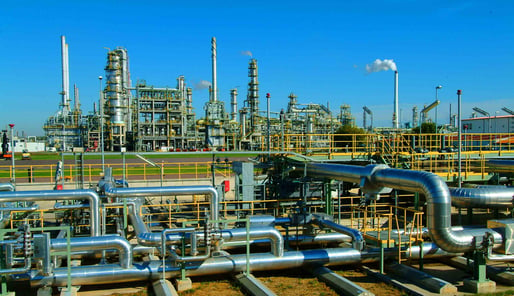 We discuss the importance of a metal free HPLC flow path in hydrocarbon processing applications. Here's what we learned.
Separation and characterization of petroleum products using HPLC analytical tools has been a long established method for use in separation of light distillates, kerosene and diesel fuels, aviation fuels, lubricating oils and bituminous products. Typical HPLC analytical flow paths rely on stainless steel and PEEK for analyte transport and testing. Unfortunately those surfaces are prone to oil wetting and corrosion which can lead to cross contamination. Additionally solvent rinsing of PEEK tubing can result in tube swelling and pressure control issues.
Making petroleum analytical flow paths resistant to oil cross-contamination can be as easy as changing the surface energy. Applying a corrosion resistant, solvent resistant and oleophobic coating like Dursan® throughout the stainless steel flow path can improve hydrocarbon product test reliability.
How Dursan® can improve HPLC separation in hydrocarbon processing.
Dursan is a silicon CVD coating that is bonded to stainless steel to enhance surface properties and analytical performance. Dursan benefits include:
Oleophobic surface to reduce oil wetting and improve cleaning and prevent cross contamination.
Coking and fouling resistance improves column and flow path life
Corrosion resistant surface prevents pitting and damage to the flow path
Solvent resistance will not swell or react with solvents, helping to maintain consistent colum pressure.
Why an inert flow path is critical to HPLC applications.
Using non reactive materials (stainless steel is not one of them...) in HPLC sample transfer systems can be summed up in one word, consistency. There are lots of other, more specific, benefits of a non reactive suface (see the list below) but consistency ties into all of the threads nicely; be it financial consistency, test consistency, or consistency of quality. Consistency if why an inert HPLC flow path is critical.
Reduce costs and downtime
No need to re-test
Accurate profile of all components, both reactive and non-reactive
Trust your results
Eliminates false negatives
No additional molecules/ions introduced

The enemy of consistency, stainless steel and PEEK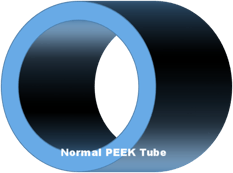 Stainless steel and PEEK tubing solve a lot of sample transfer problems. At first blush they appear to be the perfect solution. Kind of like that Fiat I once had. It was cheap and got great gas mileage. So what if the paint blew off the car every time I washed it Reliability was not it's strong suit, so in the long run it was not a good deal. Ultimately I could not consistently get to work because of that car. Well stainless and PEEK are kind of like that Fiat. At first they appear to be a good solution but take them for a drive for a while and problems begin to become clear.
Stainless steel: Chemical reactivity, corrosion, and abrasion can all lead to the introduction of molecules and ions that are not in your sample.
Stainless steel issues include:
Acid corrosion (Halogenated solvents – HCl, HBr)
Highly reactive toward chelating agents
Protein Fouling/carryover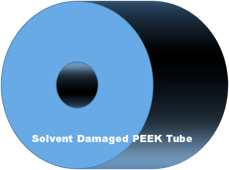 PEEK: Solvent damage and temperature limitations can lead to inconsistent pressures, flow problems and potential delamination and failure.
PEEK issues include:
Temperature limitations (Tg = 148°C)
Halogenated solvent damage
THF, Acetone, and other organic solvents cause swelling
Get the scoop on how to improve corrosion resistance and prevent PEEK swelling problems. Sign up for our special webinar on improving HPLC.
Sign UP For Our Metal Free HPLC Webinar
Dursan® Material Properties
Stainless and PEEK are not perfect but they're a good material choice for many HPLC applications. Dursan can help improve test consistency under challenging test conditions or when flow paths are exposed to organic solvents that can cause swelling. So what is Dursan?
Dursan is a silicon, oxygen, carbon coating that is bonded to stainless steel flow paths by chemical vapor deposition. Wherever a vapor molecule can get to, we can coat it. That includes sintered metal frits and inner bores of needles. That means that you can get all the structural benefits of stainless steel ( ie. heat resistance, high pressure capable, easy to work with, and low cost) and combine that with the non reactivity of a plastic free coating. Material benefits include:
High temperature: Stable up to 450°C
Usable in wide pH range: 0-14
Molecularly bound to the substrate: Excellent adhesion
Wear: 2x more resistant than 316 Stainless steel
Inert to most chemicals

So how can Dursan® make a difference in HPLC flow paths and columns?
Acid corrosion resistance makes Dursan a solution for difficult HPLC coating applications. Comparative tests of our corrosion resistant HPLC coating, Dursan, VS. uncoated stainless steel show orders of magnitude improvement in corrosion rate. ASTM G31 hydrochloric acid immersion of test coupons show the stainless steel surface corrodes at a 170x faster rate than the Dursan coated surface. That means less chance of contamination and improved flow path life.
ASTM G31 guidelines
20% (6M) HCl room temperature immersion 24 hours
Over 170x improvement with coating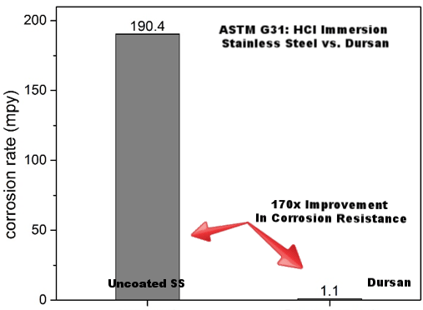 Learn How To Improve Moisture Resistance, Fouling Resistance, and Corrosion Resistance.
HPLC Inert and Oleophobic Surface

Tetracycline has a number of potential chelating groups
Dursan® coated column shows improvement in peak shape.
The comparative chromatograph below tells the story. The resolution quality of tetracycline on a stainless steel column was compared to a Dursan coated column. The Dursan coated column significantly improved the peak shape.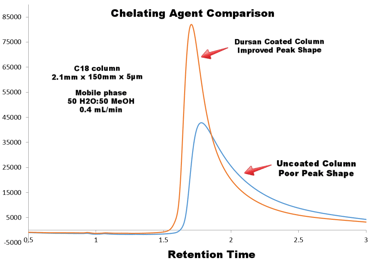 Get the most out of our inert coatings and see how SilcoTek can improve HPLC performance.


Make Surfaces Resistant to Oil for Easy Cleaning and Prevention of Contamination
Low surface tension liquids like oil or organic solvents are designed to wet the surface for maximum lubrication or solvation. But what if you're separating organics or don't want the surface to wet? Water repelling materials like PTFE aren't effective in repelling oil. Here's what oil and hexadecane look like when placed on a PTFE surface.
We bonded our new Fluoro coated Dursan material on a rough stainless steel surface to see if the contact angle would increase. The Fluoro-Dursan material made a big difference in contact angle, making the stainless steel oleophobic surface.
Given the nature of refining or cleaning for that matter, we can expect the surface to be exposed to elevated temperatures. PTFE is temperature limited and can fail in many high temperature applications. We exposed the Fluoro surface to elevated temperature (300°C) for several hours to gauge the impact to wettability and contact angle on various surfaces. The graph below shows consistent contact angle readings over the 90+ hour test. PTFE would have failed at 250°C.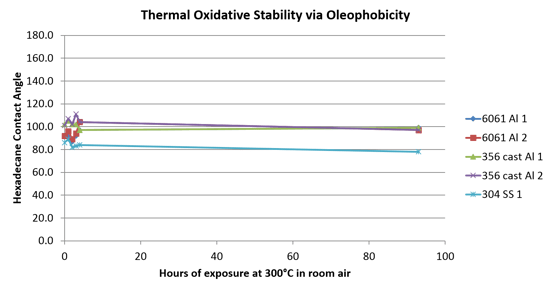 The contribution of surface energy and it's relationship to process fluids can have far ranging impacts. Surface interaction can impact corrosion, fouling, analytical sampling results, filtration and produced water. So it's important to understand how to manage the energy of critical flow path surfaces.
Get some really informative and helpful tips on ways to prevent fouling, change surface energy, & improve surface performance.