Coating Technologies for Oil and Gas
SilcoTek® coating technologies maximize the performance of your products.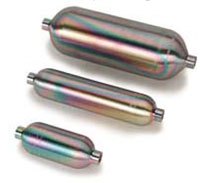 Improve:
Process and Product Yield

Sample Reliability

System Response and Sensitivity

Corrosion Resistance

Anti-coking
Part Per Billion Inertness:
H2S and Sulfur Sampling
Ammonia
Mercury
SilcoNert® 2000: The ultimate passivation of treated surfaces, from glass to high nickel alloys.
Dursan®: A tough, corrosion resistant, inert coating. Ideal for harsh oil and gas environments.
A required treatment for metal components when analyzing for parts-per-billion levels of organo-sulfur compounds & mercury. Greatly reduce moisture contamination and improve system performance with SilcoNert 2000 and Dursan.
SilcoNert 2000 surface treatment eliminates surface adsorption of active compounds on steel, glass, ceramic and carbon surfaces. Sulfur Compound Storage in SilcoNert 2000 Treated vs. Untreated Sample Cylinders Figure 1 depicts performance results from a comparison in which a gas containing 17ppbv of hydrogen sulfide was stored for 7 days in untreated and in SilcoNert 2000 treated stainless steel high pressure sample cylinders. The results show a SilcoNert 2000 treated sampling system will reliably store low levels of this active sulfur-containing compound in process streams for long periods of time. In contrast, hydrogen sulfide degraded rapidly in the untreated cylinder, and was totally adsorbed within 24 hours.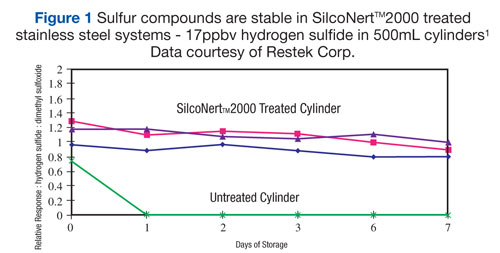 Figure 2 summarizes the results of a similar study in which gas containing 18.8 ppbv methyl mercaptan was stored for 60 hours in SilcoNert 2000 treated sample cylinders. Again, recovery of the active sulfur gas was accurate at the low ppbv concentration, confirming that the sample was stored in contact with an inert surface.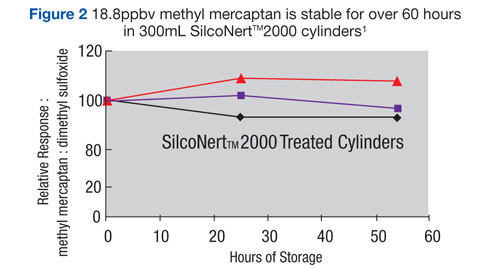 Adsorption of Sulfur Compounds to Tubing Surfaces under sample transfer conditions Comparison of the transport properties of SilcoNert 2000 treated electropolished stainless steel tubing, and raw commercial grade stainless steel tubing show only SilcoNert 2000 treated electropolished stainless steel has the inertness necessary to transfer sulfur compounds at low ppmv to low ppbv concentrations in sample streams. Figure 3 demonstrates uptake of the sulfur compound by the three surfaces. The performance of the SilcoNert 2000 treated, electropolished surface is quite dramatic in comparison to that of untreated electropolished tubing. SilcoNert 2000 treated electropolished tubing did not adsorb methyl mercaptan to any measurable extent, delivering a representative sample with no delay. The untreated electropolished tubing, in contrast, totally adsorbed methyl mercaptan for more than 75 minutes, and the sulfur gas level did not stabilize until approximately 130 minutes. Conventional 316L seamless tubing totally adsorbed methyl mercaptan for more than 90 minutes, and the sulfur gas level did not stabilize until approximately 140 minutes.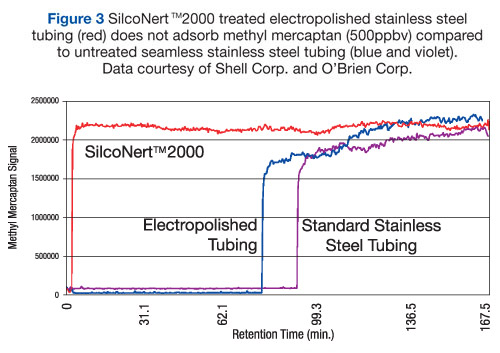 The "memory" of adsorbed active compounds can cause long delays in equilibrating a sample stream. Figure 4 demonstrates the memory effects of the three types of tubing used to transfer streams containing sulfur compounds. The SilcoNert 2000 treated tubing shows less retention of sulfur compounds by several orders of magnitude, indicating very high inertness.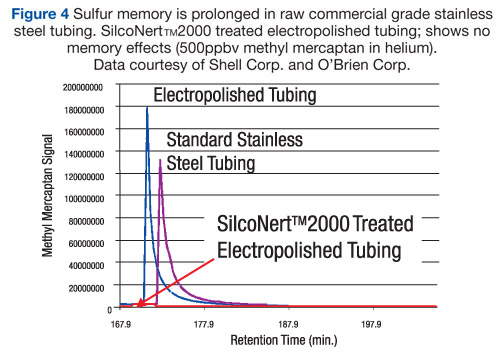 Value of an Inert Pathway
SilcoNert 2000 treated sampling and transfer equipment results in more accurate sampling and faster cycle times. Improved accuracy and reliability of data for sulfur, achieved using SilcoNert 2000 treated transfer and sampling equipment, mean downstream processes can be more precisely controlled, resulting in significant cost savings. Shorter cycles translate directly into more samples collected and analyzed in a given period of time. Typical savings can be calculated by looking at the average per-hour cost of operating a process that relies on accurate quantification of sulfur compounds.(1) For example, a 1 hour delay can cost: 800,000 tpy ethylene plant: $50,000; 250,000 tpy LDPE unit: $36,000; 250,000 tpy EBSM styrene plant: $33,000; 200,000 tpy anti-freeze process: $3,600
In Summary
Our treatments maximize the performance of your product the first time, every time while saving you thousands in improved yields, better test cycle times and improved system reliability! To learn more visit our web site at www.SilcoTek.com or call us at 814-353-1778.
Reference
1. D. Smith, D. Shelow, G. Barone; "Instrument and Sampling Equipment Passivation Requirements to Meet Current Demands for Low-Level Sulfur Analysis"; Presented at Gulf Coast Conference, 2001; Restek Corporation, Bellefonte, PA 16823. 2. Application of TrueTube™ in Analytical Measurement Cardinal UHP August 2004. The authors thank the staff at Shell Research and Technology Centre, Amsterdam, for data used in evaluating sulfur gas uptake and memory effects of tubing substrates.
SilcoTek offers treatments on a custom basis direct from our facility. Just follow 2 easy steps to maximize the performance of your product!
Step 1 - Get a quote!
We make it easy with quote options to fit your needs visit our website at www.SilcoTek.com and complete our on-line quote request form or fax your quote request to Quotes at 814.353.1697 or e-mail it to Silcod@SilcoTek.com. We'll get a quote out to you within 24 hours!
Step 2 - Send in your parts!
Mailing instructions, shipping labels and a service number will be forwarded to you along with your quotation. Box up your parts and send them to us. Your order will be processed in 10 working days or less.
Our 2 touch system means zero disappointments. We'll notify you when we receive your parts and when your order is ready to ship.
Click here to download a PDF of this page