We hope you all enjoyed your Thanksgiving feast and spent some quality time with your loved ones! With the holidays fast approaching, we wanted to talk a little about how SilcoTek® coatings have proven to help reduce the risk of foodborne illnesses. Our inert, NSF Approved Dursan® coating can be applied to stainless steel equipment to prevent adsorption of bacteria, like Listeria. You may have heard about Listeria in the news recently as the Centers for Disease Control and Prevention reported multistate outbreaks for the past several years. Let's take a look at how SilcoTek's coatings can help to mitigate the spread of listeria.

Listeria monocytogenes (L. monocytogenes)
Listeria Formation
Listeria bacteria naturally occurs in soil, water, and animal feces. When dairy products, raw fruits and vegetables are processed and packaged, the listeria bacteria can transfer to the equipment and form biofilms. Once these biofilms are formed, they are difficult to remove and often requires shutting down the process for extensive cleaning. Without complete equipment cleaning, the listeria can transfer to previously unaffected produce or products, causing food contamination and a major listeria outbreak. A major outbreak can result in hundreds of people getting sick and extensive product recalls.
Texturing of surfaces as well as protective coatings have previously been explored to mitigate listeria contamination, but the combination of the two have not been extensively studied.
Overview
The Department of Biomedical and Nutritional Sciences at the University of Massachusetts, Lowell and the Agricultural Research Service at the United States Department of Agriculture researched how different coatings can reduce listeria biofilm formation on stainless steel. The researchers looked at 304 stainless steel with different surface textures and FDA approved coatings. As modeled below, Dursan performed very well in comparison to the other coatings, especially on the native 304 surface.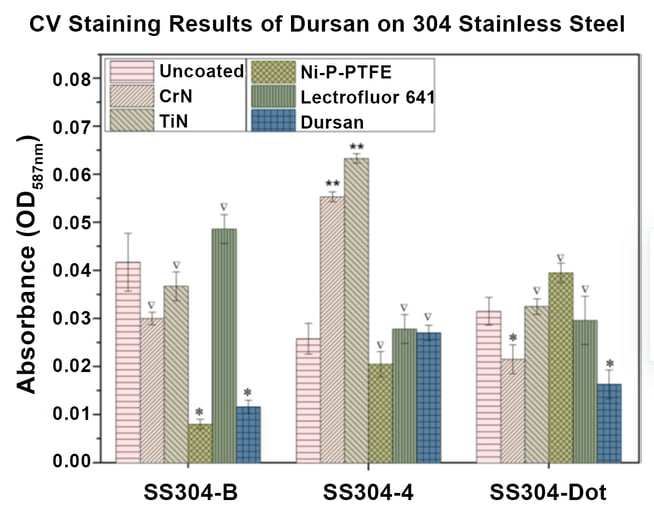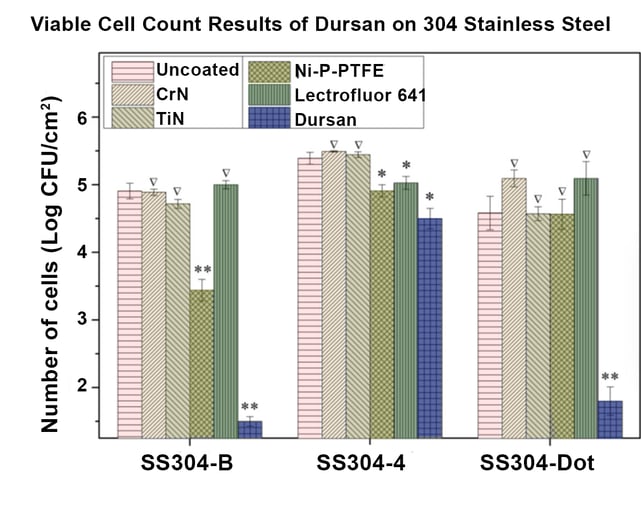 The biofilm formation was quantified in two different ways: CV staining and plate counts. According to the authors, CV staining is a method that can quantify the total biomass on the surface. This includes the bacterial cells (the listeria) as well as the extracellular polymeric substances. What it cannot quantify is cell populations or any individual extracellular polymeric substance. The plate count experiment was used to quantify viable bacterial colonies. In other words, the CV staining shows the total mass of biological substance that was on the sample surface while the plate counts show how much of that substance is viable cells that can make a person sick.
The CV staining results show that only 3 coatings provide statistically lower biomass accumulation: Dursan, Ni-P-PTFE, and CrN.
Dursan Benefits
Dursan is a low surface energy, inert coating designed to reduce nonspecific protein binding and carryover while improving corrosion resistance. Food production and diagnostic equipment used for protein analysis will benefit from the durability and unmatched chemical inertness of Dursan coated stainless steel and glass. SilcoTek provides an alternative coating solution in Dursan that offers better stability in air and other oxidative environments, even under elevated temperatures.
Dursan demonstrates a significant reduction in protein carryover and provides significant benefits to pharma, bio analytical, and food science applications including:
Reduce protein and biomolecule carryover related false positives
Reduce listeria related food illnesses and food recalls
Extend the life of components including injection needles or probes
Reduce cleaning and replacement costs
Improved process efficiency
Improved corrosion resistance and less corrosion related contamination
Dursan Inert Coating Offers Benefits in Many Application Areas:
Dairy processing flow paths
Food processing equipment
Meat processing
HPLC columns and hardware
Laboratory sample preparation and transfer glassware
Delivery needles and transfer components
Toxicological/clinical/forensic testing equipment
As the research team is continuing their investigation, there are a few key takeaways. Dursan allowed for less biofilm formation and made it easier for any biofilm that did form to be removed. Dursan is exceptionally durable in these harsh environments. Coated devices allow for easier cleaning, especially for intricate or difficult to reach spots. This is just one of many applications where Dursan coating could be useful. Listeria is the first of its kind to be evaluated with SilcoTek's coatings, but we are positive that there are other areas where we could help!
If you're wondering if our coatings could help in your application, please contact our team for a FREE consultation!