Because SilcoTek® attended Compamed in Düsseldorf, Germany this week, we wanted to share some ways that our CVD coatings can enhance medical device applications. Compamed is a trade fair where exhibitors and attendees can discover new high-tech advancements in the medical technology sector. SilcoTek's CVD coatings like Dursan® creates a chemically inert barrier on stainless steel, glass, ceramics, and other alloys to prevent contamination, reduce nonspecific adsorption of proteins and other sample media, improve release of molded components, fight corrosion, and more.

Benefits of an Inert Surface for Medical Devices
SilcoTek coatings offer unique performance benefits. Because they're non-reactive and durable, they are able to stand up to harsh cleaning environments while delivering reliable analytical performance. Also, coatings like Dursan® resist protein binding and fouling, so there's significantly less cross contamination.
SilcoTek's coating technology has a long history of improving performance of very narrow and precise instrumentation, and our customers who manufacture probes understand the importance of proper surface technology. The Dursan process is a chemically inert, silicon-based coating that improves corrosion resistance and reduces protein carryover promoting more accurate test results as well as more thorough cleaning, disinfection, and sterilization processing. SilcoTek's Dursan technology has been rigorously tested to ensure proper performance and to earn an NSF Certification and a USP Class VI Certification.
Benefits Include:
Improve Cleaning - Dursan's inert barrier reduces contamination and buildup of biological material, while making standard rinsing easier and more effective.
Easy Integration - Run processes as normal while enjoying the coating benefits. SilcoTek coatings hold up to steam and conform to parts, creating no appreciable changes to tolerances or surface morphology.
Enhance Performance - Improve diagnostic sensitivity by reducing non-specific protein binding and carryover.
Increase Efficiency - By improving corrosion and contamination problems, cleaning will be more effective and parts will need to be replaced less often.
Reduce Contamination - An inert barrier will prevent contamination commonly caused by the sample, the reagent, or ions leaching from probe metal.
Dursan Coating Technology is Versatile and Rugged
The Auger Electron Spectroscopy (AES) graph below shows how the coating binds intermolecularly to, in this case, a stainless steel substrate to promote superior adhesion. The elemental makeup of Dursan - Silicon, Carbon, and Oxygen – bind to the iron, chrome, and nickel of the stainless steel to create a protective barrier on medical instrumentation. Because SilcoTek's chemical vapor deposition process allows for the coating to bind to the substrate in this way, slight bending of your parts will not cause the coating to crack or chip off and risk of flaking in general is virtually eliminated compared to other coatings, especially fluoropolymers.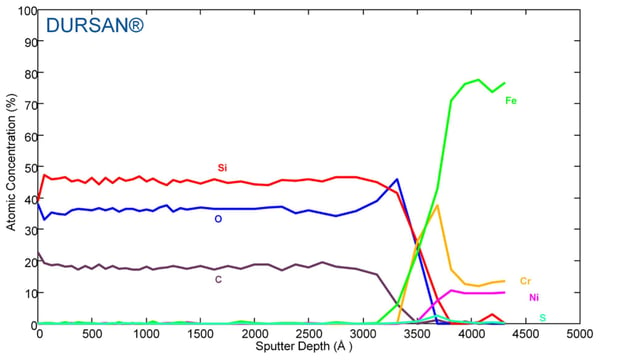 Hydrophilic Coating Solutions
Hydrophilic surfaces are high surface energy substrates that attract water and allow wetting of the surface. They typically have a droplet contact angle measurement of less than 90 degrees. Many surfaces tend to be more water friendly, including glass, steel, or stainless steel as well as many coatings and paints. Of course, test results can depend on the surface roughness and surface energy of the material you're testing. SilcoTek's new SiltrideSM coating that will be fully launched at the beginning of 2023, offers excellent hydrophilic properties. Contact our technical service team and we can make a recommendation based on your specific application.
Non Stick Properties for Medical Applications
SilcoTek coatings can improve efficiency and prevent damage to molds or extruders, while solving common material problems like corrosion and mold release. Outgassing, moisture acidity, and abrasive wear take their toll on mold quality and result in costly replacement or repair. SilcoTek® coatings, like Dursan®, reduce friction and stiction while improving moisture and corrosion resistance. Our coatings bond to process surfaces and act as a non stick, hydrophobic barrier that improves surface performance.
Plastics molding is one of the most common manufacturing operations for medical device components. Dursan's hydrophobic and non-stick properties dramatically improve the release properties of stainless steel and other mold surfaces while improving corrosion resistance. This allows manufacturers to increase output without halting production to clean molds due to unwanted sticking.

For example, Dongguan Gowin Precision Mold Co., Ltd., was struggling with injection mold release of PVC in the manufacturing process of face coverings at the height of the COVID pandemic. When a titanium nitride coating failed to solve the problem, Gowin contacted SilcoTek. We applied our Dursan® coating to their 2083 steel mold which substantially reduced the sticking problems and improved the yield of Gowin's manufacturing process.
Protection Against Bleach Corrosion
Bleach and other chemistries that are aggressive to even stainless steel are common wash solutions for medical and diagnostic devices. As you can see below, we compared SilcoTek's Dursan and Silcolloy® 1000 coatings to untreated 316L stainless steel to measure the corrosion rate. Dursan provides stable protection against corrosion. This is especially useful in biomedical and pharma applications where bleach is commonly used. The below testing was completed using ASTM G31 guidelines with 15% NaClO exposure for 72 hours at room temperature. In just 3 days, there is a considerable difference in the corrosion rate of the coated versus uncoated stainless steel.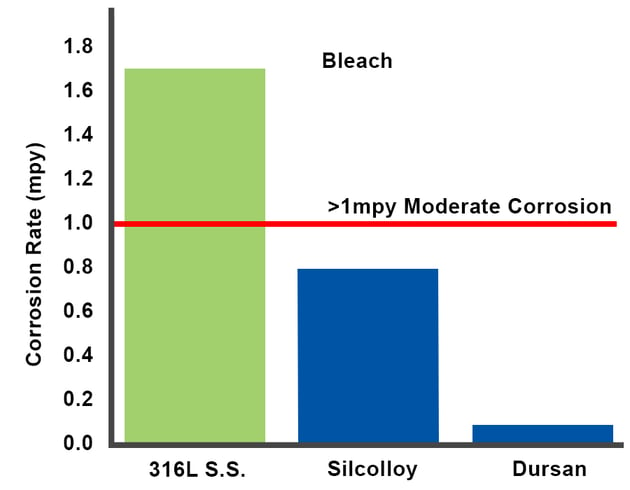 Common Medical Device Components that Dursan and other SilcoTek Coatings Improve:
Needles
Tubing
Probes
Sensors
Cannulas
Guide
Wires
Surgical Tools
Mandrels
Tips and Dies
Wondering if Dursan is the right coating for your application?
Contact us today for your free consultation with our coating experts!