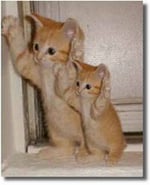 *
Nobody likes a copy cat. When I was a kid, my friend sitting next to me in math class would copy my work. Did that ever bug me! The teacher eventually moved him and solved the problem, but I never held copy cats in high esteem; until now!
Not since Intel adopted the Copy Exactly! philosophy. What is Copy Exactly? Intel states: "The methodology focuses on matching the manufacturing site to the development site. Matching occurs at all levels for physical inputs and statistically-matched responses (outputs). This process enables continuous matching over time by using coordinated changes, audits, process control systems, and joint Fab management structures."
Basically copy exactly is a discipline. It encourages companies to develop a high yield efficient process and stick to that process. It requires the manufacturing team to relentlessly follow processes and procedures and duplicate exactly every component, raw material, handling method, equipment, process and procedure.
This sounds like a semiconductor manufacturing thing. I'm not in semicon so why should I care?
You should care, because manufacturing discipline pays off for all customers. Let me explain. SilcoTek® provides coating services to semiconductor related companies as well as diverse markets such as process, analytical, oil & gas. Because we're in the semicon supply chain, our related processes follow the copy exactly system; but the manufacturing discipline and quality systems needed to meet the standard are felt throughout the manufacturing floor. The methodology offers huge benefits to all our customers, no matter what business they're in.
Customer Benefits include:
Manufacturing Discipline
It's tough to adopt a process and stick to it. If you've ever gone on a diet or exercise program, you'll know what I'm talking about. Life's tough at the start of a new program but once you're over the hump and that discipline is incorporated into your daily life, it becomes second nature. Well it's the same for a production process and that's where the SilcoTek® Manufacturing Team is now. Over that getting started hump and running smoothly. Now they compulsively swear off the ice cream for the apple, meaning they relentlessly drive out variation from the process and reject the idea of change without data, review and approval. Our customers share the benefit of manufacturing discipline because the by-product of discipline is improved quality, on time shipping, and reduced cost.
Learn how SilcoTek® improves performance in your market:
Process control
When our coatings were first developed, the process involved more art than science. Process control was, to say the least, crude. Today, SilcoTek® follows exacting process control with significant investment in people, equipment and systems (many patented) in order to provide our customers with a consistent, high quality coating. Data from processes assure CVD coating systems provide feedback to be sure the copy exact standard is met.
Training
All the high tech equipment in the world won't deliver a high quality product without having the people in the process trained and practicing the craft of high quality manufacturing. Training and self development has become an obsession at SilcoTek. That obsession has it's benefits in shorter cycle times and improved product quality. But attention to detail and manufacturing discipline also benefit the customer in little ways. It's when the production floor emails the customer to tell them we found a small defect in their part, or notice they usually send other parts with the order and missed sending them this time. It's the little things that add up to big savings in time and money for the customer.
SilcoTek Quality
Along with Copy Exactly!, SilcoTek® has adopted multiple quality oriented methods including ISO, 5S, customer specific quality initiatives, aggressive internal auditing, statistical process control, and other statistical methods to drive variation out of the process. Our quality systems interface with a wide range of markets from automotive, aerospace, biotech, analytical, process, oil/gas, and semiconductor processing.
So yes, nobody likes a copy cat. Except when it improves your process and saves money!
*Image credit: www.helpingyouharmonize.com