Since SilcoTek's researchers first pioneered Silcosteel® for making stainless steel gas chromatography columns inert in the late 1980s, several alternatives have emerged for overcoming the analytical challenges posed by metals, glass, and other untreated surfaces. Stricter environmental monitoring standards, more precise quality requirements for fuel, food, pharmaceuticals, and more key industry drivers have led to a dramatic increase in demand for inert coatings. These unique surface solutions enable the use of stainless steel and other preferred materials of construction without their serious drawbacks like chemical adsorption, metal ion contamination, and corrosion.
What Sets Us Apart From Our Competitors

Are all "inert" silicon-based CVD coatings the same? According to the data, the answer is an emphatic no. If our 30+ year reputation isn't enough, the objective studies below prove that when quality and performance really matter, SilcoTek® is the only trusted source for the most inert coatings available.

This blog will focus on the methodology and the results of a study comparing the surface inertness of some of our most common coated parts, the walls of 1/8" and 1/16" stainless steel tubing. The control measurement is found using a gas chromatograph with an inert analytical column (Restek MXT) connected directly to the FID detector (see figure 4). In other words, there is no other coated tubing in the control system. Here is a video explaining how we configured the test tubing in this experiment. This study compares analytical performance via GC containing SilcoNert® 2000-coated stainless steel test tubing to that of two direct CVD coating competitors.
Chromatography Performance of Coated Tubing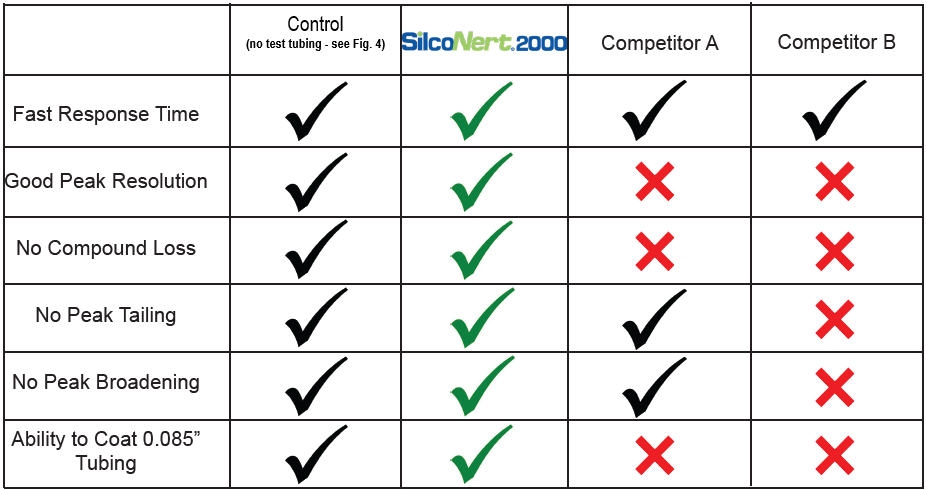 The figures below show the study run to compare 1/8" OD tubing for inertness comparison between SilcoTek's SilcoNert 2000 coatings and Competitor A. The results show SilcoNert 2000 maintaining good separation of all compounds with very minor peak distortion (Fig.1) while Competitor A's coating results in a devastating loss of active compounds with significant distortions of peak tailing and broadening (Fig. 2).

Figure 1. SilcoTek's excellent separation results.
1/8" OD x 0.085" ID, 1.0m L, 316SS, SilcoNert 2000 coating
Figure 2. Competitor A's poor separation results.
1/8" OD x 0.085" ID, 1.0m L, 316SS, Competitor A coating
The following figures show the comparative study between the standard sample (Fig. 3), the SilcoNert 2000 1/16" tubing (Fig. 5), and Competitor B's coated 1/16" tubing (Fig. 6). The compounds analyzed by this study are a combination of typical samples as well as more difficult, corrosive agents. Below, the figures show this sample mix being no problem for the SilcoNert coating process while crushing Competitor B's coating.

Figure 3. The standard sample mix obtained via study set up shown below (Fig. 7).

The sample mix contains (Peak 1) 6-Hexanediol, (2) Chlorophenol, (3) Methyl Nonanoate, (4) 1-Decylamine, (5) Tridecane, (6) 1-Undecanol, (7) Acenaphthylene, (8) Pentadecane.

Figure 4. This diagram shows the study set-up used in order to accurately obtain a control sample chromatogram. To produce figures 1, 2, 5 and 6 the tubing was the variable step needed to compare coating inertness.

Figure 5. SilcoTek's excellent separation results.
1/16" OD x 0.04" ID, 1.0m L, 316SS, SilcoNert 2000 coating
Figure 6. Competitor B's poor separation results.
1/16" OD x 0.04" ID, 1.0m L, 316SS, Competitor B coating
Coating Quality Comparison

Choosing a trusted, high-quality coating is important in many regards, including appearance and performance. SilcoTek's rigorous quality standards ensure a controlled sub-micron range of deposition thickness on our customers parts to provide a reliable and inert surface every time. The signature colorfulness of SilcoTek coatings is a result of light reflecting through their extremely thin profile, just like how oil has a "rainbow" appearance on a puddle of water. SilcoTek's automated CVD process controls and custom tooling built in-house specifically for your parts allow our technicians to control coating thickness to the nanometer level, ensuring reliable performance from batch to batch in any application.

Additionally, quality coating practices are what solidifies SilcoTek coatings ahead of competitors. Below are SEM images taken of the coated surface of a SilcoNert 2000 part (Fig. 7) and Competitor A (Fig. 8). SilcoNert 2000 shows a uniformly deposited coating that is molecularly bound to the part surface, creating a high-performing metal free barrier. Competitor A (Fig. 8) shows scattered silicon nanowire growth likely caused by a deposition or a substrate problem. These nanowires have a weaker adhesion to the substrate surface, which leads to poor coating quality and significantly worse corrosion performance.

| | |
| --- | --- |
| Figure 7. SilcoNert 2000 deposited via CVD technology showing uniform coating and adhesion. | Figure 8. Competitor A coating deposited via CVD technology showing rampant nanowire growth. |

The key to a game-changing coating begins and ends with quality in mind. At SilcoTek, there are numerous steps in place to make sure customer receive the right coating, deposited reliably, for performance you can trust. SilcoTek implements processes like:
Automated process control
Real-time coating process reporting and QC
Dedicated tooling and fixturing to optimize coating on a wide variety of substrates and part designs
In-house coating analysis instrumentation


Corrosion Performance: Whether Visible or Not, Corrosion is Hurting Your Results
An inert surface is critical to good chromatography which makes a reliable coating even more important. SilcoTek coatings' metal-free barrier layer ensures that the sample will never interact with the metal instrument surface, preventing corrosion and contamination. Competitor coatings that don't hold up to aggressive environments or flake off allow for void areas, or holidays, to become active sites for chemical adsorption and eventually corroding.
Obvious and subtle corrosion on metal is visible and notoriously destructive to analytical results. Trace corrosion, while more difficult to see, results in metal ions leaching into the flow path and corrupting the chromatography. Even expensive alloys, like Hastelloy® shown left (Fig. 9), that are sold as a more corrosion resistant offering are susceptible to metal ion leaching. Competitor coatings like those shown above have demonstrated poor quality and poor adhesion and are bound to suffer immensely at preventing metal ions from leaching out of flow path equipment and into sample or product streams.
Performance Isn't Everything - Service Matters
Quality and excellent performance are built in when customers order from SilcoTek, but it is the employees and their mission that sets SilcoTek apart from competitors. SilcoTek is a solution-oriented provider willing to go the extra mile to troubleshoot problems and optimize the CVD coating experience for our customers. A culture of transparency, honesty, innovation, and integrity are the building blocks of how SilcoTek is able to provide game-changing coatings to our customers every day. Questioning whether you have an authentic inert coating from SilcoTek or wanting to switch vendors? Our team can provide materials analysis services to verify quality of your current coatings and re-coat any parts you have from other suppliers.
To download a copy of this comparison, please click below.
If you have any questions about our coating, how it compares to other CVD coatings, or want to know more about SilcoTek, please contact us today!