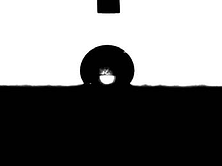 By Dr. David Smith
How to improve high temperature coating hydrophobicity and oleophobicity in demanding fuel injector and combustion applications? SilcoTek® answered the challenge by developing a high temperature moisture and oil repelling coating able to remain stable at temperatures of 300c and higher. Read the complete presentation.

SilcoTek achieved significant improvement in hydrophobicity and oleophobicity compared to the uncoated DLC surface. More impressively, the new coating remained stable when exposed to high temperatures for over 24 hours.
SilcoTek® coatings are the ideal hydrophobic and oleophobic solution to challenging environments. Applications include:
Analytical sampling
Refining/petrochemical
Oil and Gas exploration and transport
Automotive
Aerospace
Read how SilcoTek coatings are used in many industries and applications:
SilcoTek's inert, high durability, high tolerance coatings can be applied to high precision components used in the most demanding environments:
Fuel injectors
Nozzles
Probes
Separators
Downhole tools
Learn more about SilcoTek hydrophobic coatings.