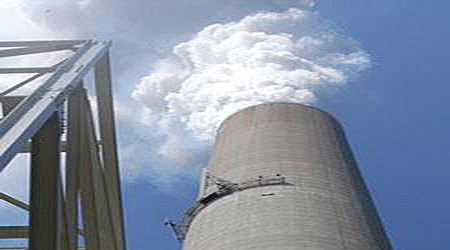 Refinery, process and plant ammonia sampling can be a difficult and sometimes maddening task, here are some tips on how to make the job easier.
Selective catalytic reduction (SCR) technology has been in large scale use since the 1970's. It's highly effective in reducing NOx emissions but has drawbacks. Catalyst damage, plugging, corrosion and other system failures can lead to system failure. Many failures can be traced back to excessive ammonia injection which results in ammonia slip. Detecting the excess ammonia gas in stack effluent can be tedious. Excessive ammonia can increase plume visibility and can corrode system components. More importantly, ammonia odor is detectable at 5ppm and can pose a health risk at 25ppm, so it's important from both a regulatory and health standpoint to have systems in place that can reliably detect low level ammonia. Unreliable ammonia detection can also increase calibration time, result in lost sample due to adsorption, and contribute to inaccurate test results that can all lead to frustration and added operation cost. That's a lot of pain caused by ammonia! So to help, our Technical Staff decided to offer some design tips on how to improve test results.
Make The Flow Path Inert
Part per billion or low part-per-million ammonia analysis is not possible without an inert flow path. Reactive stainless steel and even glass surface activity will adsorb ammonia, causing lost sample peaks or artificially low readings. Variable readings can result in loss of control and increased ammonia slip.
A non reactive flow path will prevent interaction of active stainless steel, alloy, and glass surfaces with the ammonia sample. An inert silicon coating like SilcoNert® can be applied to intricate components like small bore tubing, fittings, fritted filters or regulators to assure reliable sample results. A recent comparative study, "Adsorption of Ammonia on Metal and Polymer Surfaces" by Vaittinen, et. Al., University of Helsinki found that a silicon coating like SilcoNert 2000 reduced ammonia adsorption on stainless steel surfaces by up to 2 orders of magnitude.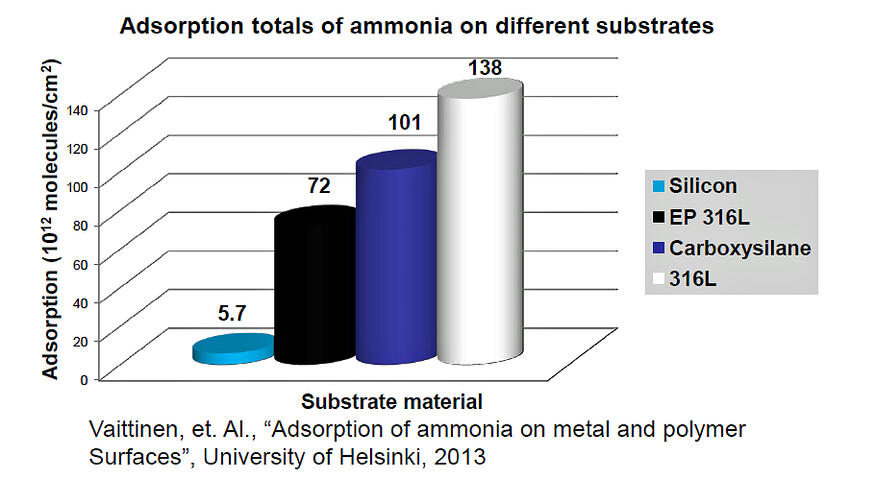 Keep The Flow Path Smooth
The smoother the flow path the better. Reducing surface roughness will eliminate areas where adsorptive moisture, contaminants, or sample can hide. A smooth surface will improve sample transport efficiency. Comparative studies by O'Brien Analytical found that electropolished SilcoNert 2000 coated stainless steel tubing offered nearly 100% recovery of reactive analytes like sulfur and ammonia.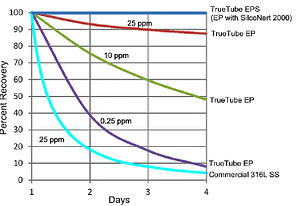 Electropolished heat trace coated tubing adds unmatched value for analyzer installations. A non reactive surface will improve sample response which will allow process technicians to adjust ammonia feed and reduce ammonia slip and related system damage.
The benefits to improved ammonia control.
Reduced carryover contamination

Accurate results mean improved regulatory compliance

Improved durability

Improved moisture control and dry-down

Faster response times
Know Where You're Sampling
Studies and presentations by Welker Engineering (www.welker.com) show that sample location influences the quality of results. Position the stack probe to assure a representative sample. Position the probe:

Away from the wall

Away from turbulent flow

From center of stream if possible

Away from any flow disruptions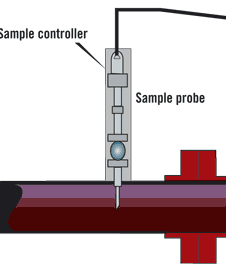 Take Steps To Keep The Flow Path Inert
Particulate contamination, corrosion, and surface damage can spell trouble for sample systems regardless of the surface. If contamination or corrosion gets out of control you may find yourself taking days to calibrate the system or end up getting garbage data. To avoid that scenario, here are a few helpful tips about how to keep your coating running like a top:

Keep the surface clean. Maintain surface cleanliness to prevent cross contamination and accumulation of reactive particulates. Clean surfaces using the best minimally invasive method. Highly abrasive or basic (pH above 8) cleaners will damage the SilcoNert® surface. We recommend using a non polar solvent like a high purity hexane to remove hydrocarbon contaminants, and a polar solvent to remove more active compounds. Get the highest purity solvent available, lower grades will leave a potentially reactive film on the surface. Remember once you've rinsed the surface, trace remnants of the solvent may remain on the surface, so take special care to thoroughly rinse the surface. We've found many solvents can leave trace amounts of adsorptive or reactive substances on coating surfaces even after several rinse cycles. Always test cleaning solvents for inertness and contamination before use in high purity or analytical applications.
Don't use steam to clean the surface. Refiners use steam to clean or purge sample transport flow paths; however, live steam can cause silicon surfaces to become active. Live steam can also deliver particulates at high velocity to the surface, damaging the coating. As an alternative, consider sonication of components for a short duration or flushing the system with a solvent. (Note: Sonication can also damage the coating surface; avoid leaving parts in ultrasonic cleaners for more than a few minutes.)
Don't exceed the coating pH range. Exposure to bases above a pH of 8 can erode the silicon surface. One way to tell if the surface is being eroded is to check the color of the part. If you notice the iridescent rainbow coating color changing, it's a good indicator the coating becoming thinner and is being damaged.
Install filters in the flow path. Particulates can damage silicon surfaces and clog sample flow paths. Particles can also react with process fluids or adsorb sample compounds, contaminating the flow path. Installing fritted filters in the sample flow path will prevent system contamination and avoid potential damage to SilcoTek® coated surfaces. Worried about activity in sintered metal frits? SilcoTek® can coat metal filters, helping analysts maintain system inertness while preventing particulate contamination.
Too much to remember? Here's a coating care guide to help keep your inert coating running at peak performance.
Have questions? Call our Tech Service Team at (814) 353-1778 or email us at Silcod@SilcoTek.com.