SilcoTek's high performance CVD coatings are used to enhance material performance in a variety of demanding applications. Any coating from any supplier will eventually degrade in highly challenging environments, so this begs the question: can SilcoTek-coated parts be cleaned and recoated? In most cases, yes, they can! SilcoTek's stripping process is capable of chemically removing old coating on most surfaces. Some customers opt for recoating after their coated parts have been in use for a while, if the coating sustained prolonged periods in tough environments, or because of normal wear and tear. Other customers may not deal with aggressive conditions, but they have highly sensitive applications where a like-new, clean coating is critical to ensure the best results. In either case, SilcoTek can remove the original coating we applied and recoat the parts to ensure they are performing at their peak.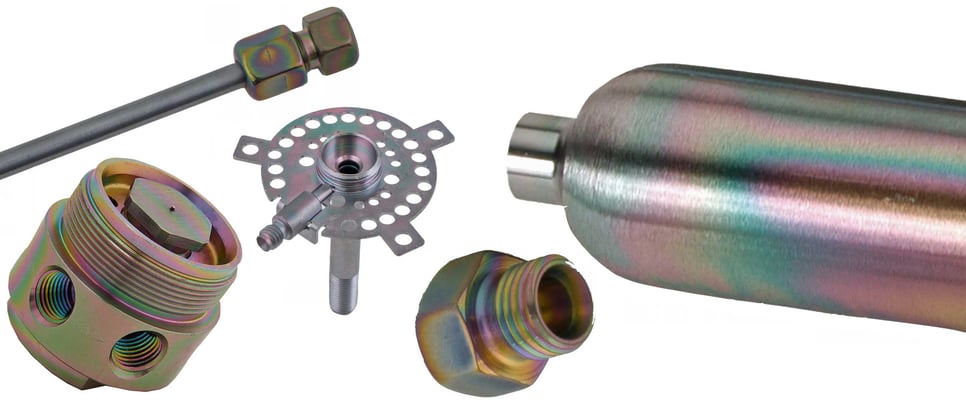 Recoating Previously Coated Parts
SilcoTek® coatings are very thin silicon-based materials applied by our chemical vapor deposition (CVD) process. Our coatings will deposit onto the part surface, even in small crevices and complex geometries. What's that mean to a previously coated part? Most common items are great candidates for the strip and recoat process. SilcoTek coatings can highlight what were once difficult-to-detect scratches or heat stains, making the appearance less desirable than a new part. However, SilcoTek has the expertise and capabilities to remove our coatings effectively, allowing the part to go through our surface preparation process that creates a clean surface. This is critical for applying a high-quality coating with SilcoTek's CVD process.
The Coating Removal Process
The coating removal process is a way for us to remove the old coating, restore the surface as close to its original state prior to coating, and create an optimal surface for a fresh new coating to be applied. SilcoTek's stripping process is performed in-house. It is important that we know what could be present on the surface of your parts. One of our representatives can send you a copy of our health and safety form to complete.
Parts Recommended for Recoating:
Sample cylinders
Valves
Fittings
Pressure regulators
Straight or pre-bent tube sections (ID larger than 0.2")
Small reactors and vessels
GC inlet liners
Many more


Parts and Materials Not Recommended for Recoating:
Tubing

Longer than 80"
Coiled tubing
Other high aspect ratio parts
Aluminum
Invar
Porous Materials
What are the risks?
There is a risk of highlighting any underlying surface imperfections, scratches, or stains. While our stripping process is intended to remove any residual coating, it could leave behind blemishes in the metal. The coating will be perfectly functional, but if aesthetics are important to you or your customer, re-coating is not suggested.