General SilcoTek FAQ
Yes! Our Dursan® coating is certified by NSF International and therefore FDA compliant. However, most people ask about "FDA approval," and that question needs a more thorough explanation:
The United States Food and Drug administration (FDA) does not formally "approve" coatings or other materials for food or bio/pharmaceutical contact. Rather, the FDA regulates coatings via the Code of Federal Regulations (CFR), specifically 21 CFR 175.300 which lists what raw materials are acceptable and unacceptable for the formulation of coatings. It is then up to the coating supplier to self-regulate to ensure that they are using raw materials that are acceptable.
According to the FDA, a coating must 1) pass the solvent extraction tests listed in 21 CFR 175.300, 2) contain no heavy metals, and 3) all coating components conform to the materials listed by the FDA in order to be compliant. Since these stipulations are also required for NSF/ANSI 51 certification and Dursan® successfully meets these requirements, our coating is FDA compliant. With respect to pharmaceutical applications, our data suggest that Dursan® does not "alter the safety, identity, strength, quality, or purity of the drug product beyond the official or other established requirements" per 21 CFR 211.65.
Nevertheless, we strongly encourage customers to test the use of Dursan® in their specific application to verify that performance requirements are met and the customer's production processes and outputs can continue to meet FDA approval guidelines.
Absolutely!

SilcoTek can coat the internal and external metal pathways for most flow regulating and metering devices to enhance their inertness and provide corrosion resistance. In order to coat the surfaces, all valves, regulators, and flow meters should be dissembled and all seals or parts which cannot be exposed to temperatures of approximately 400°C must be removed.
Disassembly should only be performed by qualified personnel with the appropriate seal kits, tools, and training OR damage or failure to the device will occur. For these reasons, SilcoTek cannot take on the responsibility of disassembly or reassembly of any valve, regulator, or flow meter.
If you do not have the experience and parts necessary to dissemble these devices, we recommend that you get in touch with Swagelok, Parker, or your valve manufacturer and order the coating treatment directly from them.
SilcoTek has business relationships with most manufacturers and routinely coats the internal and external surfaces of valves, regulators, and flow meters for them. The manufacturer will send the parts prior to assembling to SilcoTek for coating and will assemble the parts at their factory under the guidance of their quality systems.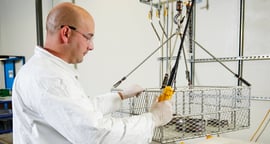 SilcoTek uses a variety of precision surface preparation techniques to ensure parts receive the highest quality coating. Additional pre-cleaning by the customer is often unnecessary and at times can be detrimental to our coating process.
In order to provide the highest quality coating and fastest processing; notify SilcoTek of any prior chemical exposure (regardless of whether the part is new or used).
Chemicals like cutting oils, pickling acids, solvents, water based cleaning compounds or other hazardous or non hazardous chemicals may impact the coating process. Many times the customer's cleaning process or chemical exposure can be eliminated, saving the customer time and money.
Before sending parts to SilcoTek, contact your SilcoTek representative at service@SilcoTek.com or call us at (814) 353-1778.
No. Raw, uncoated parts must be specified such that the material meets NACE MRO175 / ISO 15156 standards when they are ordered from the manufacturer. Coating parts that are not already compliant with nace MRO175 / ISO 15156 will not make them compliant under any circumstances.
However, if SilcoTek coats parts that are already compliant with NACE MR0175 / ISO 15156, then they will remain compliant after coating - we simply added onto the already-compliant material.
SilcoNert2000 (U.S. patent 6,444,326) is a passivation process that applies an inert, integral layer to components used for chromatographic analysis. Unlike traditional deactivations, it is not susceptible to cleavage or formation of active silanols and, therefore, greatly reduces bleed, and breakdown or adsorption of active components, compared to conventional surface coatings.
SilcoTek's chemical vapor deposition (CVD) process produces coatings that are deemed "high purity" in most applications, including chromatography, medical diagnostics, and more. However, the single byproduct of our silicon coating process is silicon particles (dust), which may be unacceptable in certain ultra-high purity applications e.g. semiconductor.

Despite the use of best practices aimed to remove silicon particles after the coating process or to prevent them from forming in the first place, we suggest that customers who use their SilcoTek-coated parts in ultra-high purity applications conduct particulate testing to determine if the coated parts meet their specific cleanliness requirements. If they do not, please contact us so we can assist in finding a 3rd party cleaning vendor who can provide a cleanroom-grade final coated product.
SilcoTek® can coat most parts including intricate precision components. SilcoTek currently coats all parts at our facility in Bellefonte, PA which will require parts to be shipped to our facility and processed within a coating deposition process oven with a maximum size of 7'0" long x 5'0" wide x 7'6'' high. Our technology is able to coat very intricate geometries used for precision components and is scalable to much larger sizes. Our current capabilities are outlined in the summary below and our team is always willing to discuss the possibilities of your application, even if it may seem outside our current dimensions. Please contact our team to discuss possibilities for your application.
Part Size
Largest overall part size: 2.032m x .76m ID (80in x 29.92in ID) Note: Size may be larger, contact our Technical Service Team to discuss your application.
Smallest part size: Approximately 1mm (0.039in). Contact us to discuss your application.
Tubing Capabilities
SilcoTek® offers two processes for coating tubes:
Coiled/Rolled Tubing


Maximum coil OD for tubing > 1/16" OD: 36"

Maximum coil OD for tubing 1/16" OD or smaller: 18"

Must be shipped on a metal spool or bound with metal wire. No spools made of wood, plastic, or other flammable materials.
---
Straight Tubing Sticks

We're adding capacity to our tubing coating process! We'll soon have the capability to coat straight tubing sticks up to 24 feet long. Contact our Technical Service Team to learn more.
Our current straight tube capability:
---
Dursan Tubing Limitations