Supply Chain Optimization with RMC Manufacturing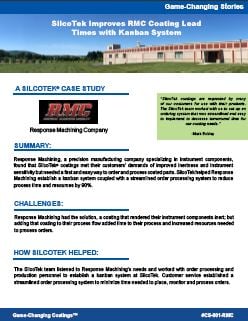 RMC Manufacturing, a precision manufacturing company specializing in instrument components, found that SilcoTek Coatings met their customers' demands of improved inertness and instrument sensitivity but they needed a fast and easy way to order and process coated products. Learn how SilcoTek helped RMC reduce lead time and improve supply chain efficiency.
How did SilcoTek® benefit RMC manufacturing?
SilcoTek added flexibility and efficiency to their supply chain
Reduced lead time by 90% by implementing a kanban system
Developed a technical coating solution as well as a supply chain management solution to achieve RMC goals
RMC continues to grow and use coating solutions to meet customer demands.
---
Improved Analytical Instrument Sensitivity with Airborne Labs International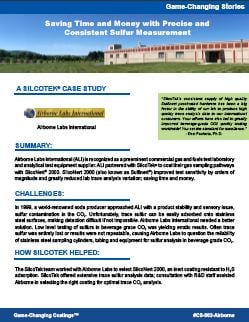 Airborne Labs International had a problem. Their low level testing of sulfurs in beverage grade CO2 was yielding erratic results, causing Airborne to question the reliability of the test. SilcoTek® partnered with ALI to help improve the quality and accuracy of sulfur contamination in beverage grade CO2.
How did SilcoTek® benefit ALI?
SilcoTek worked with ALI to make critical flow path surface non reactive to low level sulfur compounds, improving response and reliability.

SilcoNert 2000 improved ALI's product performance, helping to increase sales to the beverage industry
SilcoTek technology helped ALI set the standard for commercial gas and fuel testing.
Today ALI is recognized as a preeminent commercial gas and fuels test laboratory and analytical test equipment supplier.
---
Improved Corrosion Resistance At Reduced Cost with Turner Designs Hydrocarbon Instruments Inc.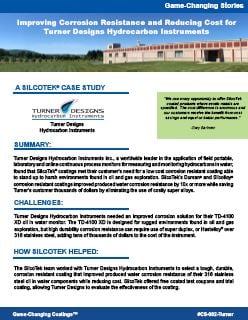 Turner Designs Hydrocarbon Instruments Inc., a worldwide leader in continuous monitoring systems for measuring hydrocarbons in water, found that SilcoTek® Coatings met their customer's need for a low cost corrosion resistant coating able to stand up to harsh environments found in oil and gas exploration. Learn how SilcoTek® coatings improved corrosion resistance and reduced cost in oil-in-water monitors and produced water applications.
How did SilcoTek® benefit Turner Designs Hydrocarbon Instruments?
SilcoTek coatings, like Silcolloy and Dursan, improved corrosion resistance 10x or more.
Improved system life with less maintenance.
Minimized or eliminated the use of costly superalloys.
Today, Turner Designs Hydrocarbon Instruments Inc continues to be world leader in oil in water monitoring technology.
---
Improve Reliability and Test Accuracy in Downhole Sampling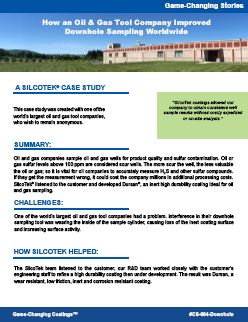 One of the world's largest oil and gas tool companies needed to improve the durability and inertness of their downhole sampling tools. They needed a precision coating that could stand up to rigorous downhole conditions while preventing surface reactivity and adsorption of sulfur compounds found in the well sample. Learn how an oil and gas tool company improved downhole sampling accuracy and test reliability worldwide.
How did SilcoTek® benefit downhole tools?
Improved sample quality and reliability by preventing surface interaction and adsorption of sulfur and sulfur compounds.
Our high durability precision coatings allowed existing tools to be coated without modification.
Improved wear resistance and lubricity helps tools last longer.
Today downhole tool manufacturers use SilcoTek coatings to reliably sample oil and gas wells worldwide.
---
Lubricious Dursan Improves VERIS Verabar® Sensor Lifetime in Corrosion- and Fouling-Prone Power Application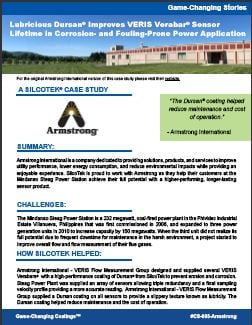 How SilcoTek helped Armstrong International reduce maintenance and cost of operation while increasing power generation capabilities.