A 2002 sulfur compound study by American Mobile Research, Casper, WO, demonstrates the importance of SilcoNert® 2000 coating in eliminating sulfur compound sampling problems in natural gas. The study compared several common sulfur compounds found in natural gas:
HYDROGEN SULFIDE
CARBONYL SULFIDE
METHYL MERCAPTAN
ETHYL MERCAPTAN
2-PROPYL MERCAPTAN
DIMETHYL SULFIDE
DIMETHYL DISULFIDE
Common materials used in natural gas sampling and transfer systems were compared for relative inertness to adsorption.
1) CARBON STEEL
2) ALUMINUM
3) TEFLON-LINED ALUMINUM
4) STAINLESS STEEL
5) TREATED STAINLESS STEEL (SilcoNert® 2000)
The study concluded that after only 1 hour of exposure, the carbon steel and stainless steel sample cylinders adsorbed up to 100% of the H2S sample.
The SilcoNert® 2000 sample showed minimal adsorption.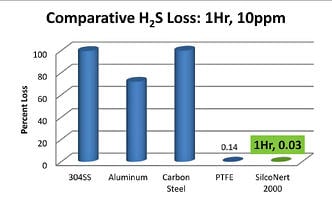 After 72 hours, SilcoNert 2000 continued to demonstrate superior inertness compared to PTFE; the stainless steel, aluminum and carbon steel adsorbed 100% of the sample.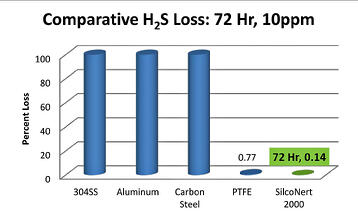 The study highlights the importance of an inert pathway. After only short exposure, untreated active surfaces and severely impact sample and operation quality.
Befits of an inert pathway are:
Accurate sample quality
Less sample time (fewer retests)
Accurate grading of gas feedstock quality
Reduced maintenance due to sulfur related corrosion
Environmental compliance
Higher quality product
Click here to read the full study.