SilcoTek® is helping OEM and end-users in the packaging equipment market to minimize the need for costly part replacement and production line downtime using our Dursan® coating technology. Here's how we helped.
How Silicon Coatings Improve Packaging Operations
Product packaging systems can come in contact with corrosives, reactive chemicals, or may become contaminated by product. All can take their toll on packaging efficiency and add significant cost to production. In this blog post we'll discuss how CVD silicon coatings, like Dursan®, improve packaging efficiency and reduce cost.
In this blog post you will learn:
How coatings like Dursan® improve corrosion resistance, packaging equipment up-time and help solve product contamination problems.
Discuss the benefits of coatings in packaging operations.
Show real cost savings by a packaging operator.
Discuss data relating to Dursan corrosion performance.
Packaging manufacturers in the medical device, pharmaceutical, semiconductor, oil and gas, and other technologies may experience frequent packaging system failures or high maintenance due to corrosion, product cross contamination, or durability problems with system components. Exposure to corrosives in products can damage equipment making contact with the product, over time this exposure can result in component replacement or down-time.
Big Savings
A customer recently evaluated our Dursan coating for improved corrosion resistance in a product packaging line. The customer produces a variety of consumable supplements that claim to enhance and improve the human body on a cellular level. The product manufactured is highly corrosive which caused the fill systems to rapidly corrode
upon exposure to the product. In order to prevent corrosion and contamination, the customer began using a
nickel PTFE coating which did not solve the problem. Eventually the customer had to purge their machine and lose product at the beginning of each day in order to address the corrosion issue.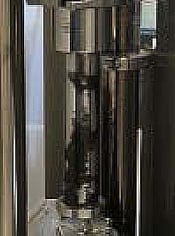 Customer filling machine after just 3 weeks of use. Note the dark colored corrosion and contamination.
The manufacturer found our Dursan coating on the web. After contacting us and evaluating the coating, the customer switched to SilcoTek®'s Dursan® coating. Results proved to be impressive; the customer saved 2 hours of labor each day because they no longer needed to purge their system to eliminate contamination from corrosion. More importantly they saved 50 liters of product that was otherwise wasted due to poor quality.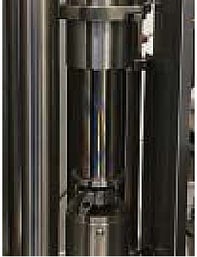 Customer filling machine after 5 months of use with our Dursan coating.
The customer estimates that by eliminating the need for daily product purging, they save nearly $50,000 a year in labor and product loss.
About Dursan® and How it Benefits Packaging Applications
Dursan is a chemically inert silicon barrier coating that improves corrosion resistance and reduces clean up time to minimize costly maintenance and increase production up-time.
Benefits of Dursan® in Packaging Applications
Promotes corrosion resistance - Dursan protects processing equipment parts from potential damage and costly replacement. 24 hour ASTM G31 acid immersion testing (below) shows a significant improvement in corrosion resistance when compared to uncoated stainless steel.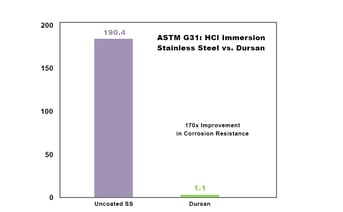 Provides easy cleanup - Dursan's low surface energy provides an optimum surface to easily clean your production line equipment.
Maintain existing tolerances and surface finishes - Dursan's thickness is less than 2 microns leaving critical dimensions and surface finishes unchanged.
Provides part re-cycling capability - Dursan can be reapplied to your existing parts if necessary eliminating the need to order new, costly parts with long lead times.
Safe to use - Dursan's coating process is certified by NSF International and therefore is FDA compliant for food contact. Read our NSF certification.

Packaging Applications Using Dursan®
Packaging Component Substrates: Dursan can be successfully coated onto metals such as stainless
steel, carbon based steel, tool steel alloys, and aluminum.
Packaging Equipment Applications: Contact us to discuss your application. Current applications of Dursan coated packaging equipment include:
• Nozzle Bodies
• Metering Bodies
• Stopper Rods
• Drive Bars
• Hoppers
• Tubing
Don't see your component on our list? Contact our experts and we'll be happy to discuss your application and to set up a no cost evaluation. Or follow us on linked in!