Automotive and aerospace engine manufacturers strive to improve efficiency, but over time catalytic coking and carbon fouling become a major engine efficiency robber. Fuel nozzles over time slowly build up enough carbon to cause reduced fuel flow or obstruct the fuel injection pattern in the combustion chamber; causing reduced fuel efficiency, sub-par performance, and increased maintenance.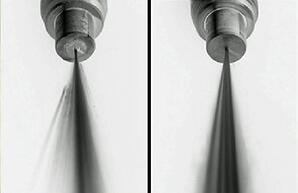 Obstructed flow pattern Normal pattern
SilcoTek® anti-coking coatings, like SilcoKlean®, act as an inert barrier, preventing carbon catalytic interaction with injector metals; significantly reducing carbon build-up on key engine surfaces. How effective is SilcoKlean® in preventing fouling? Studies show SilcoKlean can reduce catalytic coking formation by up to 8X.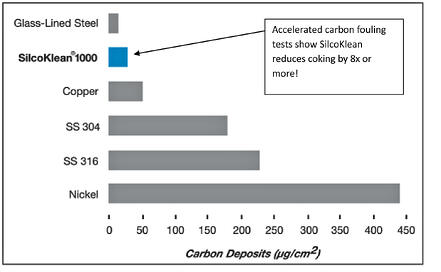 Have a sticking issue?
Coking and fouling can be a complex problem to solve. Is the carbon formation caused by catalytic interaction with the injector metal or is the fuel simply sticking to the injector surface?
SilcoTek® offers a variety of coating solutions that reduce coking or improve resistance to oil wetting and sticking on injector needle surfaces.
Reduce surface wetting
Hexadecane contact angle testing demonstrates how a SilcoTek coated needle resists oil wetting and stiction by up to 3x compared to an uncoated needle. Reduced wetting (increased oleophobicity) can help to reduce carbon build-up on surfaces.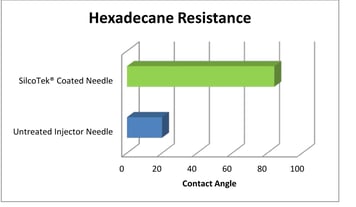 Want to read more about how SilcoTek® coatings reduce surface wetting?

What can I coat?
SilcoTek's high temperature, high durability coatings can be applied to precision components anywhere coking and fouling is an issue:
Fuel nozzles
Fuel injectors
Valves
Lubrication tubing and fittings
Coolers and heat exchangers
Want more information about how SilcoTek® coatings reduce coking and fouling?