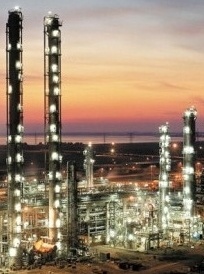 Sour gas can damage pipelines and pump stations. H2S and other sulfur compounds can corrode pipeline systems and pose a significant health risk to workers. Amine natural gas sweetening plants help to reduce H2S concentration to permissible levels before piping gas to processing plants and downstream customers. The amines of choice are MDEA, MEA, DEA and DGA, but plants have their problems including amine loss, foaming, corrosion carryover, and freezing.
Factors that impact plant issues range from sour gas flow rate, reboiler temperature, high temperature change, mist eliminator problems, poor filtration, and foaming. Poor amine plant performance can result in:
Higher operating cost

System corrosion

Reduced plant capacity

Freeze damage to LNG plants and other downstream operators
Plant carryover, especially repeated large upsets, can ruin your day. That's why it's imperative to accurately monitor plant performance over the long haul.
One tool to help detect and prevent amine carryover
Reliable detection is key to monitoring and understanding plant performance. SilcoNert® coated flowpaths help to improve analytical system response; giving operators improved resolution & plant control. Knowing real time accurate plant conditions benefit operators several ways:
Opening A New Window In Process Control

Improved response to upsets

Better plant management

Prevention of sour gas spikes in downstream systems

Stop foaming & treatment capacity loss

Prevent freezing in downstream LNG plants
SilcoNert® ultra inert coating improves both detection and reliability of sample transport and analytical systems by preventing adsorption and reactivity in reactive stainless steel, steel, alloy and glass liner flowpaths.
Comparative test results show dramatically improved sample response when using SilcoNert® coated flowpaths.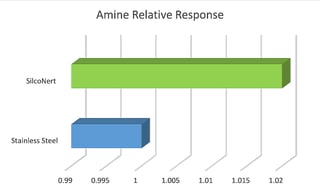 Not only does SilcoNert® improve detection and sensitivity of analytical systems, it also reduces variation and improves consistency of results.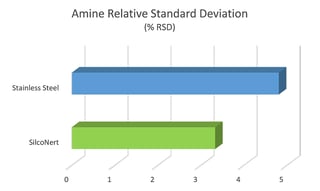 Improved detection means plant operators can take action to prevent carryover and optimize plant operation based on real time conditions.
Coat The Entire Natural Gas Sample Stream
Sample probe

Gas pressure regulator

In-line filters

Transfer tubing

Fittings

Valves
Want to learn more about how SilcoTek® coatings can benefit hydrocarbon processing and regulatory compliance?