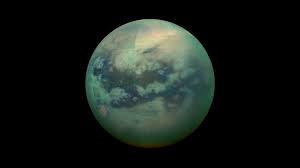 Our coatings are being used to measure fatty and amino acids in Ocean Worlds. We're part of an experiment looking for signs of life in our solar system!
Background:
The search for life beyond Earth has fascinated scientists for much of our human existence. This search first focused on planets beyond our solar system that had Earth-like features such as water, oxygen in the atmosphere, and a temperate climate. As the science evolved, this search has taken a turn to locations a little closer to home. For the past few decades, researchers have shifted their focus to "Ocean Worlds", such as Europa, Titan, Enceladus, Ganymede, and Callisto. These moons of Jupiter or Saturn all feature liquid water, an energy source, carbon, and nitrogen, which are the four elements required for life.
In the blog post you will learn:
Discuss the potential for detecting and measuring signs of extinct or extant life,

such as

fatty acids and amino acids, on worlds within our solar system.

Discuss how SilcoNert can make trace detection of fatty and amino acids possible.
Discussion and data:
Enceladus and Europa are two of the most promising Ocean Worlds to start the search for life. They both have all four elements required for life, and they have active plumes where the liquid water present below an icy surface will erupt making it very easy to collect and analyze. A technique for detecting trace amounts of fatty acids and amino acids was developed with the hopes of sending the instrument to these Ocean Worlds for in situ measurements at the location of interest. Get our e-book "Ultimate Guide to Reliable Analytical Sampling" to get helpful tips on how to improve in situ field sampling.
On Earth, scientists have the luxury of performing sample preparation, so that any sample injected into an instrument is optimized for measurement. The Jet Propulsion Laboratory developed a technique for volatilizing, ionizing, and mass analyzing fatty acids and amino acids directly in a miniature quadrupole ion trap mass spectrometer. A schematic of the instrument can be seen in Figure 1. The ion trap as well as the tube where the sample is introduced (A and F, respectively) were coated with SilcoNert® 1000. The coating is necessary to measure trace levels of fatty acids and amino acids, which both stick easily to bare stainless steel.
The group at JPL was interested in developing an instrument that would perform chemical ionization rather than an electrical ionization of the molecules of interest. Electrical ionization requires additional equipment and can often impart excessive energy to sample molecules resulting in sample fragmentation. Chemical ionization is a gentler form of ionization which makes spectra easier to read. The JPL group found that water (readily available on Ocean Worlds) and acetone created a good environment for ionization of sample molecules.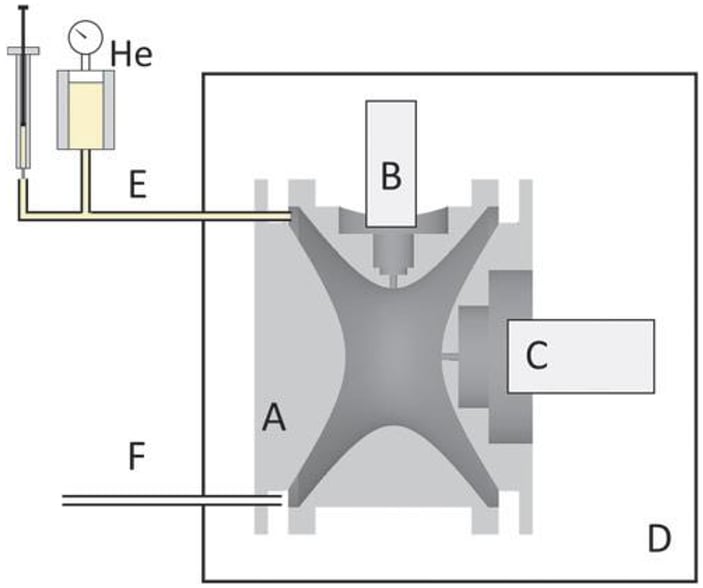 Figure 1: Schematic of the experimental setup of the mass spectrometer. The ion trap (A) and sample inlet tube (F) were both coated with SilcoNert 1000 to reduce the adsorption of molecules to the surfaces of these parts.
Conclusion:
Scientists at JPL developed a miniature mass spectrometer, capable of direct injection of samples to measure fatty acid and amino acid content which can potentially perform measurements on Ocean Worlds such as Europa and Enceladus. The group utilized SilcoNert 1000 to make the system inert, so that trace amounts of these acids can travel from injection to detection without adsorbing to the surface of the instrument. Coatings for high temperature applications in space exploration often don't have the inertness and non-stick capability needed for in situ analysis. SilcoTek coatings are durable and inert, making them ideal for space and more earthly applications. Future studies are planned to obtain quantitative information on organic molecules and measuring the sensitivity of this instrument are currently underway. Hopefully they'll be successful in their search for life on Ocean Worlds.
Reference:
Waller, S.E., Belousov, A., Kidd, R.D., Nikolic, D., Madzunkov, S.M., Wiley, J.S., Darrach, M.R. Astrobiology. "Chemical Ionization Mass Spectrometry: Applications for the In Situ Measurement of Nonvolatile Organics at Ocean Worlds". 2019. In press.
Have more questions about our coatings?
Go to our Frequently Asked Questions page.