Improve Test Quality and Corrosion Resistance
Metal ion leaching is of interest to a variety of industries. Chemical exposure to solutions, such as, organic solvents, deionized water, acids or bleach, can cause a significant amount of metal ions to dissolve into the liquid, causing product contamination, system corrosion, and test problems in analytical and high purity processes including: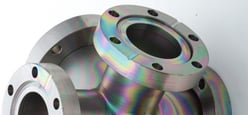 Semiconductor Manufacturing

Biopharmaceutical Production

Medical Diagnostics

Precision Cleaning

Food and Beverage Processing

HPLC Analytical Flow Paths
SilcoTek® offers CVD coating solutions to make your process, analytical, and sampling systems perform better. Our chemically inert coatings improve test accuracy and reliability by preventing contamination from metal ion leaching caused by chemical reactions between the sample and flow path surface. The summary below demonstrates how metal ions can be readily leached into flow path solutions and how coated surfaces (right column, green) prevent contamination under all conditions tested.

SilcoTek's CVD silicon coating process bonds inert, non-reactive coatings like Dursan®, Silcolloy®, and SilcoNert® to the surface. The chemically inert coatings prevent interaction of the sample with the reactive flow path surface.
SilcoTek has conducted several studies relating to effectiveness of our CVD coatings in preventing metal ion leaching from various surfaces when exposed to organic solvents and deionized water. Read the Technical Insights below to further understand how SilcoTek coatings improve product and test quality.