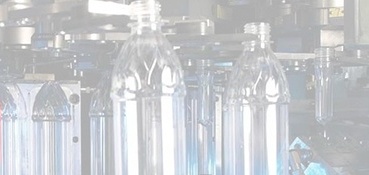 A new coating for a new year. We developed a moisture repelling super hydrophobic coating that's also an excellent non stick coating for mold release and fouling prevention. Read on to learn more.
A new year and a new coating, super water repelling surface with benefits.
It's a new year so let's talk about new things! At SilcoTek we don't fall back on our laurels and reflect on past accomplishments. So we're looking forward to a new coating our R&D team has been developing. Full disclosure, we're still working on the final coating product and process details, but we can offer limited evaluation/beta test samples. If you're interested in learning more about our new fluoro based coating, contact us and we can discuss your application.
The toughest part of developing a new coating is not necessarily discovering the coating itself. There's lots of work involved in developing new chemistry and to be sure our R&D team spends thousands of hours working in the lab and fine tuning formulations. But the real work begins after the coating is released. What are the physical properties of the coating? What are the physical or environmental limits of the coating? What applications, benefits, or industries will the coating add value? In short there are many questions and much data to collect to achieve a complete understanding of a new coating.
About The New Coating
We recently developed a new fluoro chemistry based coating that proved to be super hydrophobic and have interesting surface properties that have anti fouling or non stick properties.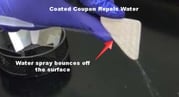 To demonstrate the super hydrophobic nature of the new fluoro coating Dr. Smith (our R&D director) sprayed water on the coating to see if the water wetted the surface. The water stream bounced off the coated part without getting the surface wet, showing excellent moisture resistance. Watch our video to see how the new fluoro coating resists moisture.
The low energy of the fluoro surface makes for a super hydrophobic surface, making a 160 degree contact angle. Because of that low surface energy, we found another application for the coating.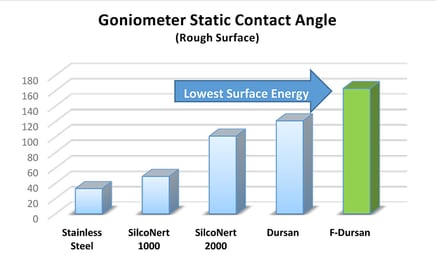 hydrophobic and corrosion resistant coatings.
Hydrophobicity, check, but what else can the coating do?
Well we're not sure about all the potential uses, but we're finding great success in plastic mold release applications. It turns out the coating promotes better release of product from plastic molds and can prevent fouling in some applications.
Here are some mold release benefits of Dursan and our new fluoro surface:
Better wear resistance for higher durability, and erosion prevention.
Higher lubricity to improve operation of moving cores and slides and improved resin flow for reduced energy cost and wear.
Prevents contamination by oxidation by products in medical and electronic applications.
A change in our luminescent release agent rainbow finish signals a loss of coating. Visual inspection of the surface signals coating loss without precision measurement.
Mold complexity does not significantly impact coating price.
Eliminate Diamond finish release problems by improving surface lubricity.
If you want to learn more about fouling prevention and mold release read the latest article in AZOM:
Contact our Technical Service Team and we'll be happy to discuss details about the coating.
Have another material problem? Get our applications guide to learn how SilcoTek can improve the performance of your products.