Testing hydrogen fuel quality per ISO 14687 and SAE J2719 can require expertise and equipment but are inert non reactive coatings needed for hydrogen fuel analysis?
A recent European Metrology Programme for Innovation and Research (EMPIR) and The European Association of National Metrology Institutes (EURAMET) report compared and summarized the effectiveness of various cylinder passivation techniques for hydrogen fuel analysis per ISO 14687. The report compared various commonly used passivation materials including SilcoNert® 2000 in gas storage containers. The tests evaluated trace levels of contaminants specified in ISO 14687. Contaminants tested and specified in the standard are:
| | |
| --- | --- |
| Contaminant | Concentration (μmol/mol) (ppm) |
| Water: | 5 |
| Total Hydrocarbons: | 2 |
| Oxygen: | 5 |
| Helium | 300 |
| Nitrogen/Argon: | 100 |
| Carbon Dioxide: | 2 |
| Carbon Monoxide: | 0.2 |
| Total Sulfur: | 0.004 |
| Formaldehyde: | 0.01 |
| Formic acid: | 0.2 |
| Ammonia: | 0.1 |
| Total Halogenated Compounds: | 0.05 |
Why test hydrogen fuel quality?
A passivated surface will reduce surface reactivity and adsorption. This improves test accuracy and overall test reliability. But what are the consequences of an inaccurate test? Contaminated fuel can damage fuel cells and engines as well as damage catalysts. Not to mention that off-spec fuels can can be a real liability for the supplier. So it's in everyone's best interest to test as accurately as possible.
The consequences of inaccurate hydrogen fuel testing in fuel cells: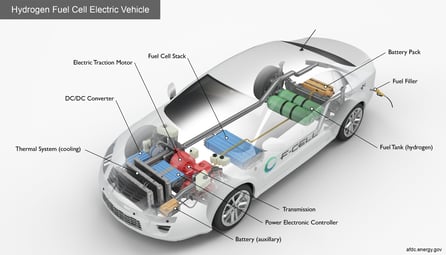 Fuel cell damage due to poisoning
Reduced fuel cell performance
Increased maintenance
Cell failure
Trace level contaminants can have a real effect on overall system performance. A reactive flow path can adsorb many trace contaminants which will lead detection failures. Without precise testing, hydrogen contamination will continue and ultimately lead to system failures. That's why it's important to select flow path materials that prevent adsorption of hydrogen contaminants.*
Test Results
The EMPIR team compared various passivated cylinders for the ISO specified trace level contaminants. They found that for some contaminants, a passivated surface is not needed, but for most tests a non reactive surface is essential to achieving reliable test results. The team recommended specific coatings that prevented sample loss, optimized test quality and contributed to solving product contamination problems. Let's summarize the results:
EMPIR Test Results
Contaminant
Passivation needed?
Water:
Critical
Total Hydrocarbons:
Non-critical (≤C7) Critical (>C7)
Oxygen:

Critical

Helium
Non-critical
Nitrogen/Argon:
Non-critical
Carbon Dioxide:
Non-critical
Carbon Monoxide:

Critical

Total Sulfur:
Very

Critical

Formaldehyde:

Very

Critical

Formic acid:

Very

Critical

Ammonia:

Very

Critical

Total Halogenated Compounds:

Very

Critical
You can read the complete report along with recommendations about how the various coatings performed in sample cylinder storage applications.
What about the sample flow path?
The EMPIR report tested the reactivity of various passivated sample cylinders under static conditions. But will the sample flow path react with the sample during transport? Yes, the sample will react with the flow path material. The amount of adsorption/loss will depend of flow velocity, material, flow path configuration (bends, tubing diameter, number of fittings, etc.) and the amount of time the sample is exposed to the surface. Reactivity can happen in short order for more reactive analytes. Take sulfur for example. Flow tests by O'Brien Analytical (below) show significant adsorption in a relatively short length of tubing (100ft). The sample loss can result in major delays in response and inaccurate results.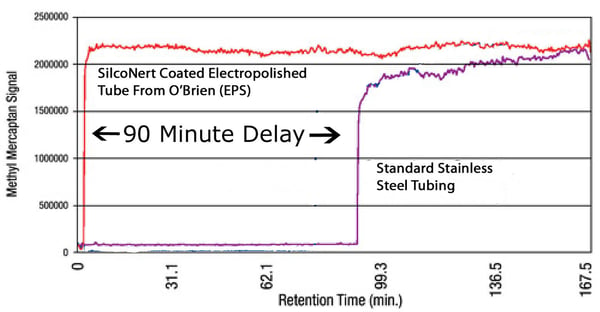 Want to learn more about how SilcoNert performs in trace analysis?
Further Reading
You can go to the US Department of Energy website to learn more about hydrogen fuel quality testing. Also the Society of Automotive Engineers and the International Organization for Standardization offer specifications for hydrogen testing.
*Image courtesy of the Alternative Fuels Data Center, US Department of Energy.