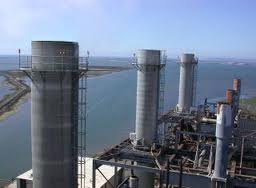 The last 15 years have shown an increasing need for inert coatings to improve analytical results obtained in systems used for mercury and sulfur sampling. Regulations for mercury emissions from coal fired boilers are now enacted while flare gas regulations for the refining industry were effective in 2014.
With increased regulation, sampling system performance must be stable even in corrosive environments, while also being reliable for regular calibration checks. Both methods recommend the use of inert coatings to achieve reporting requirements.
Mercury and Steels
Even stainless steel is reactive to mercury, causing loss and adsorption. Mercury loss can be impacted by system design and environmental factors.

Adsorption is a function of:

Metallurgy
Surface Area
Temperature
Mercury concentration
Additionally, trace levels of H2S can act as a catalyst for reaction of mercury with iron oxide contained in sample pathways and analytical instrumentation.
Sampling Steel Pipes: Flares and Stacks
How the sample is taken makes a big difference in overall test accuracy. Samples taken in the laminar section (the middle) of the flow profile through a SilcoNert® coated sample pathway will give a real time representative sample of the stream.
Studies and presentations by Welker Engineering throughout the years demonstrate a good sample point is required

Away from the wall
Away from turbulent flow
From center of stream if possible
Away from any flow disruptions
Wall sample points are poor because of "zero velocity"

With a SilcoNert® 2000 coated sample probe and transfer equipment, it is possible to get an accurate and real time analysis of the stream.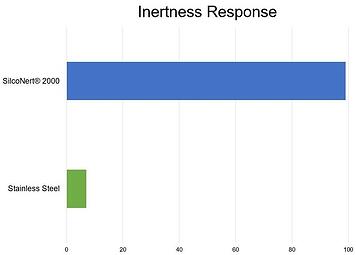 System stability a major factor in reliable sampling
System design factors that impact sampling performance are:
Heated transfer lines
Surface finish considerations (smoother surface is better)
Metallurgy (avoid reactive metals, ie, copper and uncoated steel)
HF or not HF (hydrofluoric acid will corrode system and react with mercury sample)

Robust system design using inert coated sample pathways will assure regulatory compliance and provide stable performance.


Well Sampling:
Growing concerns about mercury contamination and damage now driving upstream monitoring of oil and gas wells and pipelines. Any level of mercury (measured in µg/m3) is of interest because of mass volumes of feedstock being pumped. Accurate sampling necessitates clean handling and an inert sample bottle or risk losing all the mercury sample to adsorption.
Schlumberger conducted a study comparing coated versus non-coated down hole sampling reservoirs.
Feedstock loaded into sample reservoirs with a certified concentration of 50µg/m3 mercury
5000psi sample pressure
Sample reservoir kept at 100°C
Uncoated Sample reservoir experienced complete loss of mercury after 60 minutes
No loss of mercury in SilcoNert® 2000 coated sample reservoir during study time of 210 minutes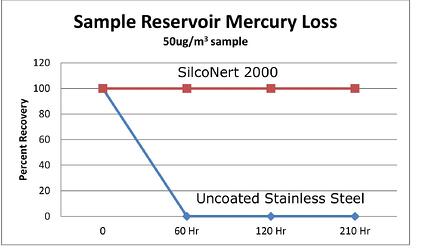 Flue Gas Sampling
Emissions of mercury in coal flue gas from boilers is now a monitored pollutant. Effluent from refining, petro activities are also monitored. Power plants and refiners have difficulty monitoring mercury due to oxidation and adsorption/loss due to surface activity.
Coatings applied to sample probes, transfer lines, and inertial filters eliminated adsorption.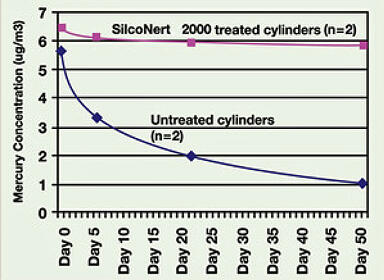 Studies done on oxidized mercury Hg+2 demonstrate 100% transfer of these adsorptive compounds in coated transfer lines.