A single drop of water may appear to be harmless, but it can have a huge impact on the durability and performance of analytical and process systems. Moisture condensation in sample delivery, analytical GC columns, and process systems can cause corrosion as well as adsorption of sulfurs and reactive compounds. Even trace amounts of water in process sample and transport systems can have a major impact on product yield and quality in refining, petrochemical, polymer and semiconductor manufacturing.
Impact on sulfur adsorption.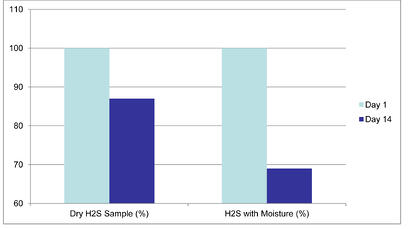 Sample results can be degraded significantly when moisture is present in sample systems. Water droplets in downhole and process sampling systems can lead to artificially low reporting of H2S content in gas and oil wells and petrochemical feedstock; resulting in system corrosion, low process yield, high processing cost and catalyst damage.
Coatings to repel moisture.
SilcoTek hydrophobic coatings repel water, resulting in faster purging/removal in sample transfer and analytical systems; eliminating water related adsorption and corrosion.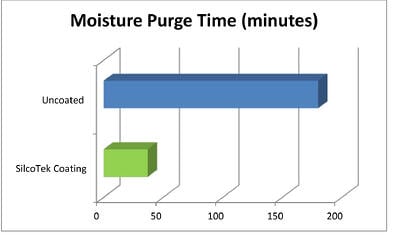 Maximize hydrophobicity.
To improve hydrophobicity in analytical systems, coat the entire flow path. Don't forget to coat the purge gas system and calibration flow path.
Regulators

Fittings

Valves

Tubing

Filters

Analytical components

Probes

Moisture sensors
Learn more about how to improve moisture resistance and hydrophobicity.