We explore the impact of moisture on analytical test results and learn how to manage moisture.
A single drop of water may appear to be harmless, but it can have a huge impact on the durability and performance of
analytical and process monitoring systems. Moisture condensation in sample delivery, analytical GC columns, and process
systems can cause corrosion as well as loss of sulfurs and reactive compounds. But how to manage moisture?
In this blog post your will learn:
How trace moisture can be a source of chemical adsorption and corrosion.
The impact of moisture on sulfur analysis.
The benefits of coating analytical flow paths with an inert hydrophobic coating.
How to maximize flow path hydrophobicity.

Even trace amounts of water in process sample and transport systems can have a major impact on product yield and quality
in refining, petrochemical, polymer, and semiconductor manufacturing applications. Get more information on how to improve sampling performance, read our ultimate guide e-book.
Moisture Impact on Sulfur Loss
Test results can be degraded significantly when moisture is present in sample systems. For example, water droplets in downhole and
process sampling systems can lead to artificially low reporting of H2S content in gas and oil wells and petrochemical feedstock; resulting in system corrosion, low process yield, high processing cost and catalyst damage. A comparison of a dry vs. wet sample cylinder (below) tells the story. A dry sample cylinder retains about 85% of the sample after 14 days of storage. The moisture contaminated sample cylinder (right) retains less than 70% of the sample after 14 days; an 18% reduction in H2S sensitivity!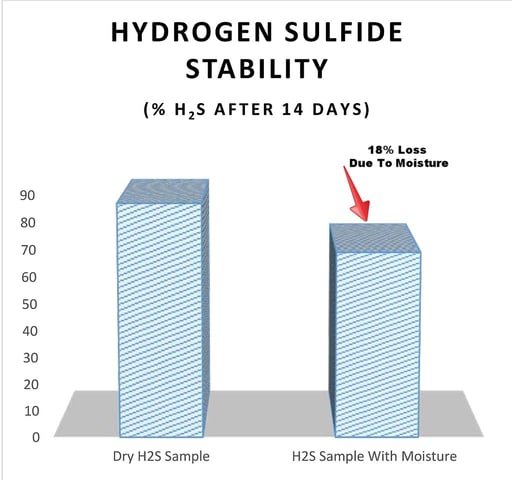 Coatings to Repel Moisture
SilcoTek hydrophobic coatings repel water, dry quickly and don't retain moisture, resulting in greater sensitivity and durability in sample transfer and analytical systems. SilcoTek® coatings, like Dursan®, can reduce moisture purge time by as much as 75% when compared to an uncoated surface.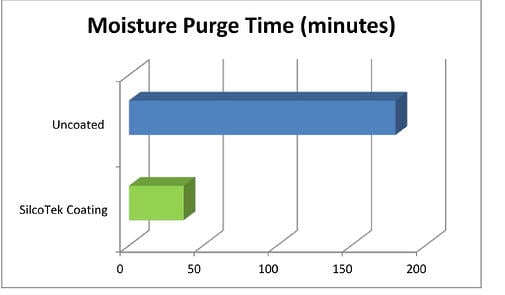 How's it done? SilcoTek's inert, high temperature barrier coatings prevent surface interaction between critical flow path surfaces and your product. Dursan® improves moisture repelling properties of stainless steel, glass, and ceramic surfaces by 60% or more when compared to uncoated stainless steel.
Comparative contact angle tests show stainless steel demonstrates limited moisture repelling properties with a low 20 degree contact angle. Moisture will wet the surface and "stick" in surface irregularities, causing analyte solvation and test errors. Dursan coated surfaces exhibit exceptional moisture resistance and offer a 100+ degree contact angle. Because Dursan coated surfaces prevent moisture contamination and solvation, analytical results are true to test and more reliable. Want even more hydrophobicity? Our Notak superhydrophobic coating offers extreme water repelling qualities, with a moisture contact angle of 160 degrees!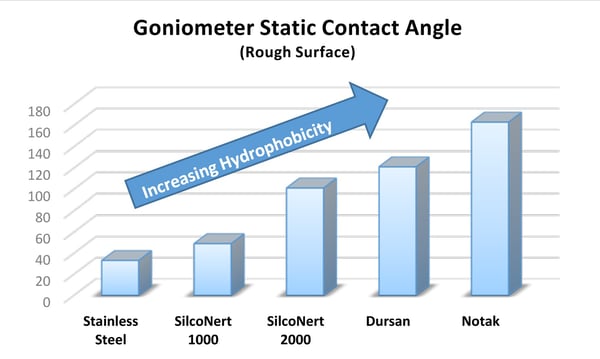 Coatings benefits include:
Less water accumulation and retention in analytical systems.
Faster system purge. Water is repelled so it's easily removed.
Fast recovery. Fast-drying surface allows for quicker response.
Improved fouling resistance. Less maintenance of plant systems.
The best part about SilcoTek coatings? They can be applied to your components without costly re-engineering or significant change to dimensional tolerance. SilcoTek coatings offer a durable high-tolerance alternative to costly super alloys or polymeric coatings. Our coatings can be applied to complex flow paths without changing part functionality. So you can take a part out of stock, send it to us for coating and get back an improved water repelling product.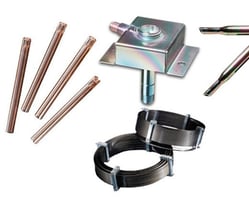 Maximize System Hydrophobicity
To improve hydrophobicity in analytical systems, coat the entire flow path. Don't forget to treat the purge gas system and calibration flow path. Get our coating compatibility guide to learn more about coating your products. Flow path components that can be coated include:
Regulators
Metal filters and precision fritted filters
Fittings
Tubing
Valves

Probes
Moisture sensors
Analytical components like liners, inlet systems, needles, and detectors
Sample holding components like sample cylinders, downhole samplers, vials and canisters.
Most metals, metal alloys, glass, and ceramics can be coated.
Have a question about a coating application?
Ask the experts.

Go to our FAQ page, or contact our Technical Service Team. We're here to help you select the best coating for your application.
Our team can:
Recommend the best coating test parameters and methods for your application
Offer the

latest coating test data

that best fits your application
Team up with your R&D staff to perform evaluation testing
Explore the benefits of our coatings and learn how they improve the performance of products and processes in your challenging application. Test our coatings and see for yourself.