The quality of natural gas testing results are only as good as the method, tools and training. We discuss some helpful tips and sampling guidelines.
Tips for Improved Natural Gas Sampling
Understanding and optimizing sampling methods for natural gas sampling are key factors in getting accurate test results. Let's discuss some key factors that will determine successful natural gas testing results.*
In this blog post you will learn:
Identify commonly used natural gas sampling methods and reference for natural gas sampling.
Gain insights into sampling design and placement.
The impact of a marginal sample transport system.
The benefit of applying inert coatings to the sample flow path.
Select the best
method

for your application:

Most test errors are not related to the sample testing itself, but are mostly attributed to the sample capture, and transport methods. Spot, continuous composite, or continuous sampling methods have advantages and disadvantages but a reactive or poorly designed sample transport flow path will yield unreliable test results.

Select the method that best fits your application and need, then be sure the sample flow path meets design criteria and is inert. The most widely used natural gas sampling methods are GPA standard 2166-05, ISO-10715 and API 14.1. Following the method that best fits your application and need will go a long way toward getting reliable and repeatable test results. David Fish from Welker Inc. authored an excellent reference for natural gas sampling. The paper provides sampling tips, methods and maintenance guidelines.


Component design and placement matter:*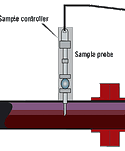 Individual component design should be appropriate for the application. Installation location is also a key factor:
Sample probe:

locate in stream, away from turbulence. Coat the probe with an inert, corrosion resistant treatment like

SilcoNert

®, or

Dursan®

to prevent loss of sulfur and mercury.

Sample cylinder

:

Constant pressure cylinders will maintain sample phase; or static, constant volume cylinders for grab sample. Coat cylinders with an inert coating, like SilcoNert®

2000, to prevent loss of sulfur and mercury.
Tubing size and installation: Pockets will trap adsorptive moisture, maintain fluid velocity, select non adsorptive coatings to prevent loss of sulfur and mercury.
System materials: Stainless steel Monel®, and super alloys are common materials, all are adsorptive to sulfur and mercury sampling.
Filter and filter material: regulator design, sample pumps, valves and fittings all play an important role in the overall sample system performance. All should be coated with an inert coating like SilcoNert®

2000 or Dursan®

to assure accurate sulfur and mercury testing.
The impact of a marginal sample transport system:
Sample measurement devices are capable of measuring natural gas Btu content to .5 Btu, but poor techniques can cause variation as high as 65 Btu in a single cylinder. A poor sample system design can make repeatable natural gas testing for Btu, sulfur and mercury nearly impossible.
Active and adsorptive surfaces like stainless steel, Monel® or other alloys can completely adsorb sulfur and mercury in the natural gas sample. Artificially low sulfur readings can impact feedstock value, poison downstream catalysts, and cause artificially low odorant measurement.
Get our Sulfur Sampling Application Note to learn more about coatings and components that improve natural gas and sulfur sampling.
SilcoTek®
coatings can improve natural gas measurement by:
Preventing sulfur/mercury adsorption and loss in downhole sulfur sampling.
Improving corrosion resistance.
Reducing friction, improving operation of constant pressure sample systems.
Repelling adsorptive moisture.
SilcoTek®
coatings can be applied to all wetted surfaces for oil gas and mercury testing *:
Tubing
Probes
Filters
Valves/Fittings
Sample cylinders
Constant pressure sample cylinders
Regulators
Have a question about oil and gas sampling? Go to our Coatings for Oil and Gas and Refinery Applications Page. Or follow us on LinkedIn.

* Image credit: Welker Engineering