According to Grand View Research, the global stainless steel market size was valued at $111.44 billion USD in 2022. That's a lot of tubing! As with most equipment, tubing can present problems that may leave you scratching your head about how to solve them and prevent them from occuring again. That's where SilcoTek steps in. Coated tubing from SilcoTek is found in critical applications across an array of industries worldwide, including:
Refinery and petrochemical process analyzers to accurately quantify feedstocks
Semiconductor specialty gas delivery systems to prevent contamination and corrosion
Hydrogen production facilities to enable trace-level measurement of problematic contaminants
Chromatography and diagnostic instruments to improve sensitivity and eliminate time-consuming steps like priming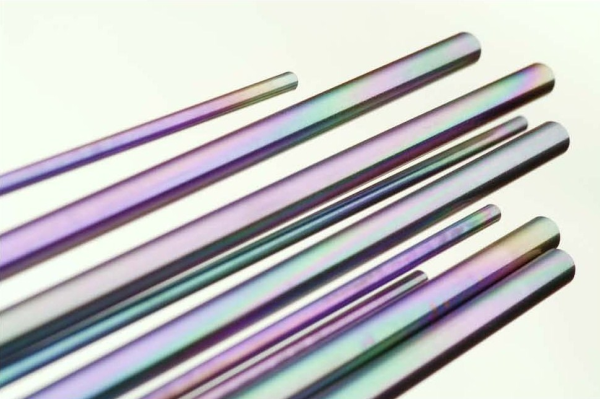 We wanted to shed light on SilcoTek coated tubing and answer some of your most common questions. You may have wondered how we can reach the entire length of a 1,000 foot long coiled tube and we're here to answer that! There are several factors that play into how tubing is coated here at SilcoTek.
What's the difference between internal vs. internal/external SilcoTek coated tubing?
SilcoTek has 2 processes that we use for coating tubing: internal and internal/external coating. When determining which process we use, the main differentiators are the length of the tubing, internal diameter (ID), and configuration. We can process straight lengths of tubing up to 80" via our internal/external process. Coiled or rolled tubing is coated using our internal process. We can reach the specified coating thickness through both processes, so your coating will be the same regardless.
How long of a tube can be coated?
We get this question a lot. What is the longest continuous tube you can coat? The answer is... it depends on a few different factors. The tubing's ID plays a large role in determining how long of a coil we can coat. Below, you can see the recommended lengths to achieve the ideal coating for your entire tube. For smaller bore tubing, our research and development team is actively working on optimizing our process to accomplish an optimal, even coating.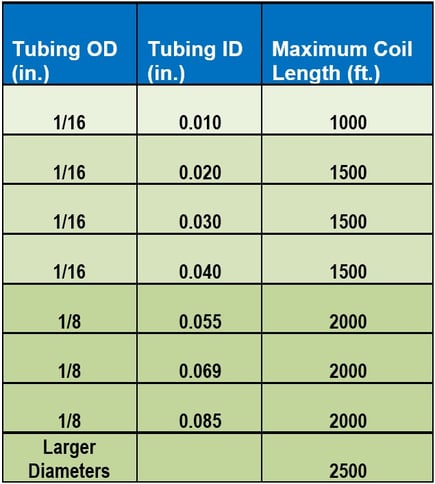 Internal Diameter
As mentioned earlier, the internal diameter (ID) of the tubing plays a crucial role in determining the feasibility of coating. SilcoTek's advanced technology allows us to coat tubing with diameters exceeding 6". Different tubing sizes have been studied by our research and development team to establish the best coating process for that size and to achieve coating thickness within the specified range. The chart provided above illustrates the maximum coil lengths based on different inner and outer diameters. We offer coating solutions for a range of different tubing sizes. Please reach out to our technical service team for more information or to see how SilcoTek can coat your tubing.
Configuration
Coating Coiled or Rolled Tubing
Coiled or rolled tubing is processed internally. In order to get a uniform coating on the ID of coiled tubing, we treat the tubing itself as a process "vessel." SilcoTek uses vessels in our ovens to create airtight seals so we can reach peak coating conditions. To achieve the best coating for the entire pathway, we connect the tubing at both ends, essentially forming its own vessel. We then place the connected tubing into our process ovens.
Our process ovens are able to accommodate coiled tubing according to their OD.To be loaded into the ovens, the overall diameter of the coil should be narrow enough to fit into the size of the ovens used to perform the coating. Below are the qualifications based on the outer diameter (OD) of the tubing:
Maximum coil diameter for tubing > 1/16" OD: 36"

Maximum coil diameter for tubing 1/16" OD or smaller: 18"
You may notice a brownish hue to your coiled tubing after it has been coated internally, but the external appearance will vary based on the specific elemental composition of the tubing substrate. The change in external appearance is due to oxidation that takes place by our high process temperatures during the deposition process.
Coating Straight Tubing
Since straight tubing is coated in a reaction chamber, the process is different than coiled or rolled tubing. Our largest straight tubing vessel can accommodate a maximum tubing length of 80 inches (approximately 2 meters). We're able to coat these tubes internally and externally because they are small enough to be placed into a process vessel.
We do have the capability to coat pre-bent tubing and depending on size, we can coat that either internally or internally/externally. If you have questions about pre-bent tubing, please reach out to our knowledgeable technical support team.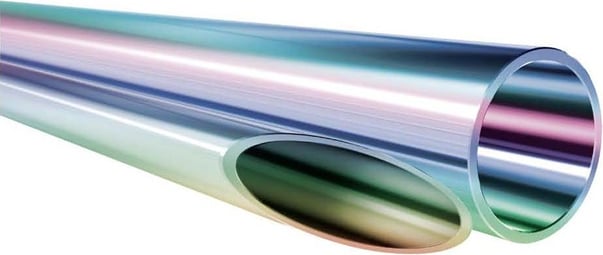 How do you know the whole tubing pathway is coated?
Our unique CVD process is performed in the gas phase, so even the smallest channels and tightest tolerances will be coated. We also have the ability to coat certain tube configurations internally. To summarize coating tubing ID, if we can get our process gasses into the tube, we're able to coat the part. For long and extremely narrow tubes, please reach out to us to be sure we're able to achieve the desired coating performance. If you're wondering if your tubing has SilcoTek coating on it, please refer to this previous blog on determining if it has been coated.
What are the corrosion benefits of coated tubing?
Coated tubing will improve the corrosion resistance and inertness of the tubing, offering a multitude of benefits such as higher reliability and improved test sensitivity and quality (offering part-per-million test sensitivity).
The chemical vapor deposition process used to coat stainless steel flow paths will prevent corrosive disruption of grain boundaries and act as an inert barrier to aggressive and sticky compounds. Dursan coated analytical flow paths will prevent HCl, sulfuric acid, bleach, and other corrosives from pitting and attacking stainless steel surfaces. Here are some examples of how Dursan® and Silcolloy® can improve corrosion resistance.
Dursan can increase corrosion resistance by 10x or more through preventing interaction of the analyte or process fluid and the stainless steel surface. Dursan exceeds typical metal passivation capability. Immersion testing in 6M hydrochloric acid (HCl) shows that Dursan coated surfaces prevent surface attack and protect stainless steel from rust by orders of magnitude compared to passivated stainless steel, preventing gas supply system corrosion.
Hydrochloric Acid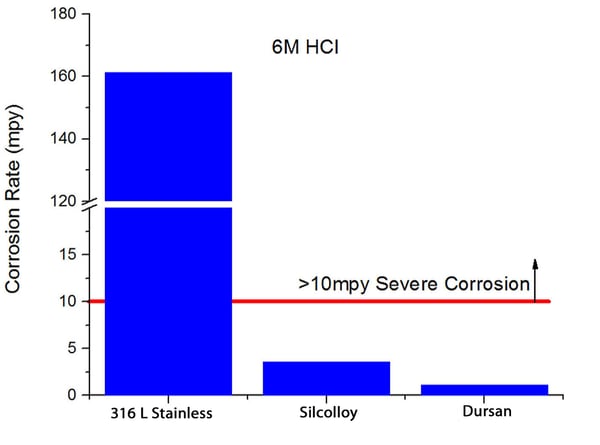 Sulfuric Acid
Sulfuric acid can form in process analytical sampling systems and stack sampling systems that transport stack emissions or hydrocarbon flare samples. When exposed to water and heat, sulfur compounds commonly found in stack samples can form sulfuric acid and corrode and contaminate sample systems. Inert coatings like Dursan reduce the risk of corrosion, even when exposed to sulfuric acid.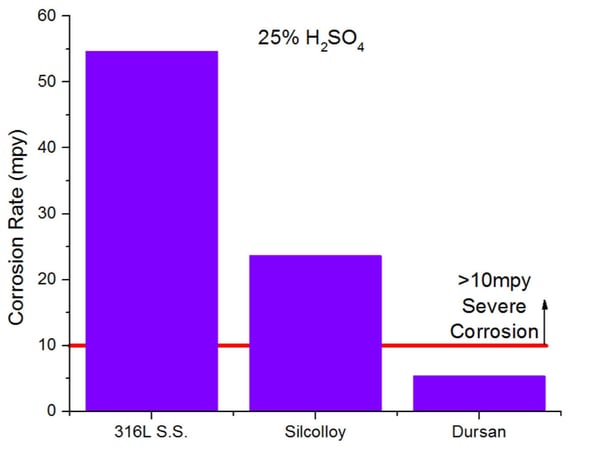 Hydrobromic Acid
Comparative HBr corrosion testing shows that Dursan and Silcolloy coated stainless steel surfaces improve flow path corrosion resistance by up to an order of magnitude over uncoated stainless steel. Virtually all stainless steel surfaces can be coated including small and large bore tubing, regulators, stainless steel frits, fittings and valves.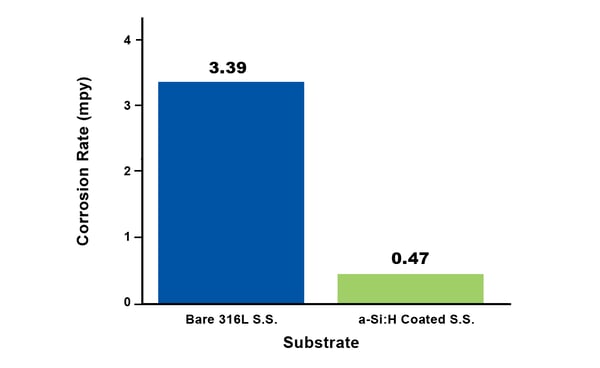 SilcoTek coatings can help your applications with common problems like corrosion, contamination, down time, replacement costs and time, among others. If you have any other questions about how and why we coat tubing, we'd love to hear from you!
Looking to buy already coated products in stock? Check out our

approved partners

to see if they have what you need.
Coating tubing is easy with SilcoTek! Our experts are here to help you find the right solution for you. Contact us today to learn more about our process and coating options.