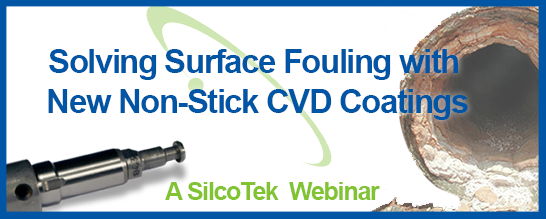 Did you know that SilcoTek® non-stick coatings reduce process downtime caused by unwanted build-up, fouling, and coking? Let's learn about how coatings can improve coking and fouling resistance, and save money in the process! Oh and check out our webinar.
Our chemically functionalized silicon oxide Dursan® coating and soon-to-be-released Notak™ surface treatment will enhance surface performance in a variety of ways.
In this blog post you will learn:
Tools needed for creating a non-wetting surface to lower maintenance costs

How CVD coatings Increase surface robustness and ease of cleaning

How coatings can decrease coking and fouling, allowing fuel injection and fuel delivery systems to operate more efficiently.

Improving surface lubricity and surface energy for applications needing high-release in injection mold operations.
Fouling, sticking and lubricity problems can disrupt process fluid flow, cause mold release problems and can cause fuel delivery problems, here's how to reduce fuel coking, and chemical fouling and improve the performance of fuel delivery systems, heat exchangers, injection molds, and filtration systems. Want the full story? Read on or download our webinar.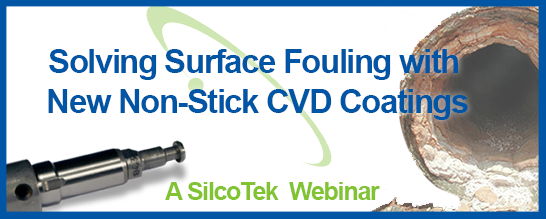 How silicon coatings change the surface properties of metal, glass and ceramic surfaces.

Before we discuss the benefits and data, let's briefly discuss how fouling resistant coatings are applied to part surfaces. Coatings like Dursan and Notak™ are bonded to the surface of metals, glass, and ceramics by a patented chemical vapor deposition process. The coating gas penetrates the surface and creates a micro thin barrier coating. Even micro surfaces like sintered metal frits can be treated. The barrier coating bonds and penetrates into the surface creating a corrosion resistant, fouling resistant surface with high lubricity. The sputter depth profile below highlights the silicon steel diffusion zone and bond to the stainless steel filter surface.
See how Dursan can solve your material problem.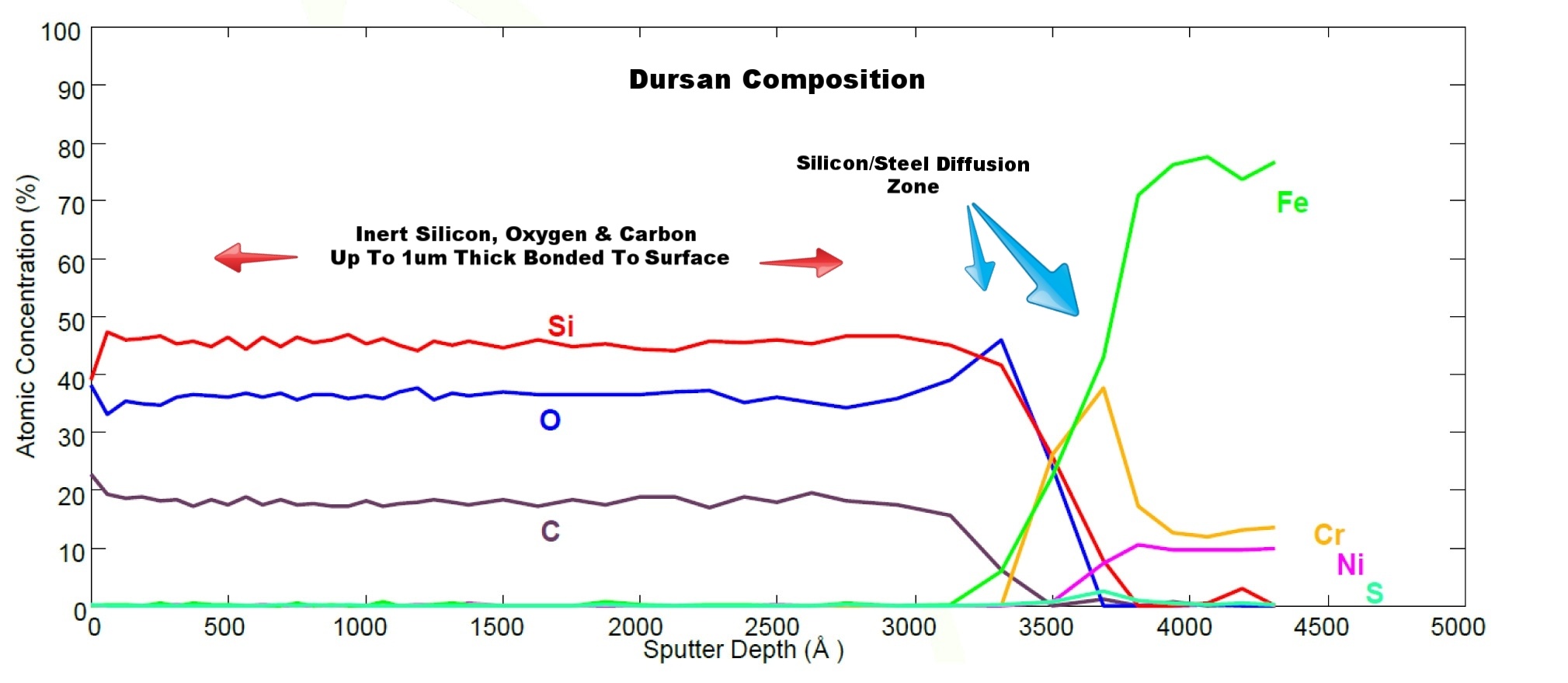 After processing, the surface will take on the properties of the coating, enhancing the corrosion resistance, fouling resistance, lubricity, surface energy/ hydrophobicity of the product.
Read more about how our coatings prevent fouling
Wear and Friction Data, Improved Mold Release and Reduced Sliding Friction
Now that we've applied the coating, let's compare the surface properties of a stainless steel test coupon before and after coating. The table below shows Pin-on-disc wear comparison of Dursan (carboxysilane) to an oxidized stainless steel surface. The data shows a 50% reduction in wear rate and a 35% reduction in coefficient of friction, improving the efficiency and wear resistance of the surface. A low coefficient of friction means a product surface will require less energy to slide as well as reducing the tendency for surfaces to bind in sliding applications. This means that products like slider valves or injection molds will require less energy to operate and release.

Solving Coking and Fouling Resistance Problems
Fouling can severely impact the performance of processes and instrumentation in just about every industry. The effects of the accumulation of substances, be it carbon fouling in a distillation process or the build up of carbon particulates in fuel systems, can have a range of impacts:
Impact of fouling on process systems.


Causes contamination
Reduces flow
Increases drag/pressure
Encourages corrosion
Increases emissions
Increases maintenance requirements
Slows production
Costs money!
Dealing with the impacts of deposits and build-up of unwanted materials depend on the application and importance of the process. Regardless, the cost can be high. Here are some examples of the impact of material build-up on critical surfaces:
Refining

-$0.5 billion spent to overcome coking issues (2002)

Heat exchangers

-50% of maintenance costs are caused by deposits, causing billions of dollars to industry.

Automotive

-10%+ increase in fuel consumption due to fouling
Read our presentation on preventing coking and fouling
Potential Solutions to Fouling and Carbon Coking

There are many possible solutions to the problem. Some expensive, some not realistic, most are costly and can result in redesign or added maintenance. Here are a few examples:
Solution
Issue
Additives
Costly, difficult to manage. May not be realistic for some processes
Steam cleaning
Not entirely effective. Impacts productivity. Not realistic for some processes.
Increase energy / power / fuel consumption (basically brute force idea)
Expensive and does not solve the problem
Control the incoming media that's causing deposit build-up
Rarely an option in industrial applications
Material selection
Several options, difficult to optimize performance & cost
"Surface engineering" through advanced anti-fouling coatings

Flexible and cost effective

Modify the existing part's surface to make it behave how you need it to
Coking and fouling studies show SilcoTek® coatings and coatings combined with a surfactant reduce fouling by 50% or more. Reducing the particulate binding effect and making the filter easier to clean.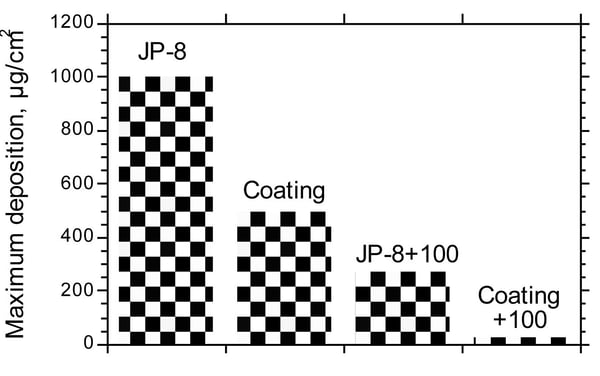 Corrosion Resistance
ASTM G31 immersion testing compared a Dursan coated surface with silicon and uncoated stainless steel. The Dursan coated surface improved corrosion resistance by an order of magnitude, improving metal filter durability. Get the latest on corrosion prevention, read our corrosion presentation.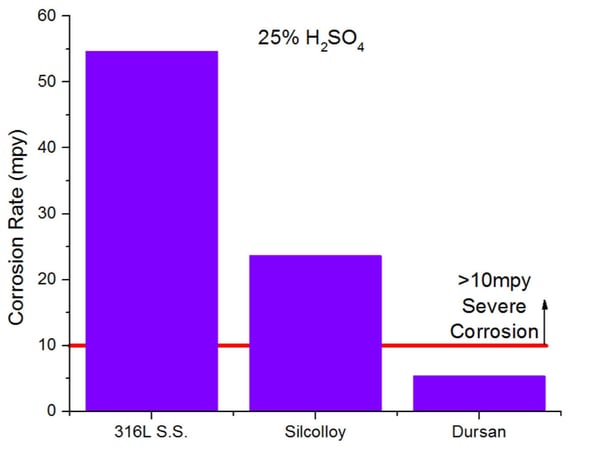 Surface Energy
A key to particulate binding and fouling is surface energy management. A low surface energy surface (high water droplet contact angle) will reduce the particulate bond energy and make filter cleaning and mold release easier. Surfaces like Notak™ offer the lowest surface energy and highest contact angle of any silicon surface tested. The Notak surface reduces surface energy by 70% or more compared to stainless steel. The graph below compares the contact angle of our various coatings. Take a look at the coated surface on the left. SilcoNert® 1000 is a hydrophillic, wetting, surface with high surface energy similar to stainless steel. Notice how the water drop photo shows a very flat drop on the surface, that drop wets the surface and will make for a more difficult surface to clean or use in a mold release application. Now check out the Notak water drop photo on the right. The water drop minimally wets the surface, making the surface hydrophobic with very low surface energy. That surface will easily release in many injection mold, filtration, and fouling applications.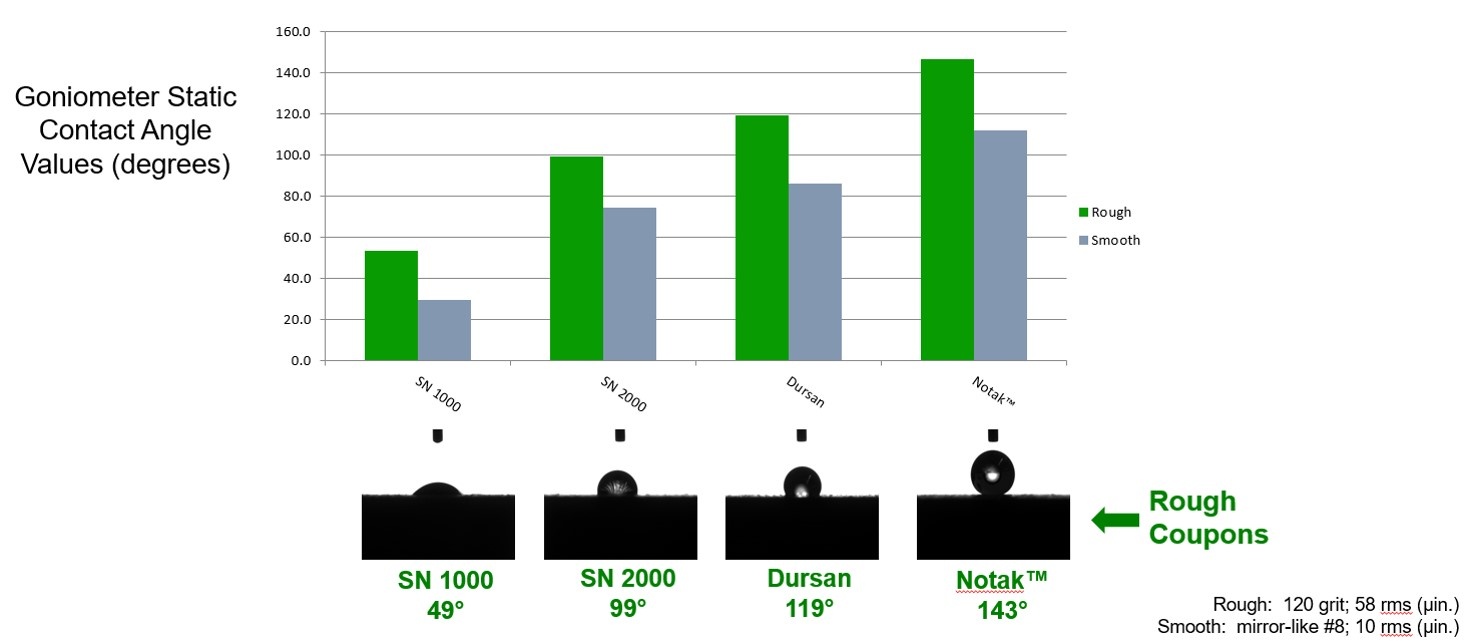 What's it all mean? How Does a Low Friction Low Surface Energy Surface Prevent Fouling?
So what will a low surface energy high lubricity filter surface contribute to fouling prevention and improved filter, heat exchanger, and fuel delivery performance? Let's compare the differential pressure of an uncoated filter (graph below, top 2 lines) with a Dursan coated filter under simulated process conditions. The coated filter (lower line) had nearly twice the life and half the differential pressure of the uncoated filter.* That means that Dursan or other SilcoTek coatings can help extend the life of your metal filter while reducing energy loss and system back pressure.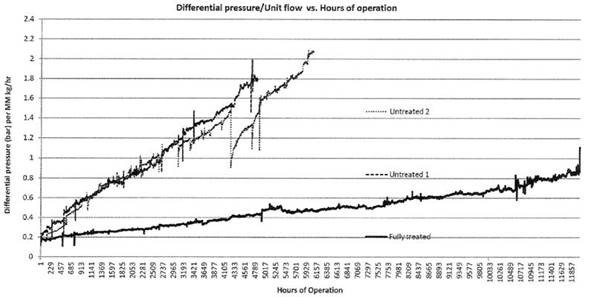 Interested in fouling resistance? Read our webinar presentation and learn about how our coatings reduce fouling in many applications.
Coating Applications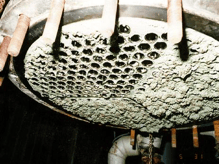 Fouling reduction can benefit many applications including:
Read our presentation on preventing coking and fouling
*Data courtesy of Porvair Filtration.