Just in time for the holidays our new building expansion is complete! Our team began moving into the new facility last month. Let's take a quick tour shall we?
Moving Day! Some Facts About our Building Expansion
After 18 months of planning and construction our building expansion is complete! Let's do a quick Q&A about the building, to learn more about our coatings go to our FAQ page: CVD Coating Frequently Asked Questions
Why are we expanding?

In a nutshell, we're expanding because of you! Not that it's your fault of course, it's because of your enthusiasm and dedication to our coatings and our people that we've grown to the point where we need to expand the facility. We're doing it now in order to meet future customer needs and to continue creating a positive customer experience. Where will all this demand come from? Many different industries and applications utilize our coatings but all share a common need to improve the performance of their products and processes.
Industries and applications for our coatings include:
Want to learn more about our coating applications? Go to our Applications and Industries Page to learn more about choosing the right coating for your application.
Because we offer solutions in a wide variety of industries and applications, we're able to consistently grow our business. Over the years we've added production ovens, expanded our surface preparation operations and expanded process and customer support. As growth continued, it became clear that it was time to expand the facility in order to continue to improve service and product offerings.
How large is the building expansion?
The new building will match our original building's cast concrete construction and will dramatically increase the size of the facility. When complete our facility will encompass a total area of over 66,000 square feet. Our current building is a little over 37,000 square feet, the new building will add 29,000 square feet to the facility. The building will allow us to continue to add production capacity and improve customer support. Watch a video of how our first building was built.
| | |
| --- | --- |
| Manufacturing area during construction | Manufacturing area after completion before move-in |
How many stories?
We're building a 1 story addition to our building. Portions of our existing building are 2 stories.
Is the building just for Manufacturing?
The building addition will also house expanded areas for our customer relationship and manufacturing support facilities.
| | |
| --- | --- |
| Offices under construction | Offices during move-in |
What's the building made of?
The building is constructed of insulated precast concrete panels. Watch a video of how our first building was built.
Is the building energy efficient?
Yes! The building features state-of-the art HVAC and energy efficient LED lighting and meets the latest energy efficiency standards for windows and insulation.
Can I visit SilcoTek?
Sure! We'll be happy to have you! We're located in beautiful Central Pennsylvania. Just contact our Sales team to schedule a facility tour. Because our process and customer products are confidential, we restrict factory floor tours, but if you're interested in learning more about our coatings, a facility visit will be informative.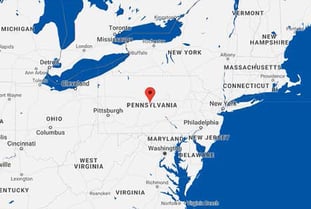 Is there enough parking if I visit?
Sure is! We expanded the parking lot too!
Will my lead times change?
We'll continue to offer the same great service. We plan to expand our manufacturing processes with our customer needs in mind. We'll be expanding and re-configuring our production area on a planned basis over the next several months. We don't plan on interruptions to service or disruption to manufacturing.
Will product quality change?
SilcoTek will continue to provide the same outstanding coating quality and service. Our Manufacturing, R&D, and Engineering teams follow a philosophy of continual improvement. We're always working on improving our products and processes.
Will SilcoTek be hiring?

Want to work at one of the best places to work in PA? SilcoTek was recently selected as one of the best places to work in Pennsylvania! Check our employment page for the latest employment opportunities. If you're enthusiastic about customer service and product quality and want to work for one of the best companies in Pennsylvania, keep us in mind!
Have a question about our products or services? Contact our customer service team, visit our FAQ page, or ask the experts!